THRIFTING!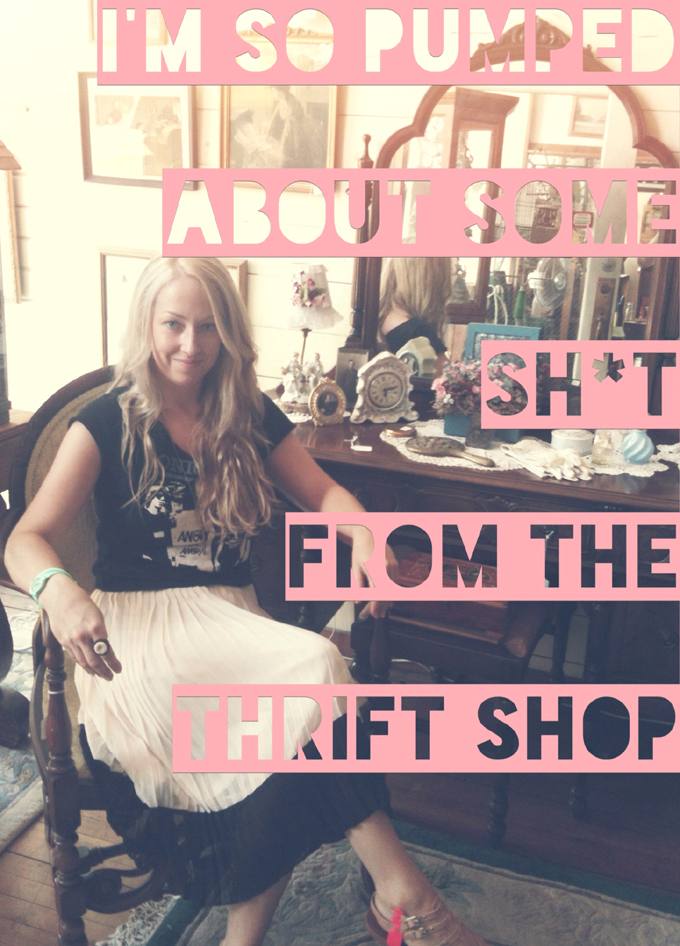 If you don't recognize that lyric, then stop what you're doing & watch this immediately.
If you follow me on instagram, then you are aware that I am thrifting all the time.  And by all the time I mean all the time.  Whether it be at thrift stores, flea markets, antique malls, estate sales or Craigslist, I just love sifting through other people's dirty old crap.  And I like the hunt.  And a good deal.  And I like STUFF.
Here's a peak at what I've found lately.
Vintage lucite tray, Abe Lincoln photograph, light up Santa head, and a brass rolling record stand, all from Oddfellows in Berkley.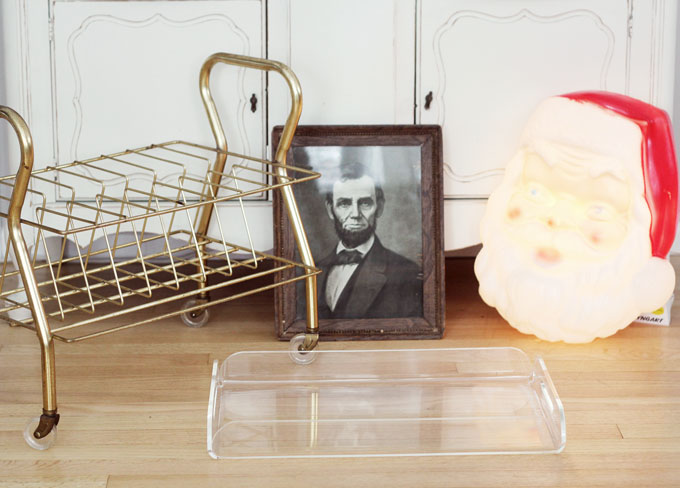 Vintage lucite trays are usually quite expensive, but this one was a little scratched up so it was only $30.  I love it so much I want to PUT IT ON MY FACE.
But instead I put it on my coffee table with some art books, vintage milk glass vases, and an anthropologie bowl filled with polaroids. I can also envision it on our dining room table, the bar cart, or the dresser in our bedroom.  It's quite versatile and open to change. Like Taylor Swift's lady parts.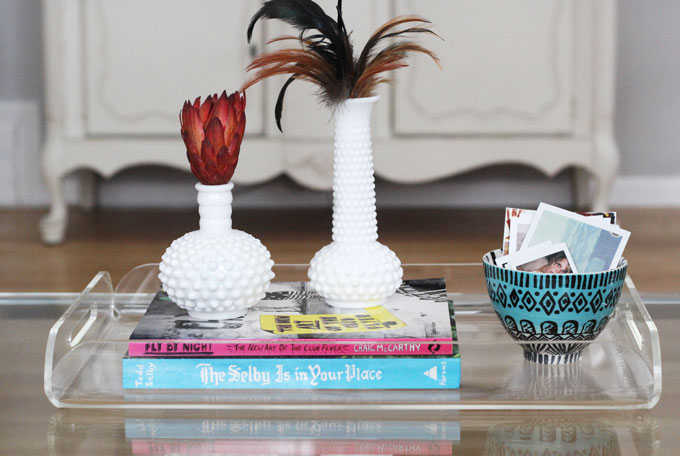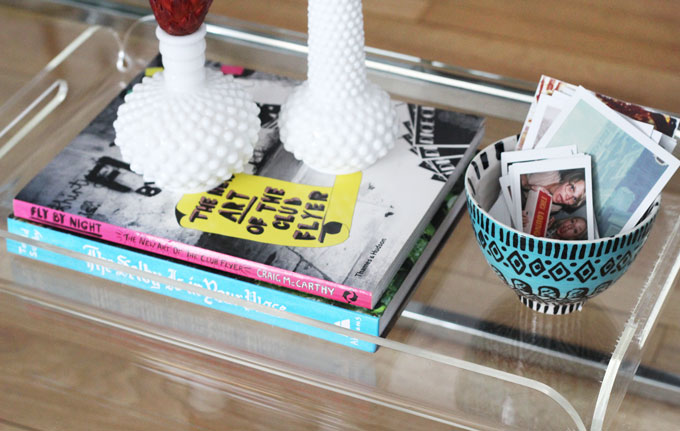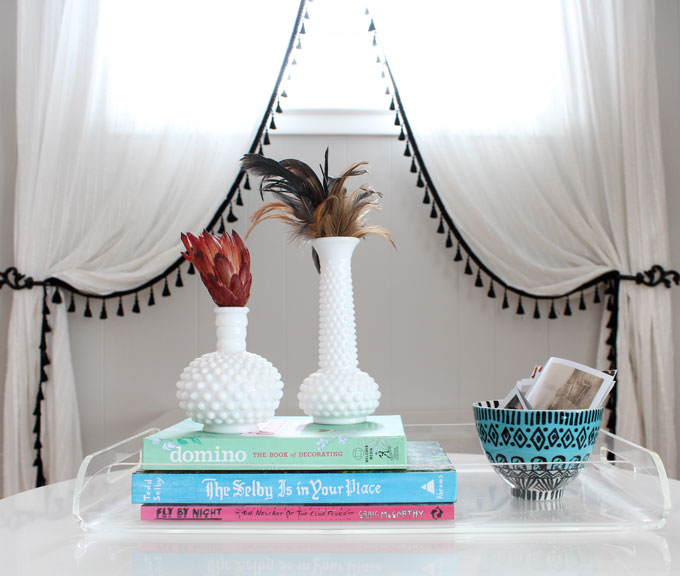 This creepy Santa head is just too good. A little scary… yet also jolly. Like your dad.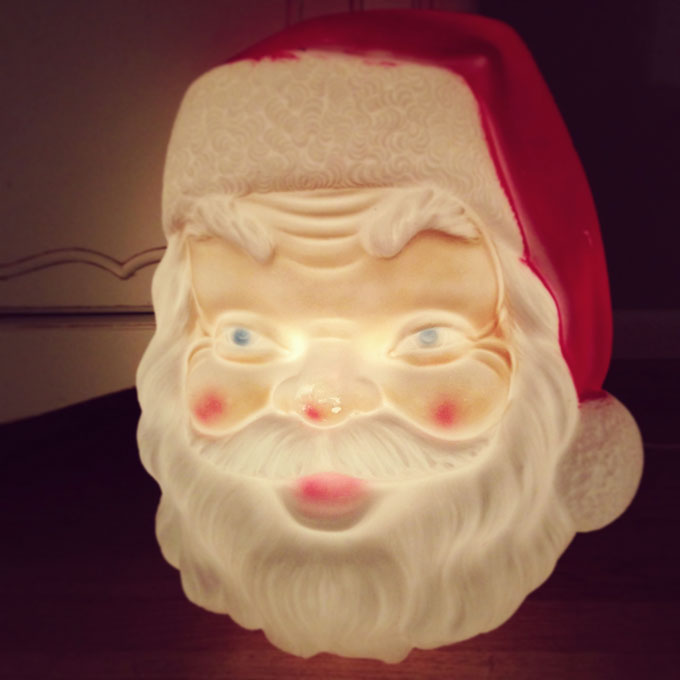 The Abraham Lincoln photograph is dated 1891, has the photographer's name on it, and is still in the original frame.  After chatting with the dealer for a while, he offered it to me for much lower than it was marked because he was happy to see it go to a good home.  I can be very charming to old people.
Here's Babe-raham in my dining room.  I imagine him reflecting deeply on the emancipation of slavery and how cute my no-sew drapes are.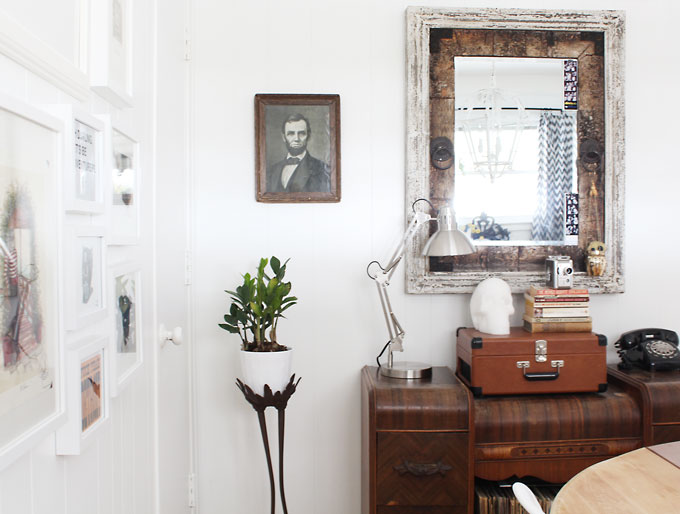 I found this necklace at a vintage consignment store in Indian Village.  I'm digging the 70's vibe.  Also, it kind of looks like a jelly fish?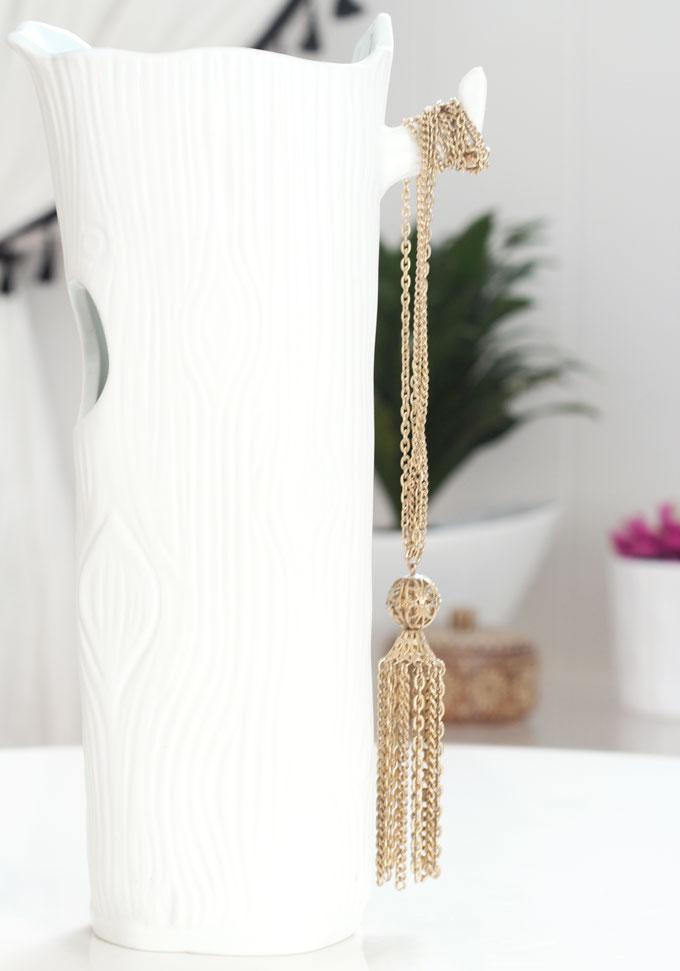 Old lady bingo set from Etsy.  Holla bitches!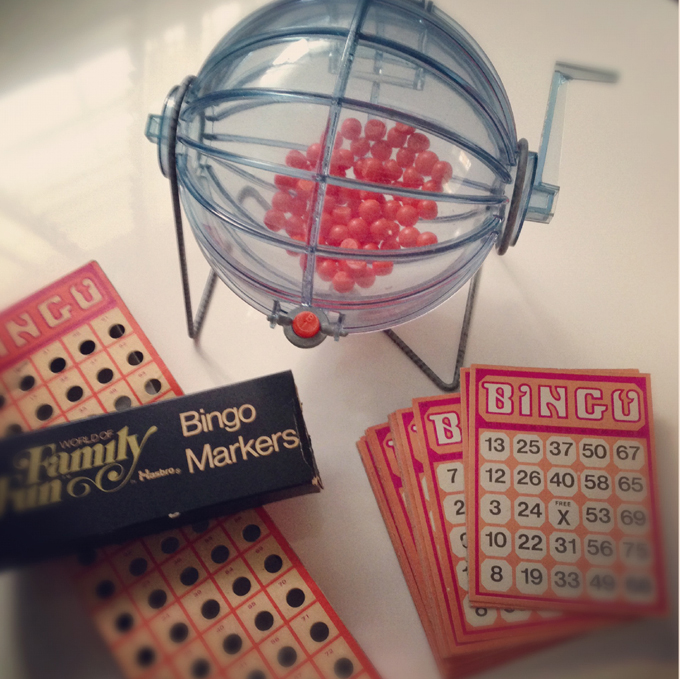 Milk glass cream & sugar set from Russell Street Antiques in Eastern Market.  For sipping tea at my sexy bingo parties.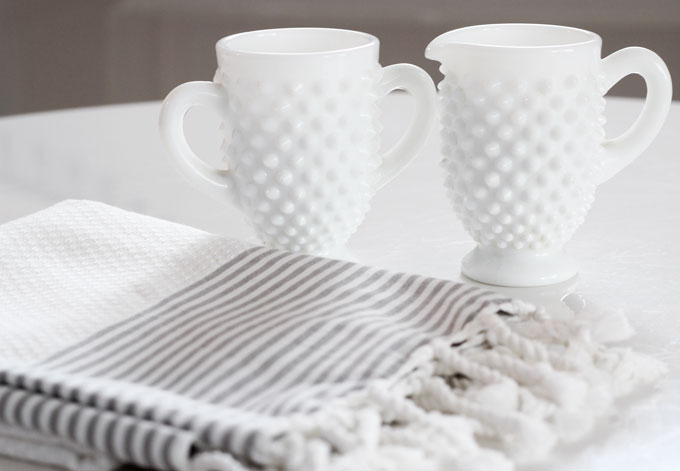 Acrylic table from Craigslist. $25!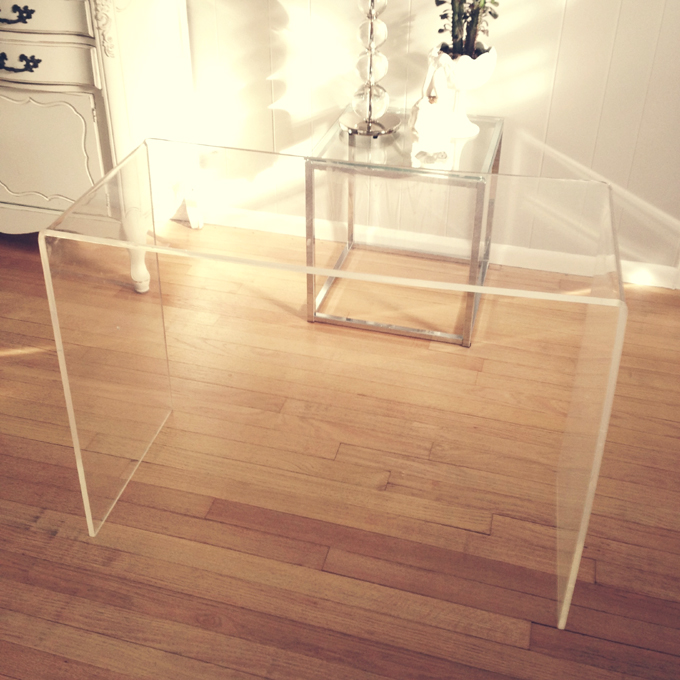 TWENTY. FIVE. DOLLARS.
Here's how the Craigslist transaction went down.
(ring ring)
CRAIGSLIST GUY:  Hello?
ME:  Hi, I'm calling about the acrylic table you have posted on Craigslist for $40.  I love it.  Is it still available?
CRAIGSLIST GUY:  Yes, and I'll take $25.  *scratches my head?*
ME.  OK sold! When can I pick it up?
CRAIGSLIST GUY:  I have it in my van, I can drop it off right now, no charge.  *scratches my head?*
ME.  Cool!  Here's my address, see you soon!
10 minutes later he pulled into my driveway, threw me in his van full of dead bodies, and made a lamp shade out of my skin.
Just kidding, that never happened.
After the guy dropped off the table (I met him outside, house locked, pepper spray in hand – cuz you know) I brought it inside and dressed it up with some succulents and a pouf and lived happily ever after.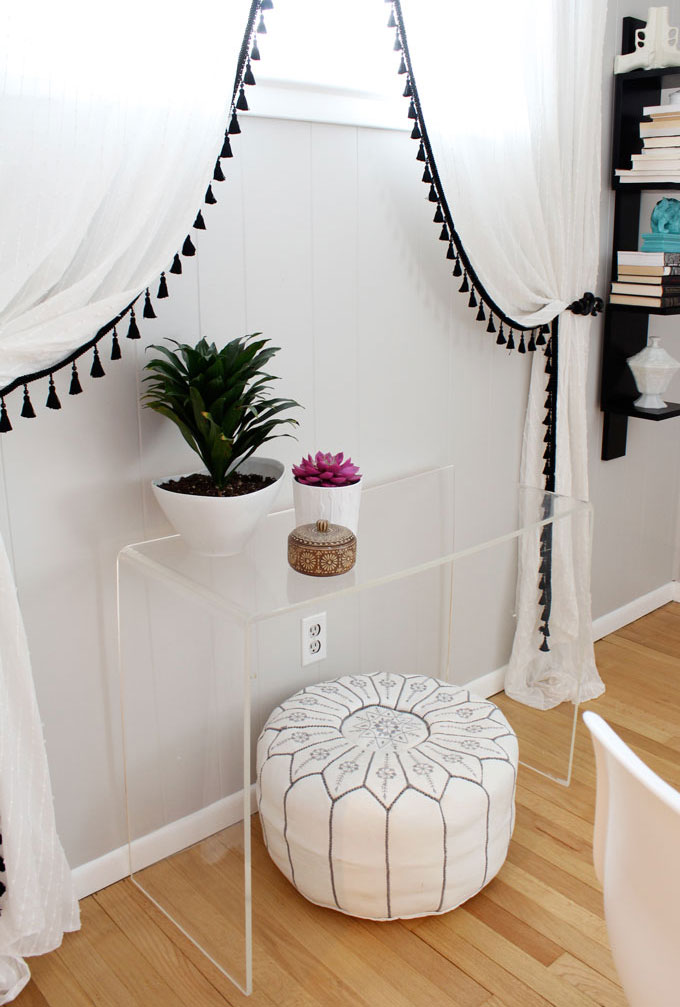 Mike D and I found this tiki lounge sign at an antique store in Oscoda, MI on our way to Mai Tiki Resort for a tiki themed beach weekend with friends.  If that's not serendipity slapping you in the face, then I don't know what is.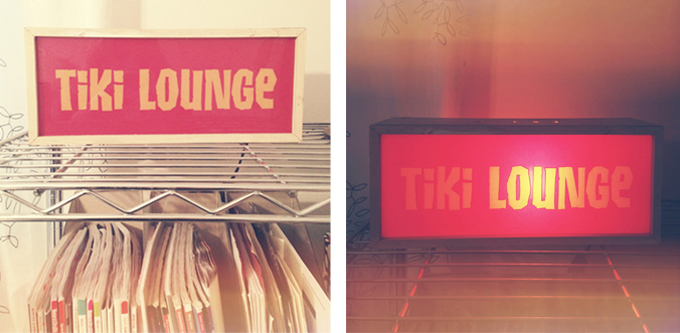 And now, just for kicks, here are some things I loved, but left behind.
I came across this old desk lamp and tried convincing Mike D to get it for his office.  Alas, he felt it was a little too "testicle-y" for his liking.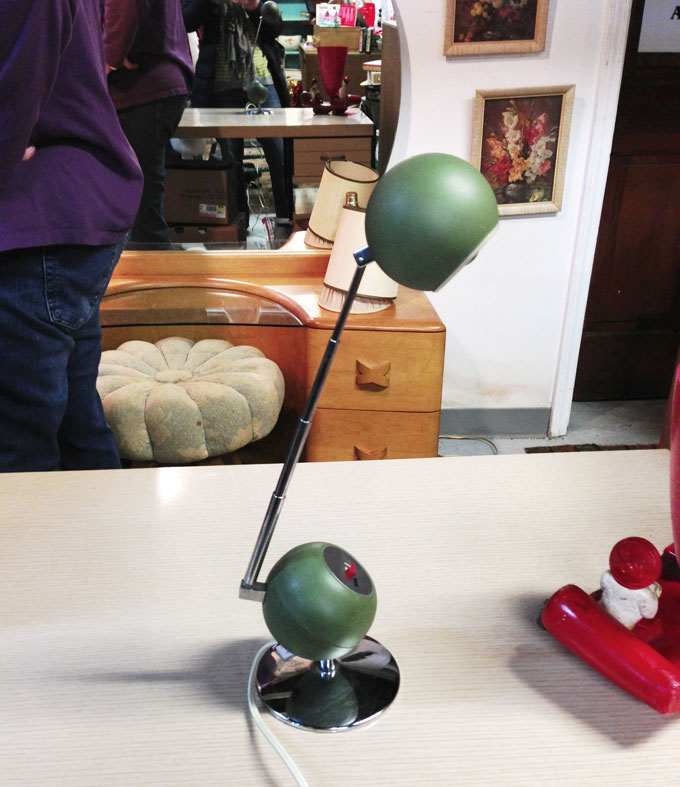 Fair enough.
This Charlie Brown garbage can is cheesy and 80's but so am I.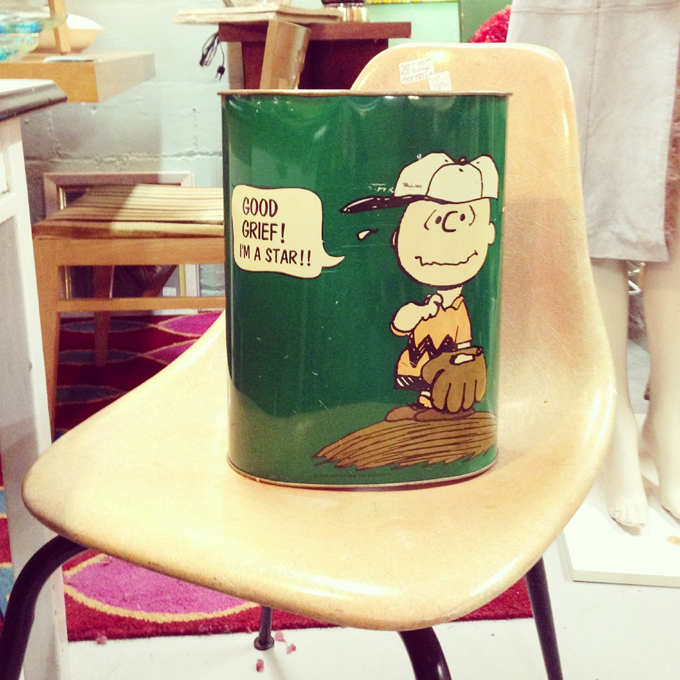 This fancy phone would look pretty on my nightstand and would be very convenient for late night calls to my dealer.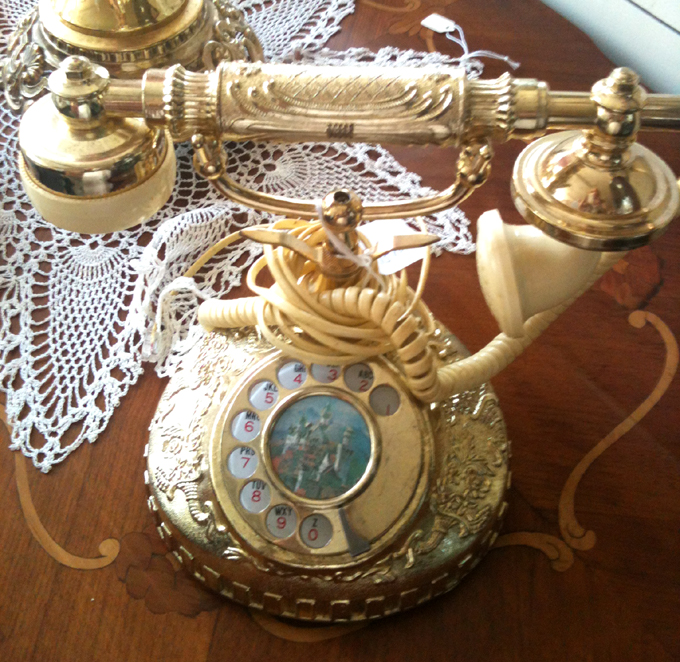 I kid, I kid. I would never call my dealer from a land line.
This chair (reupholstered in luxurious velvet) would be perfect in my tea parlor (that doesn't exist).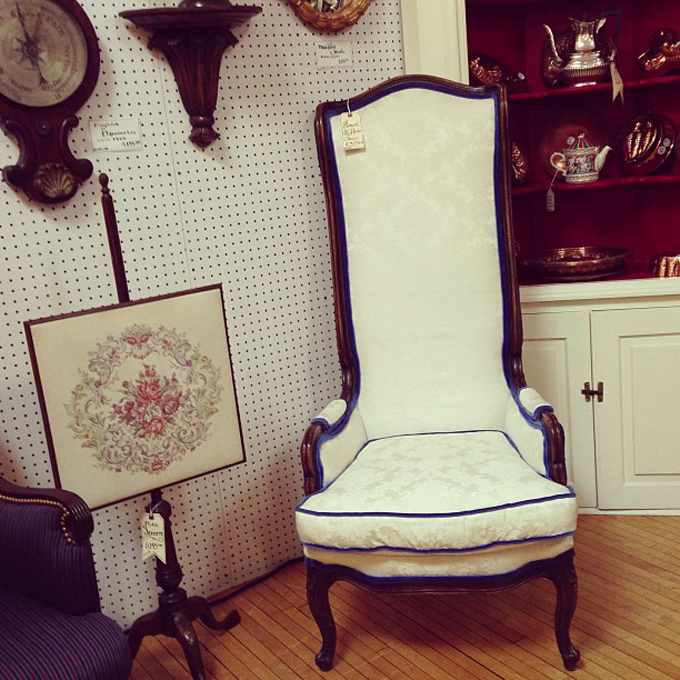 When I stumbled upon this glorious rainbow of Eames chairs I yelled "OMG-OMG-OMG SOLD!"  And then I saw the price tag of $300 per chair to which I slowly backed away and whispered "Never mind. Carry on. Nothing to see here".  And then I ran away & cried because I'm poor.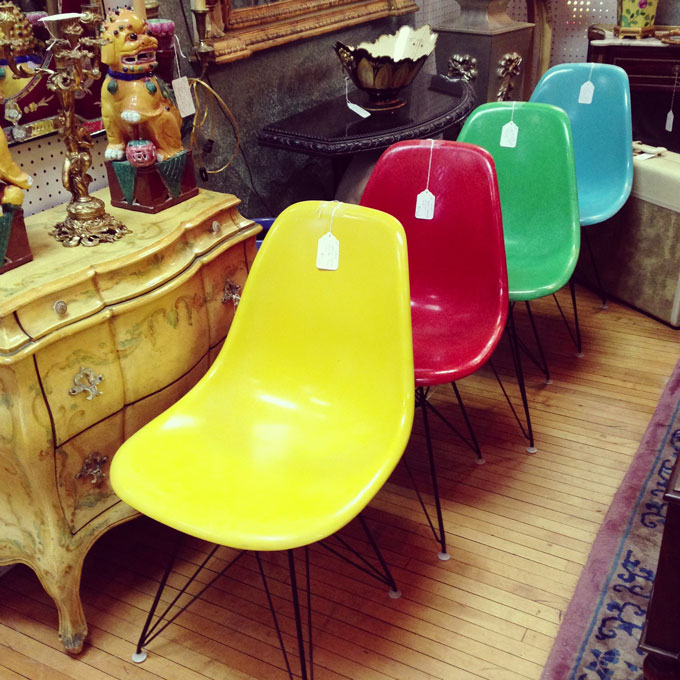 This early 1900's photograph of a little girl is in the exact same frame as my great grandmother's photograph.  I wanted to bring her home with me, but she was very expensive and possibly haunted.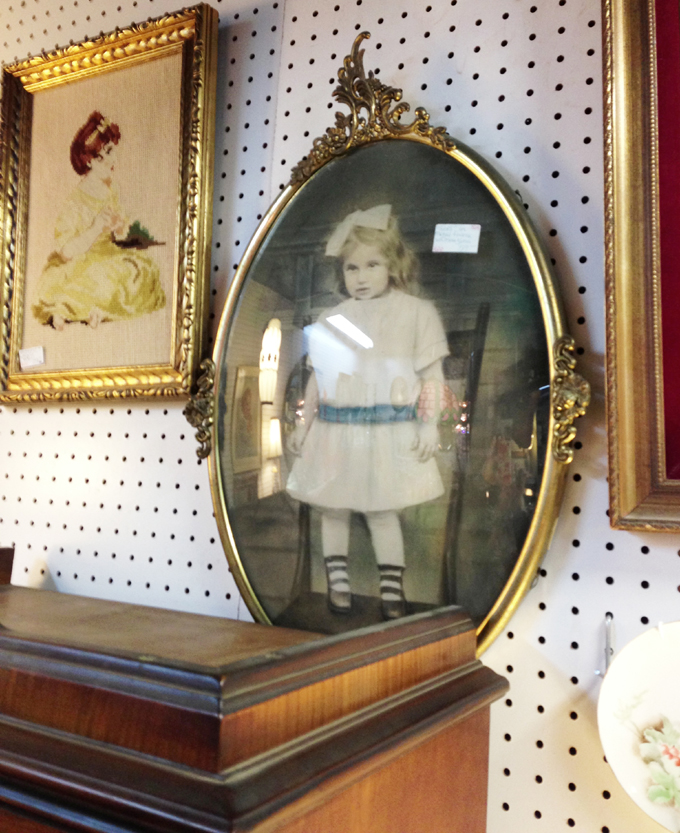 I  almost bought this stereo at Vogue Vintage,  but after testing it, we found one of the speakers was blown out.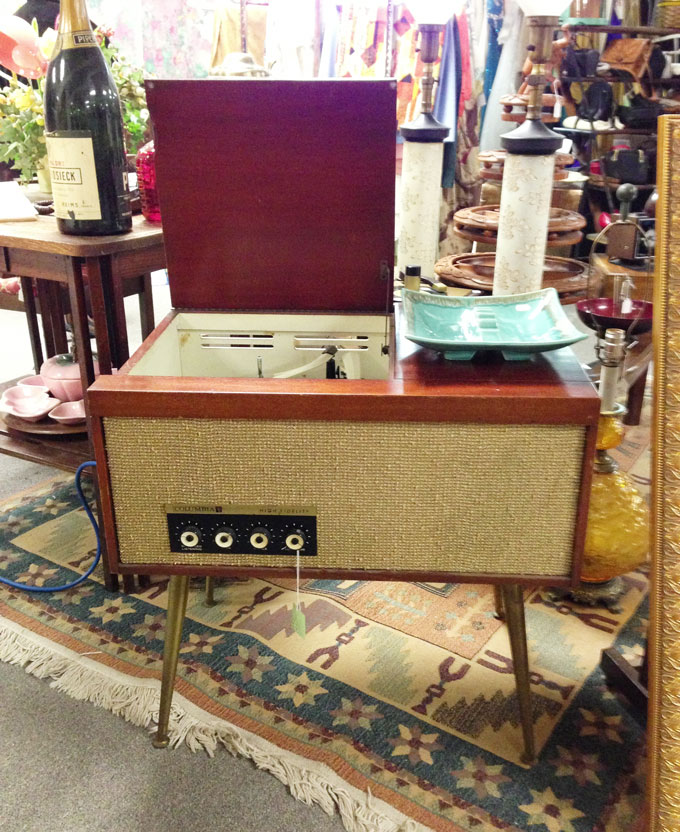 The owner sent it to a repairman the next day but apparently it needs a particular part that is no longer in production.  *cries*  Everything else functioned perfectly,  so the owner said he would hold onto it in case a similar stereo came along that he could steal parts from.  I've been calling him every 3 days and I'm pretty sure he wants me dead.   I want it so bad I would sell Eleanor to the circus for it!
No I wouldn't.
Or would I?
More thrifty updates to come soon – it's almost garage sale season!.  And I'm headed to an estate sale this weekend!  Someone stop me, because I can't stop myself.
xoxo
March 8, 2013
This entry was posted in
Vintage
and tagged
abraham lincoln
,
acrylic table
,
bingo
,
craigslist
,
eames
,
lucite tray
,
milk glass
,
oddfellows
,
santa
,
tiki lounge
,
vogue vintage
. Bookmark the
permalink
.