Four Days in Las Vegas.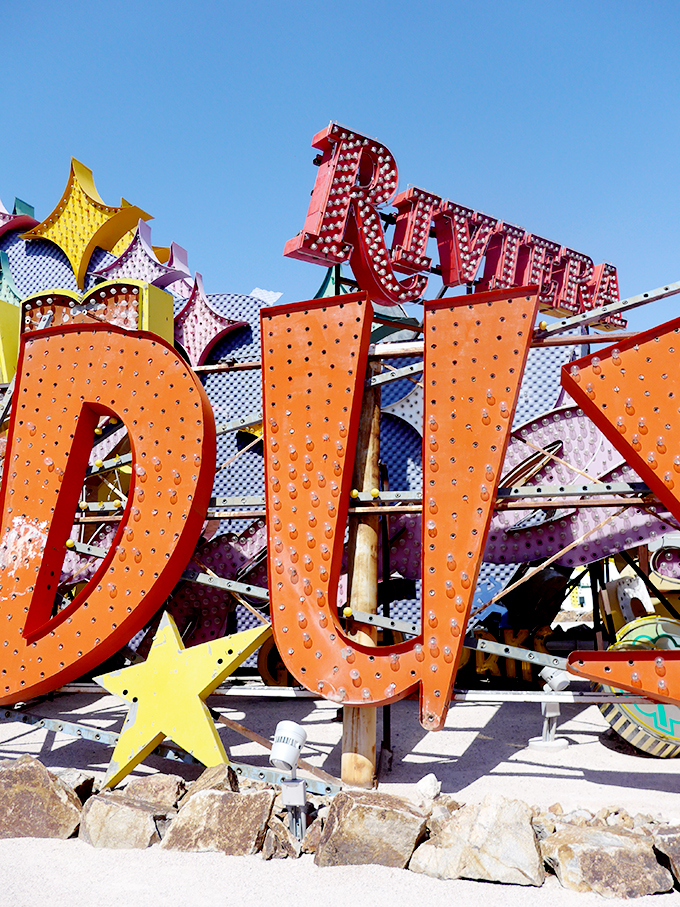 Truth be told, I'm not the biggest Las Vegas fan. I think gambling is boring and depressing. My club-kid days are long over, and I have complicated feminist feelings about hookers. But an opportunity came along for Mike D and I to spend a few days in the city of sin to celebrate our friend Ellie's birthday with ten of our friends, so we were like "VIVA LAS VEGAS!". And now I'm here, an unreasonable amount of time later, to tell you about the trip. How long has it been, you ask? A month? Nope. Many multiple months? Yep. And that's what's up.
After our flight landed in Vegas, we dropped our bags at the hotel, rented a car, and drove to Red Rock Canyon. It's only a thirty minute drive from the Las Vegas strip and it's breathtaking. I highly recommend going in the evening and watching the sunset. It was a real treat despite the 8,000 degrees of blasting solar heat that day.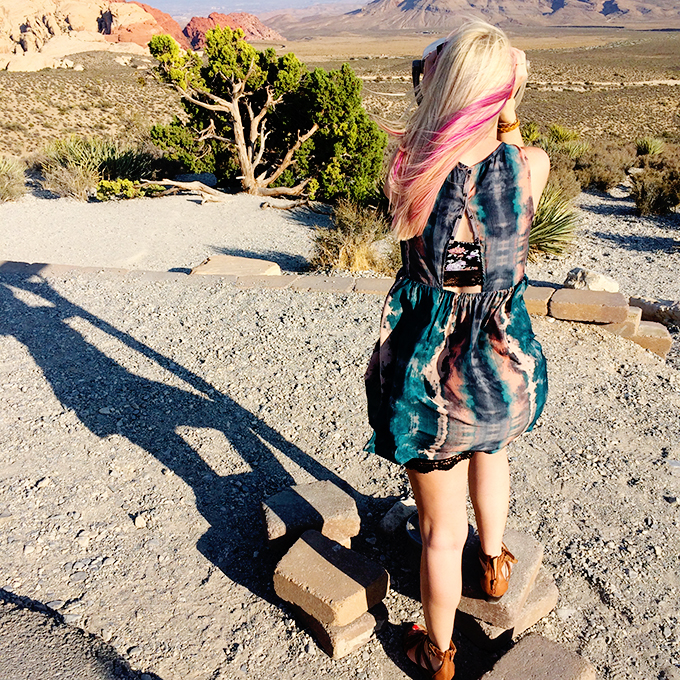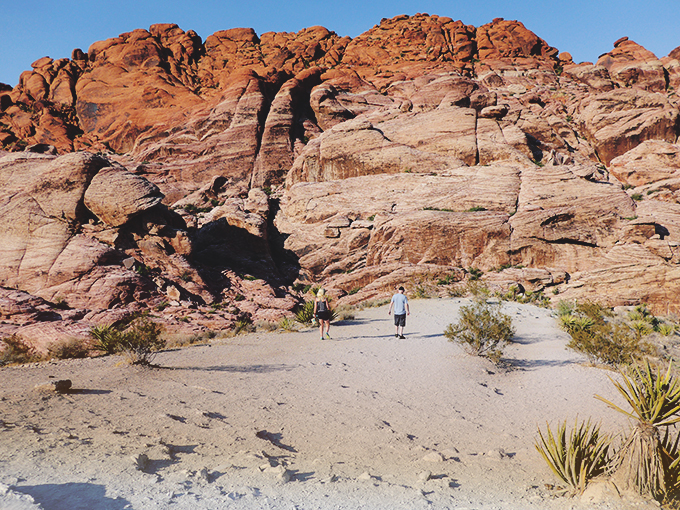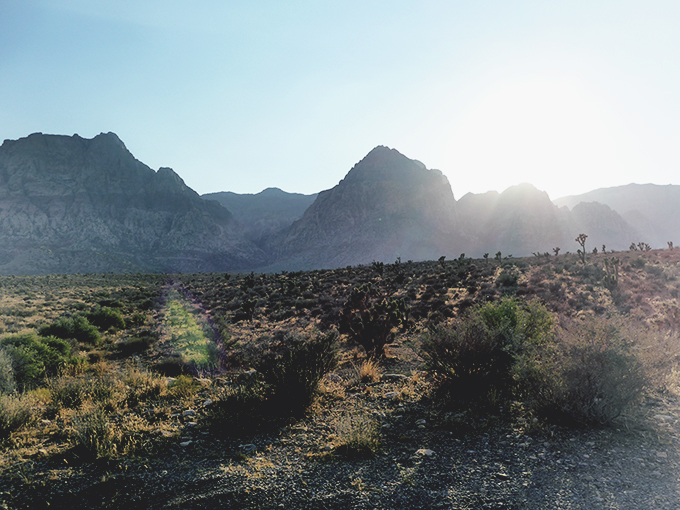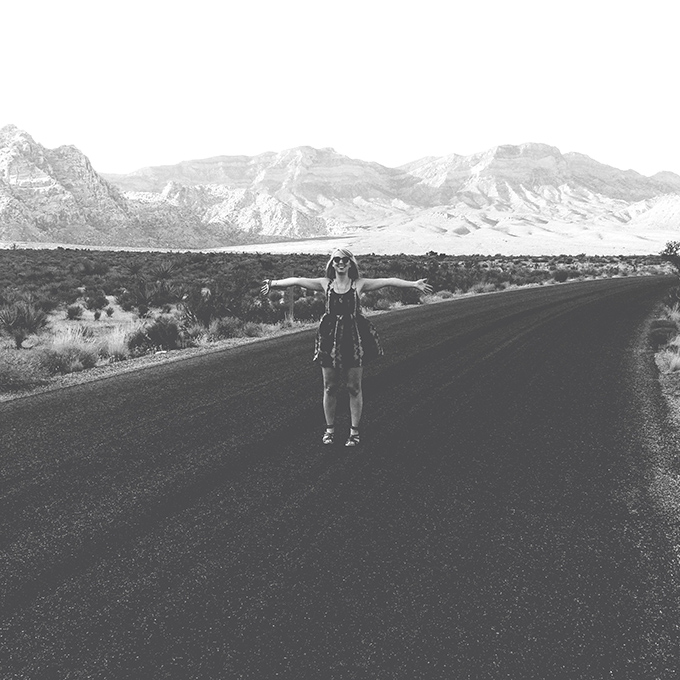 The following morning we visited the Neon Museum for a guided tour. Colorful vintage signs of old casinos, shops, and restaurants are artfully arranged along gravel paths. This is a dreamland of vintage typography and the colors were very pleasing to my eyeballs. Definitely check it out! Tip: Bring plenty of water and sunscreen because there's nearly no shade.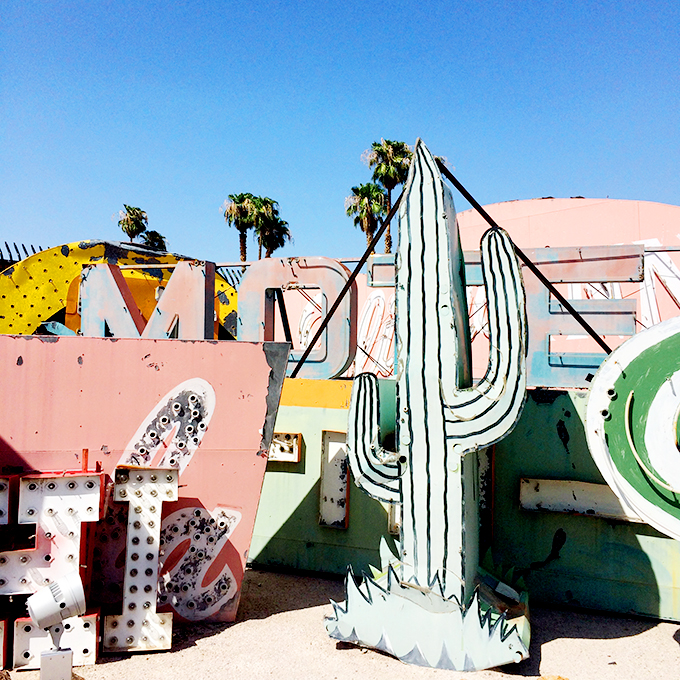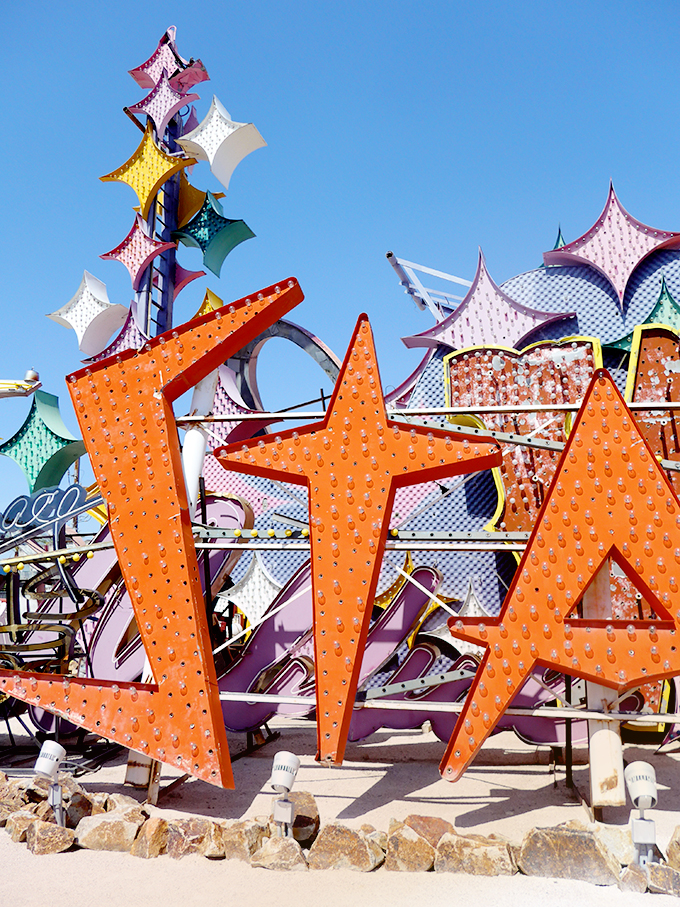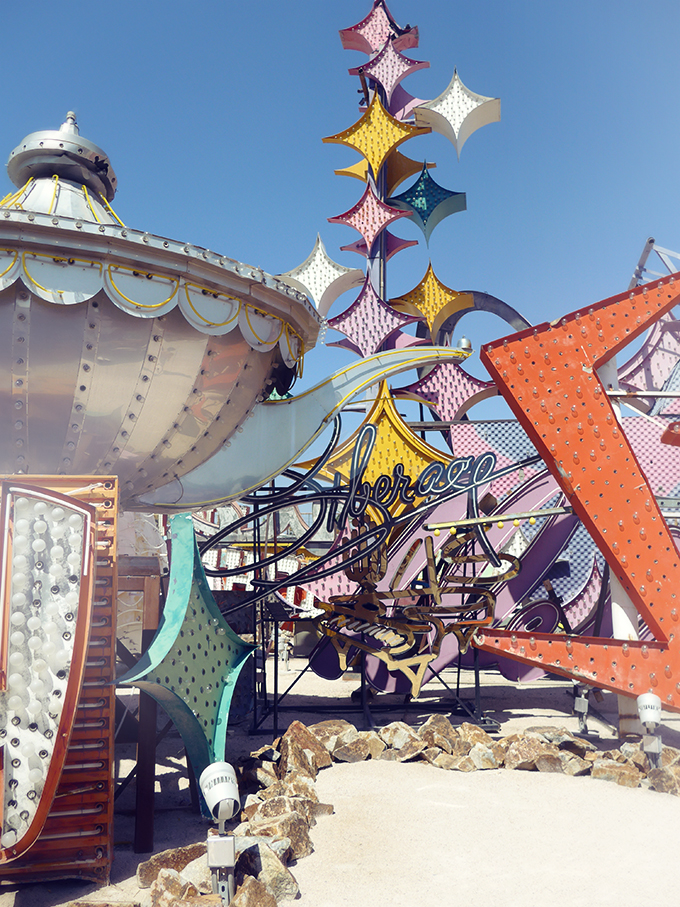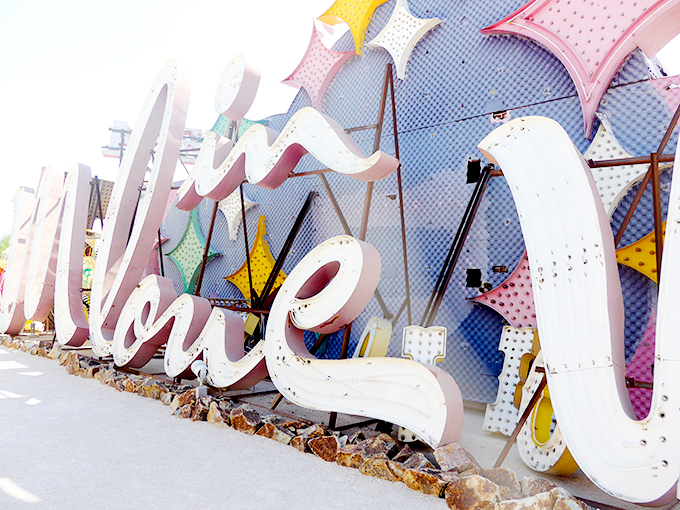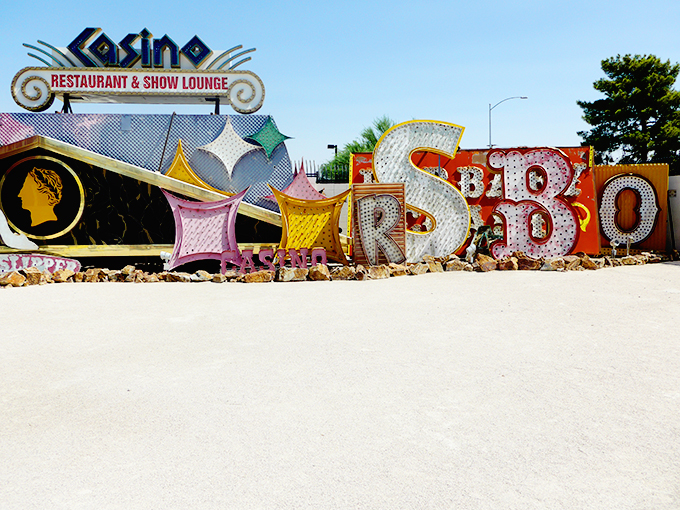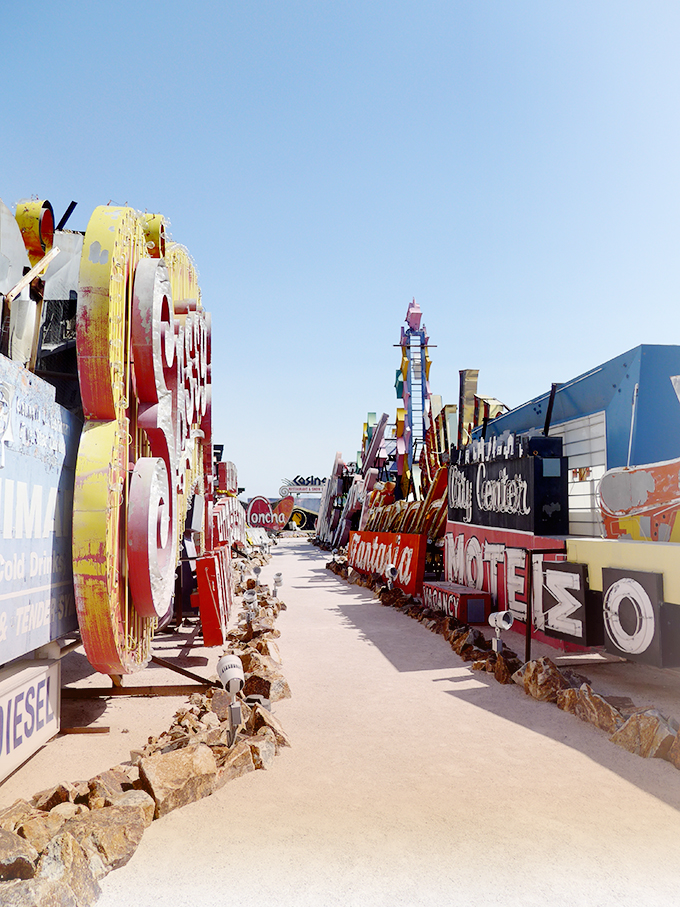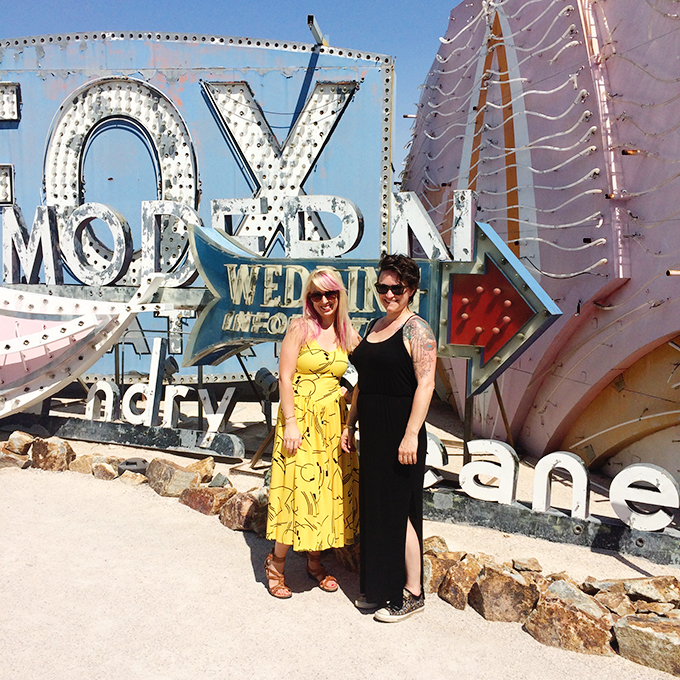 And then we melted into a sweaty puddle of despair. Have I mentioned that it was hot in Vegas? Effing HOT HOT. Walking on the sun hot.
That evening we celebrated my friend Ellie's birthday with dinner and drinks at Park on Fremont. The prices were good (especially for Vegas because DAMGURL that city is expensive) and the ambiance was on point. Quirky art, good food, craft cocktails, and a sweet patio with an old Cinderella-like carriage and a teeter totter. Highly recommend!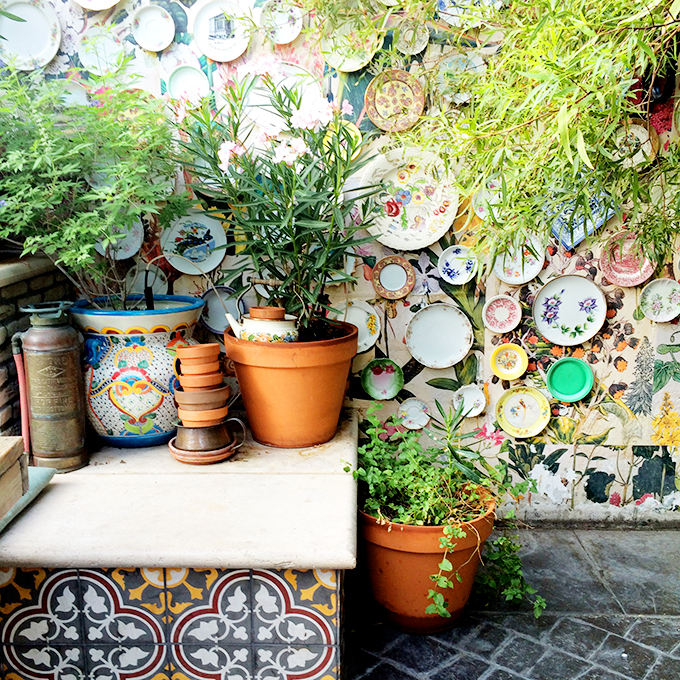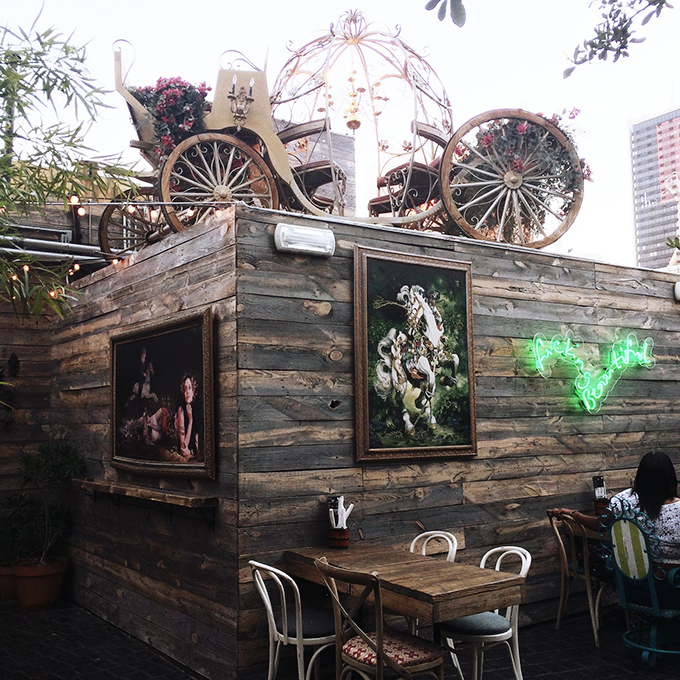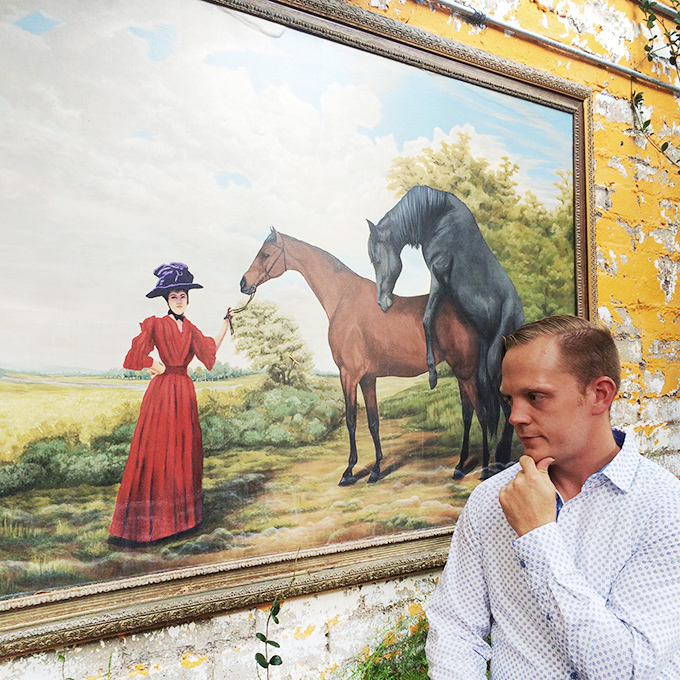 After dinner we walked along Fremont street and things got REAL silly. Ridiculously overpriced cocktails may have been involved.
The next morning we rented a private cabana by the pool at MGM. Each cabana has it's own mini-fridge, lounge chairs, chilled towels, inner tubes, a music dock, a safe for wallets/phones, and a waitress. It was quite luxurious for us hobos! We spent all day lounging around, drinking, swimming, stuffing our faces, and having long theoretical pool-side discussions. It was delightful.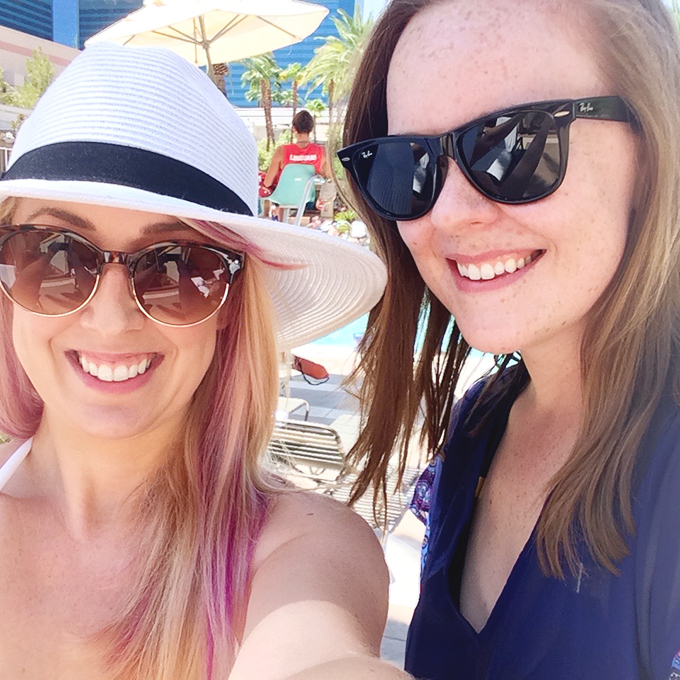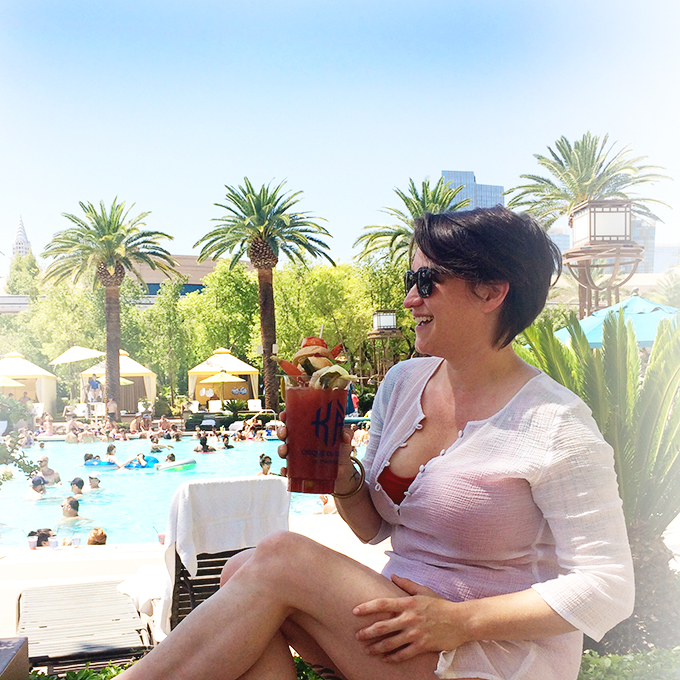 After a quick nap and a shower, a limo picked us up and took us to The Tunnel of Love Drive-Thru Wedding Chapel. Mike D and I, along with two of our best friends, Charlie & Halina, thought it would be fun to renew our wedding vows in a double drive-thru ceremony. *Spoiler Alert* BEST ONE HUNDRED BUCKS I'VE EVER SPENT. We almost didn't do this and I'm so glad we decided to just go for it. The chapel was… um, interesting?  The pink Cadillac they let us "rent" didn't run and had four flat tires. Ha! I'm sure there's a metaphor for marriage in there somewhere. Empty love tank something or other? Doesn't matter. WE DOOOOO!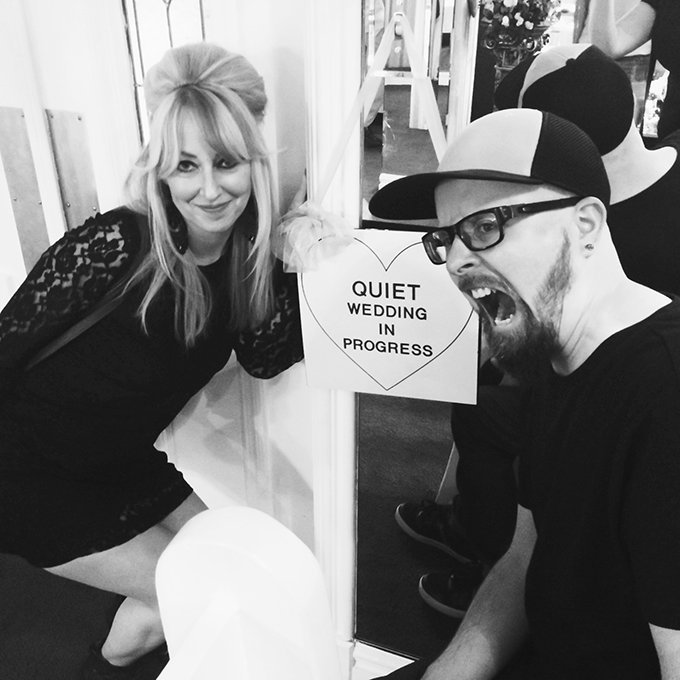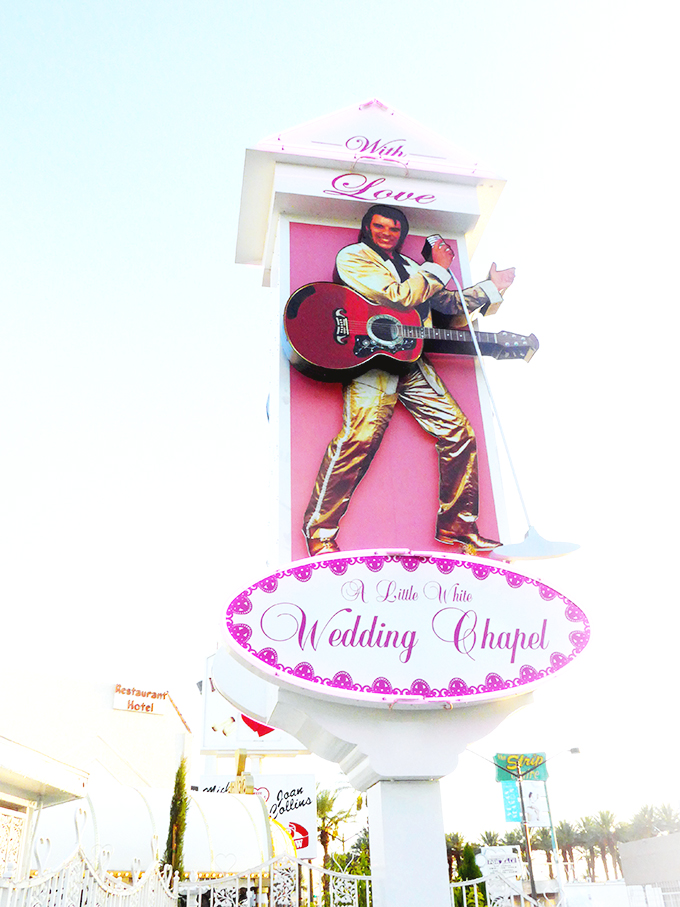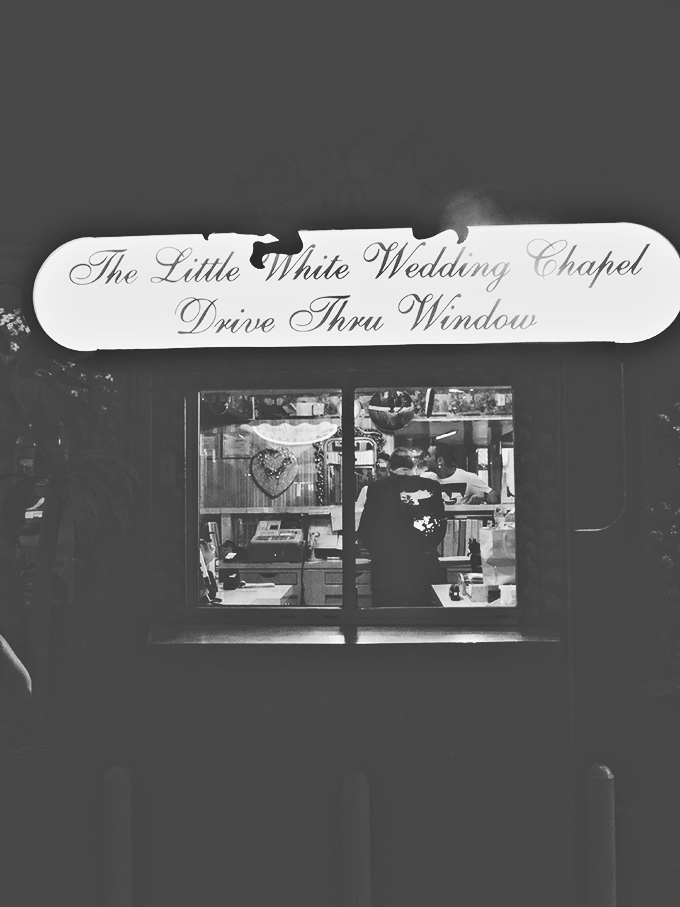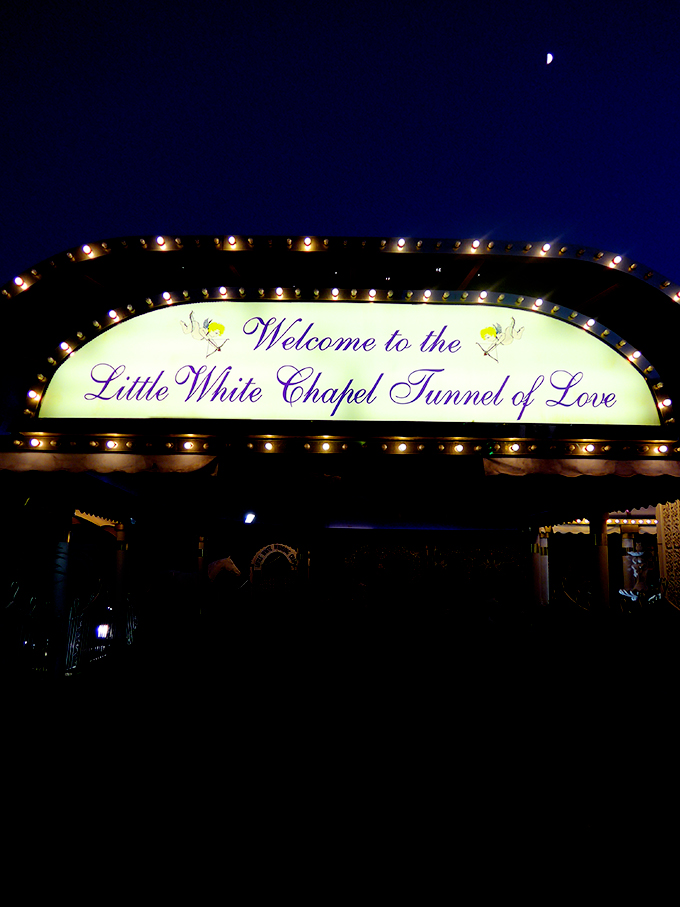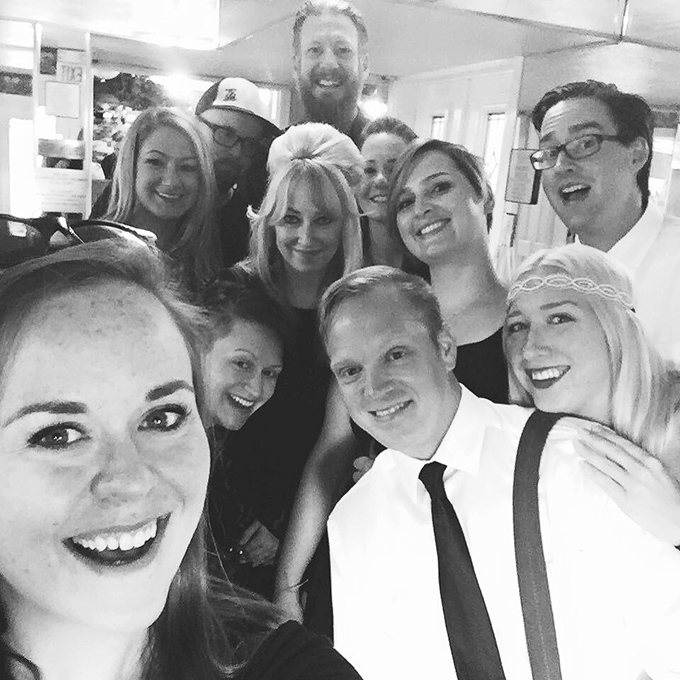 My friend Kate captured the faux nuptials so perfectly. Truth be told, we were a little tipsy from spending all day at the pool and it was hard to keep a straight face. SUPER SERIOUS WEDDING TIMEZ COMING AT YOU.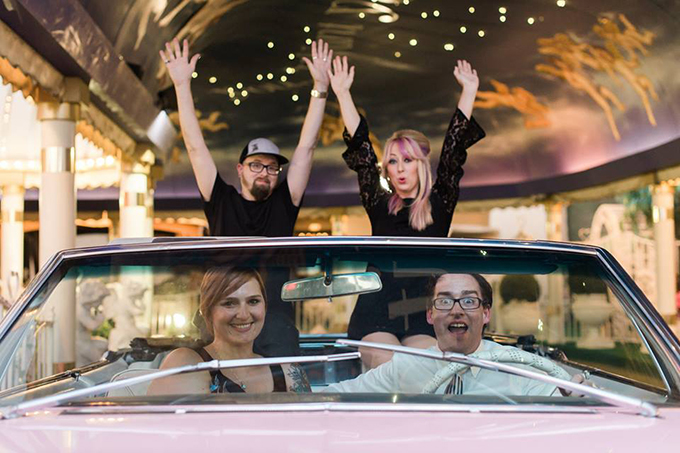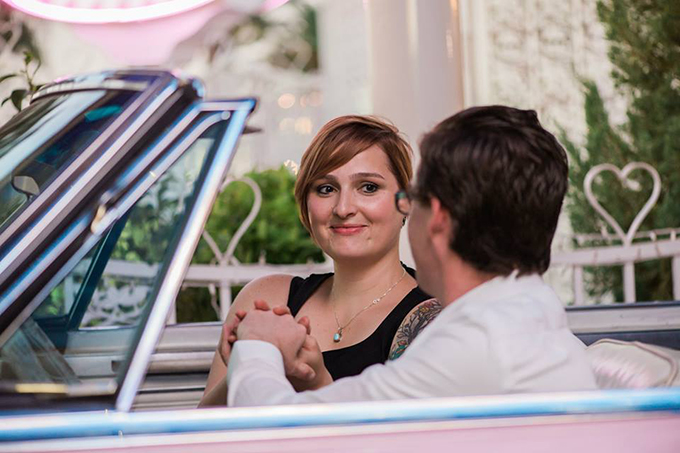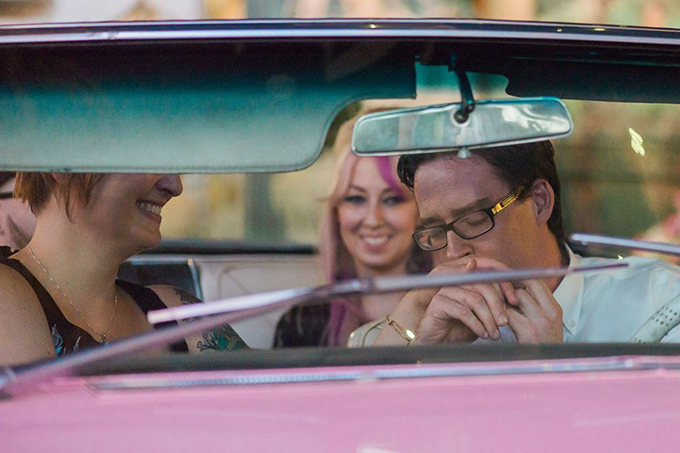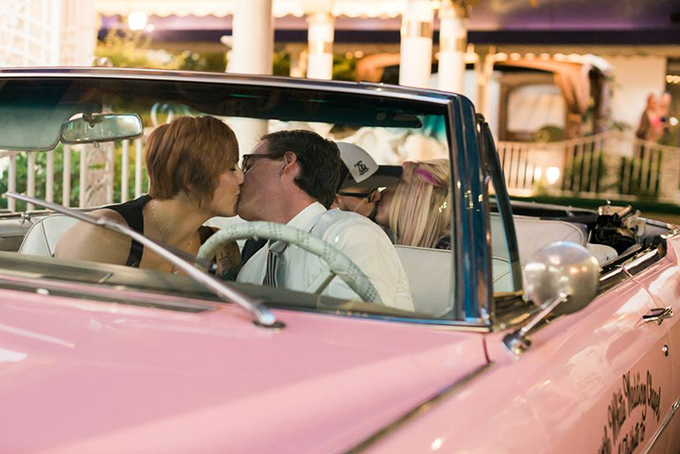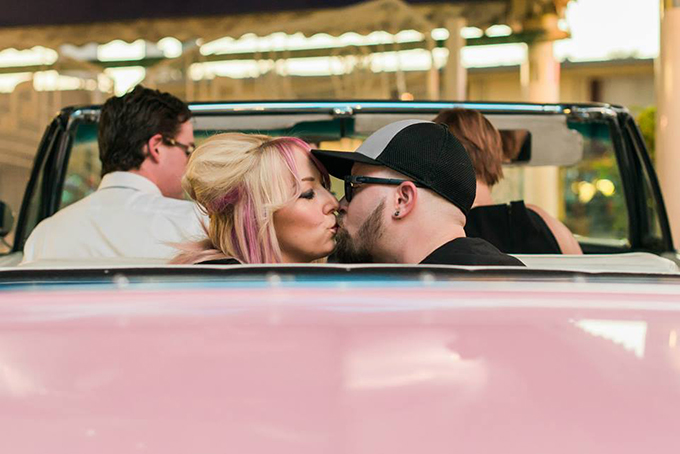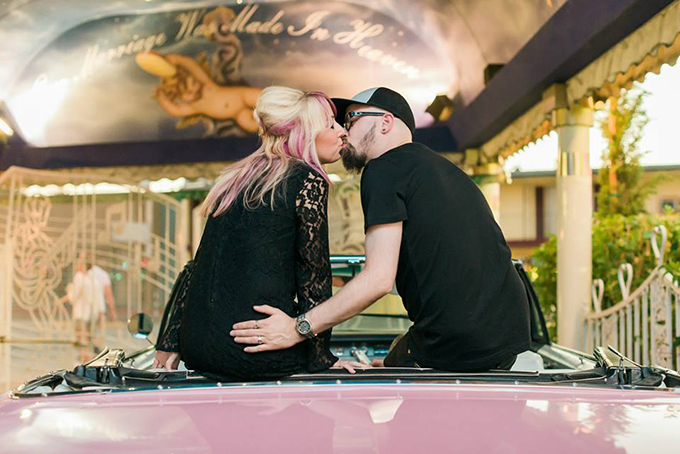 Thank you, Kate! Because of you, I'll never forget my second wedding to my first husband.
*dabs at a tear*
On our final day in Vegas, Mike and I wandered along the strip and came across The Polaroid Museum. This was a totally random and lucky find. I NERDED OUT over rare cameras, Polaroids by Lucas Michael and Maurizio Galimberti, and an installation of Andy Warhol's silver clouds.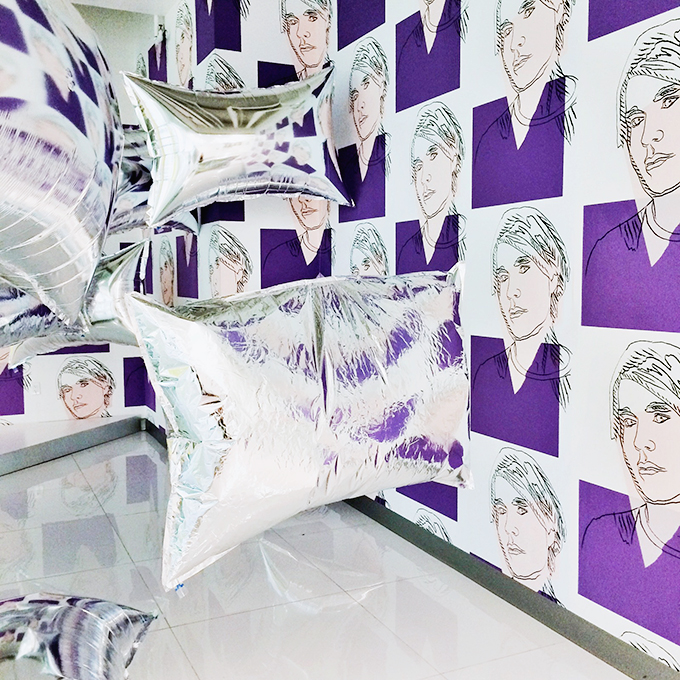 That evening we met up with our friends for dinner at The Peppermill Restaurant and Fireside Lounge. It's iconic, weird, gorgeous, and offers the quintessential throwback Vegas experience. You HAVE to check this place out. Make sure to head into the fireside lounge after dinner for a nightcap. The ambiance in there is insane. Honestly, the food and drinks are nothing over the top, but the decor is what really makes this place special.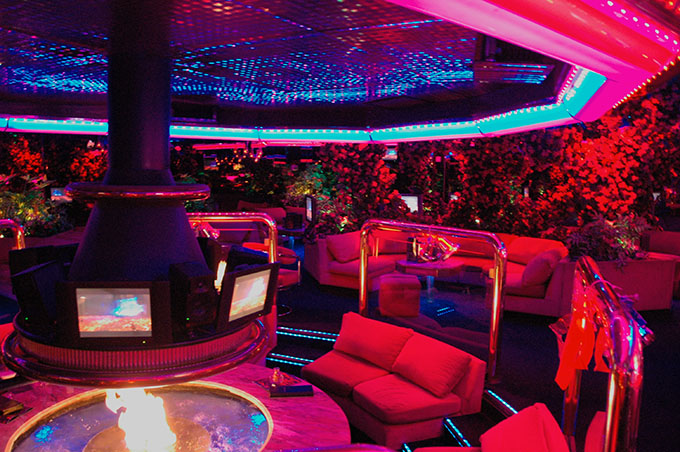 We ended our trip with The Beatles LOVE at The Mirage. I basically ugly-cried for a straight two hours. The costumes were BONKERS. The dancers' bodies were BONKERS. The trapezoid acts were BONKERS. OMG SO MUCH BONKERS.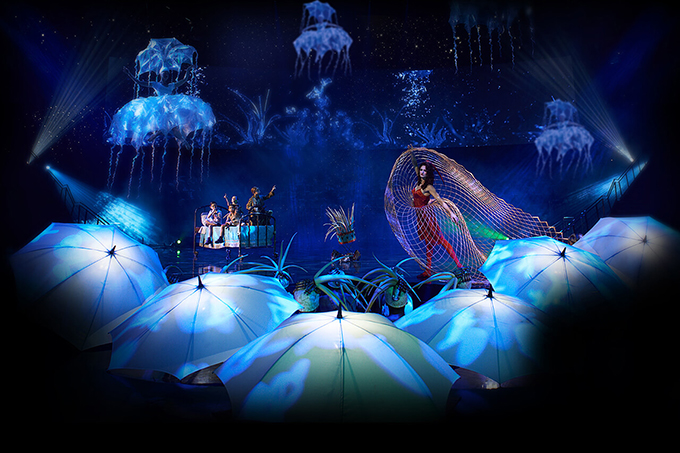 And then we flew home. Happy, heat exhausted, and hung over.
Ok, Vegas. You win.
I like you now.
PS: I shoved my iPhone in my friends' faces the whole trip to create this video just for you.
March 10, 2016
This entry was posted in
Life
,
Photography
,
Vintage
,
Wanderlust
and tagged
drive-thru wedding chapel
,
las vegas
,
neon boneyard
,
neon museum
,
park on fremont
,
peppermill lounge
,
polaroid museum
,
red rock canyon
,
Vegas in four days
. Bookmark the
permalink
.