No-Sew Drapes DIY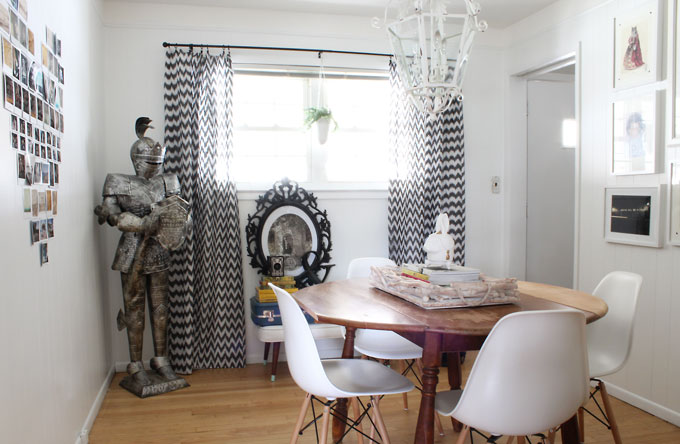 This is a bit of recycled content from my old blog, but I made some no-sew curtains for the dining room recently and just HAD to share the DIY again!  Because they're so easy!
I've been on the hunt for new curtains since repainting the dining room.  I didn't have a specific color or pattern in mind, but Mike D politely suggested that I look for something not girly, and when Mike D speaks, I sometimes try to listen.
I couldn't find any curtains I loved at my usual favorites (West Elm, Ikea, Anthro) except for a few that were well over $100/panel.  Yikes!  I change curtains like I change my underwear so I can't justify spending a couple hundy when I'll probably want to replace them in 5 minutes.
And then this happened.   Charcoal & white ikat fabric, affordable, long enough, wide enough, approved by Emily Henderson herself.  Well, shoot.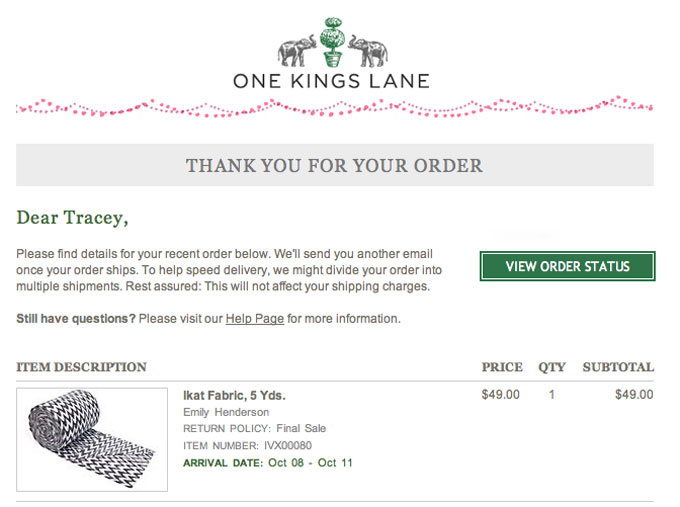 Sold!
Now here's a little known fact about me.  I do not sew.  Not one little tiny bit. I dabbled in sewing as a kid, but I don't remember any of it because I have blocked out my childhood.  Just kidding, mom.
Re-learning to sew is on my bucket list, I just haven't found the time to dedicate to it yet.  Maybe when Mike D makes enough money to allow me to be a stay-at-home fur baby mom, I can finally teach myself.  I've got goals, my friends.
In the meantime, don't fret because I have… *cue the sound of angels singing*… HEM TAPE!  
I love it more than baby kittens and reeses peanut butter cups.
[No I don't]
Now buckle up for the easiest curtain DIY ever!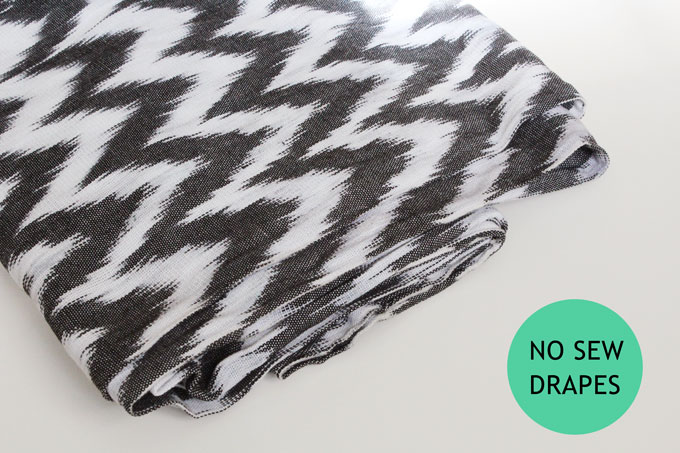 Once my fabric arrived in the mail,  I gave it a good ironing and then cut two evenly sized panels (approximately 86″ long by 36″ wide) leaving an extra inch at the top and the bottom for my "hem".
I didn't take a picture of that part (farts!)  but instead please enjoy this ridiculous picture of my cat.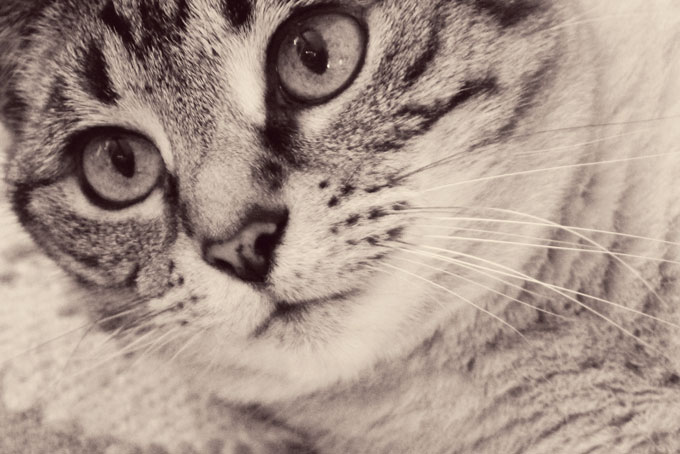 On the cut edges of each panel I created a small fold, placed my handy-dandy hem tape inside the fold, and pressed with an iron until it bonded.  Supes easy.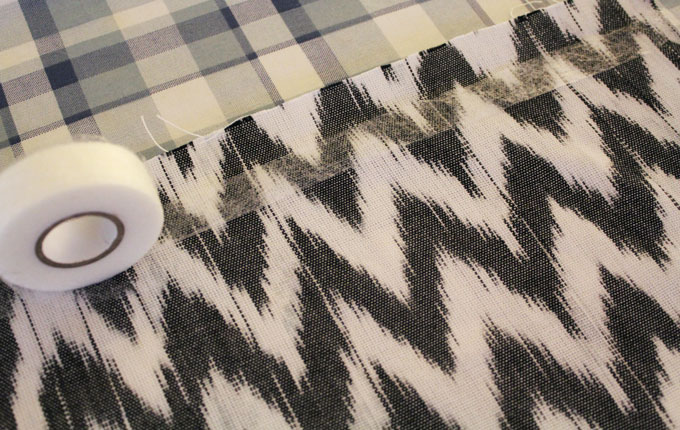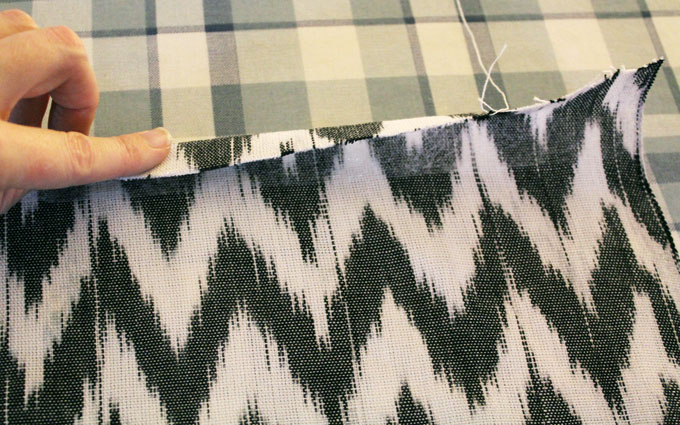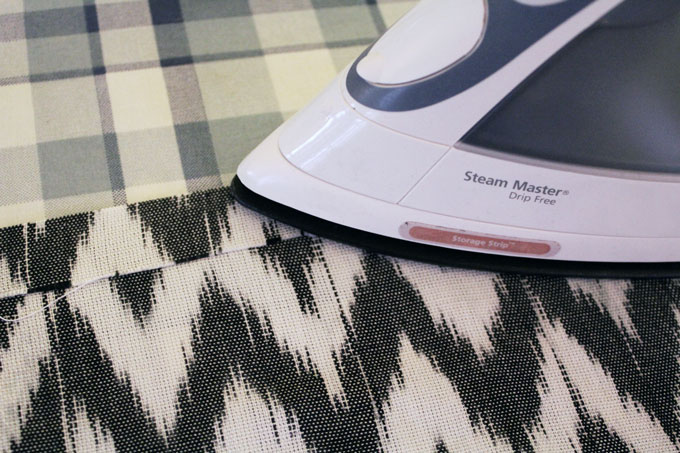 Once all the "hemming" was completed, I clipped on some curtain rings that I purchased from target, and I was done-zo.
I don't remember exactly how long this took, but it was about the length of one Real Housewives of Atlanta, minus commercials, plus several pauses to run after Eleanor and collect Christmas tree ornaments from her mouth.
Is that helpful?
Speaking of RHOATL,  what is up with that new Miss USA chick (NOT TO BE CONFUSED WITH MISS AMERICA)?  And really, WHAT IS UP WITH HER?
But I digress.  Here are Le Fancy Drapes all hung up and dazzling.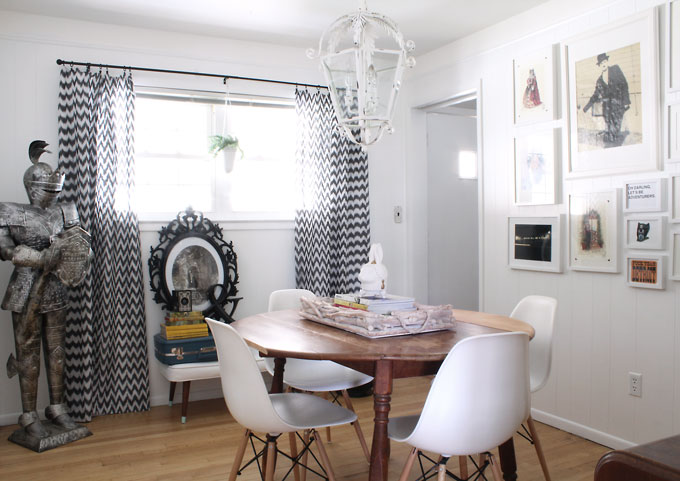 Cost Breakdown:
Fabric:  $49.00
Hem Tape:  $0 (I already had some in the house, but it's about $2 per roll and lasts forever)
Curtain hooks:  $9.58 (Two packs of 7 clips at $4.79 each)
Total Cost:  $58.58 ($29.29per panel)!  Woot!
The dining room is coming along swimmingly.  Since painting, I have hung the heart shaped polaroid collage, painted that ugly old bench, and created some vinyl record storage.  I have a future post planned for the frame gallery that you can see in some of the pictures above, and after that I just have to refinish my grandmother's old dining room table.  And maybe switch out the light fixture.
Maybe.
And now I shall leave you with some recent instagrams.  Cuz they purty.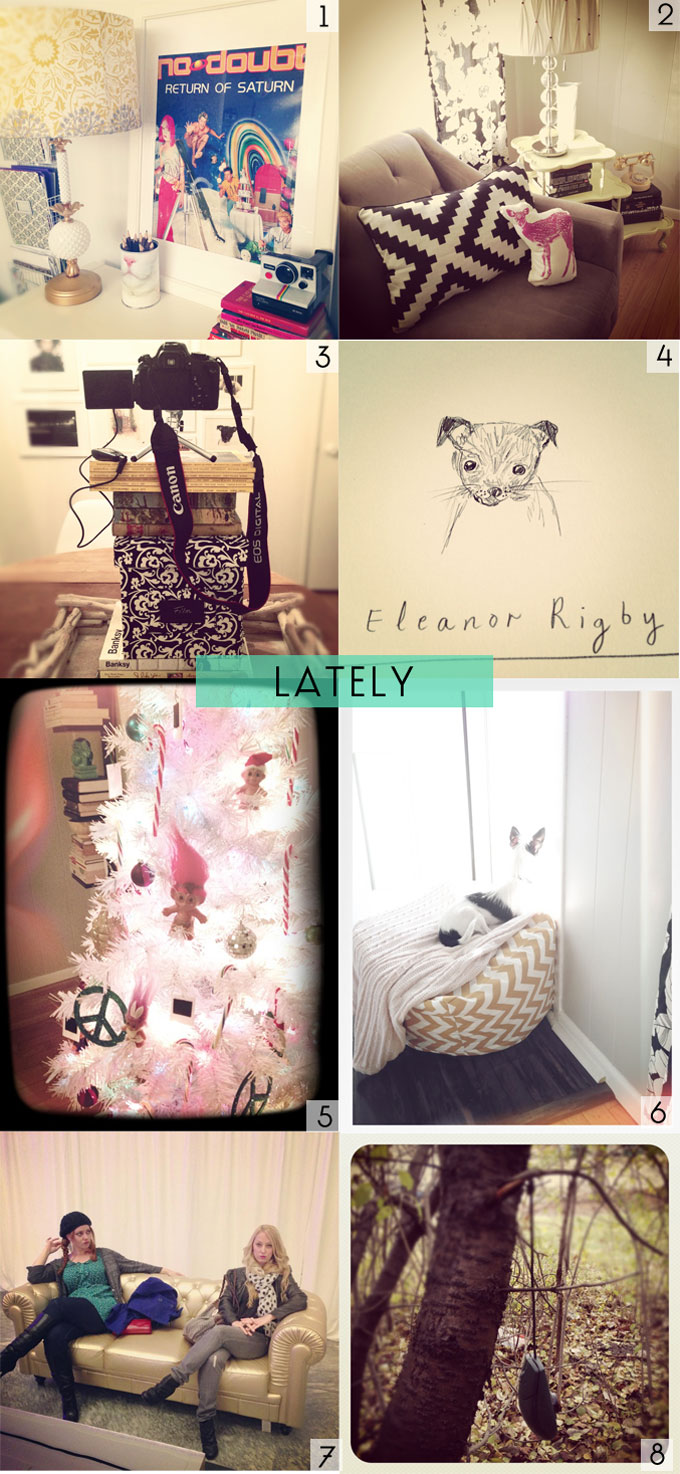 My signed No Doubt poster, reframed and moved to a new spot in my office/studio.
New throw pillow from Ikea.  $10!
I broke my tripod (sad face).  A stack of books & boxes works surprisingly well in a pinch.
I received my drawing of Eleanor Rigby from Hannah Evelyn Rowlands in the mail!
Christmas (Troll) Tree.
When I push the pouf over to the glass door, it's Eleanor's favorite thing ever.  FULL VIEW SQUIRREL ACTION.
Another gold sofa!  What! What? Whaaaaaat.
My first geocache thanks to my friend Jillian for letting me tag along (she's a pro).  I must admit, it was quite fun to wander around the woods looking for something hidden, crossing my fingers that it wasn't a serial killer waiting in the bushes.  Hooray for not getting murdered!
xoxo
December 4, 2012
This entry was posted in
Decorating
,
DIY Projects
and tagged
curtains
,
dining room
,
DIY
,
drapes
,
emily henderson
,
ikat
,
no-sew
,
one king's lane
. Bookmark the
permalink
.