Let's Talk About the Living Room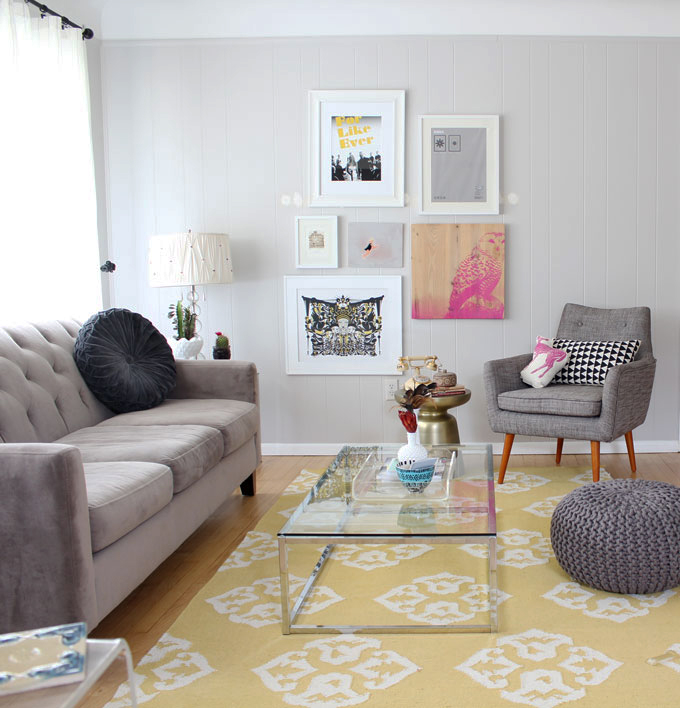 (Please ignore the spackle situation and I'll address that empty frame later in the post).

We've been living without a rug in the living room for the last year thanks to an adorable, yet destructive, puffball named Eleanor Rigby. After two accidents in the first day of bringing her home, we decided it was best to store the rug until she was housebroken and out of her chewing phase. I reintroduced the rug a few weeks ago, and so far so good! Every now and again she decides to give the corner of the rug a little nibble, to which I simply spritz some bitter apple spray and kindly explain to her how many chihuahuas that rug costs (technically I think it's less than one, but who's counting?).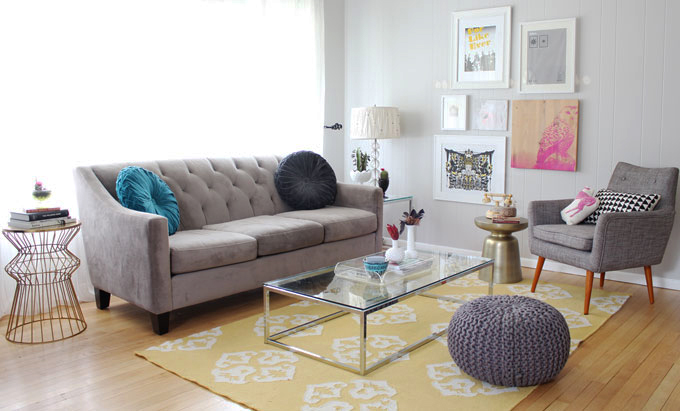 Yay! Yellow! Rug! I forgot how much that rug warms up the space and makes everything feel happy.
Once the rug was in place, the black and white floral drapes that were previously hanging in there had to go. The pattern on the drapes clashed with the pattern on the rug and the combination of the two colors made the room look like a bumble bee had thrown up all over it. So one Sunday afternoon during a trip to Ikea (side note: never do that again!), I picked up these inexpensive drapes. I cut off the tabs, gave them a quick hem (using this method), and attached hook rings. They're hefty enough to provide some privacy, but still allow sunlight to filter in. I love the subtle touch of the thin dashed stripes.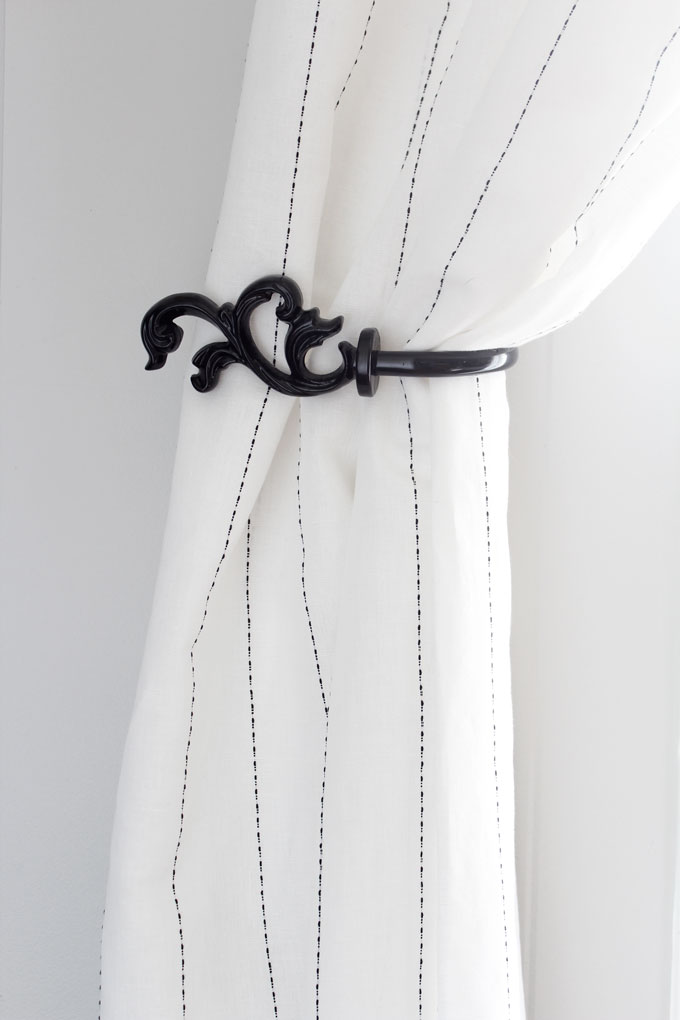 It was also time to replace the white chair that never quite fit the room. I bought it many years ago at a deeply discounted price, so I was happy to pass it along to my mom and replace it with something that fit the scale of the room better. Finding the right chair was difficult because it is such a tiny space.  I had been coveting the Mrs Godfrey chair by Johnathan Adler for a while now, but the price was way too cost prohibitive. I trolled craigslist and ebay hoping to find a used one to no avail, but eventually stumbled upon this very similar chair for a fraction of the price.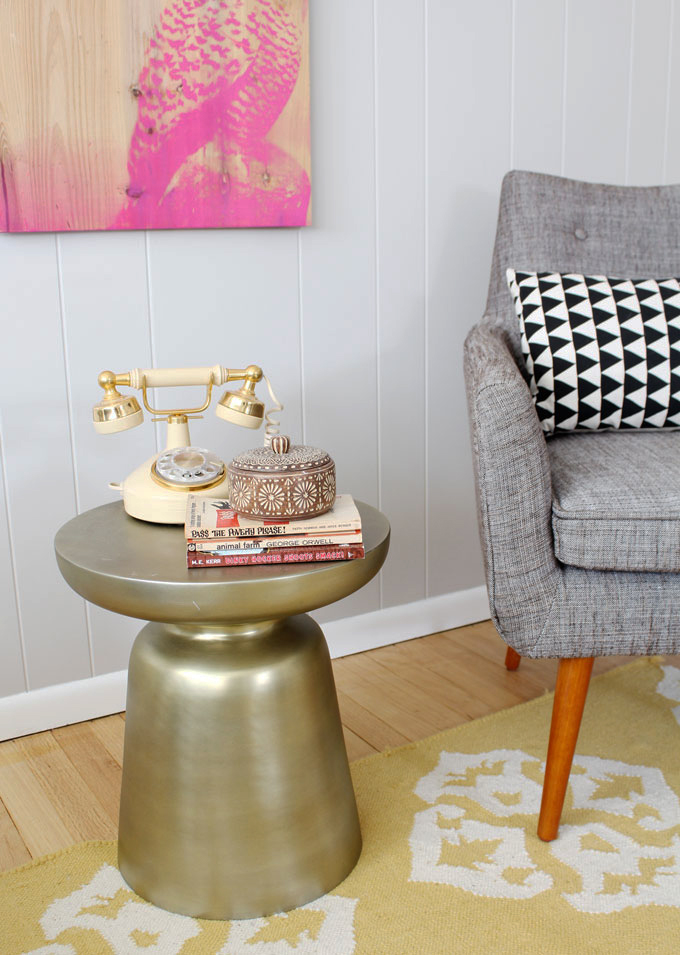 Hello chair of my dreams!
(Cute chairs make you happy.  It's a scientific fact.)
That little brass accent table above is from West Elm, and the other brass table next to the sofa is from Target, which I'm pretty sure was the last one on planet Earth.  I called five (five!) Targets.  Shit got real.
After rearranging a few things and doing some overall sprucing, the space is really shaping up.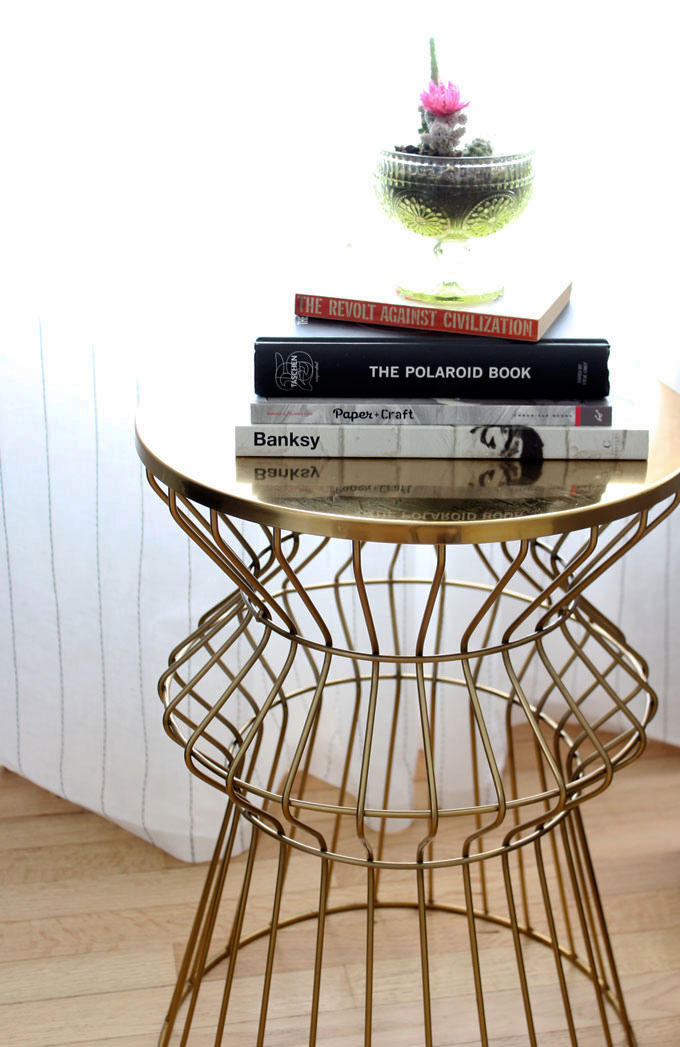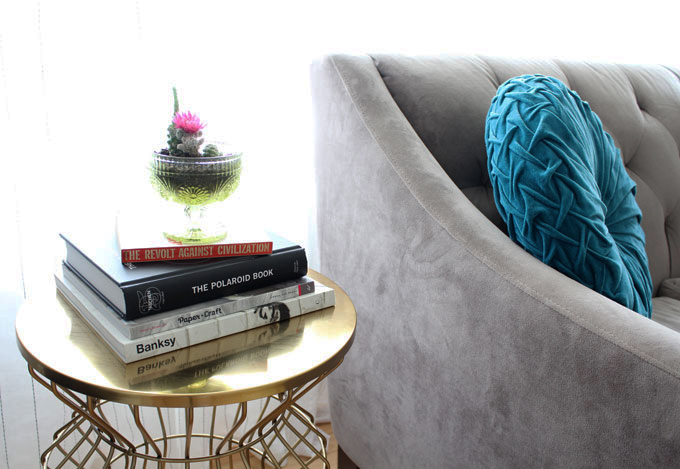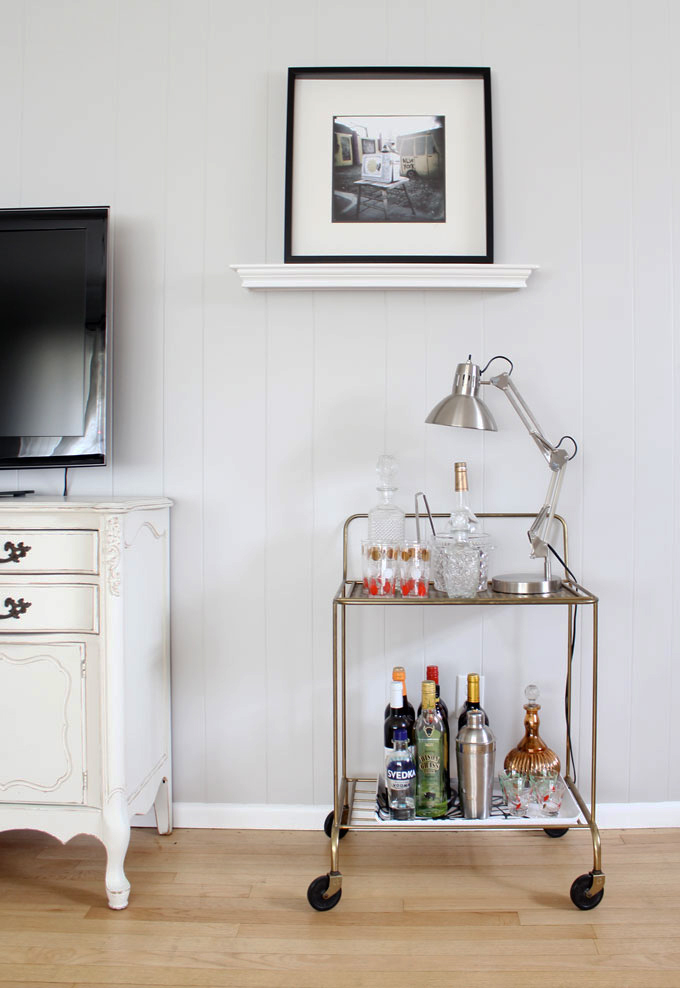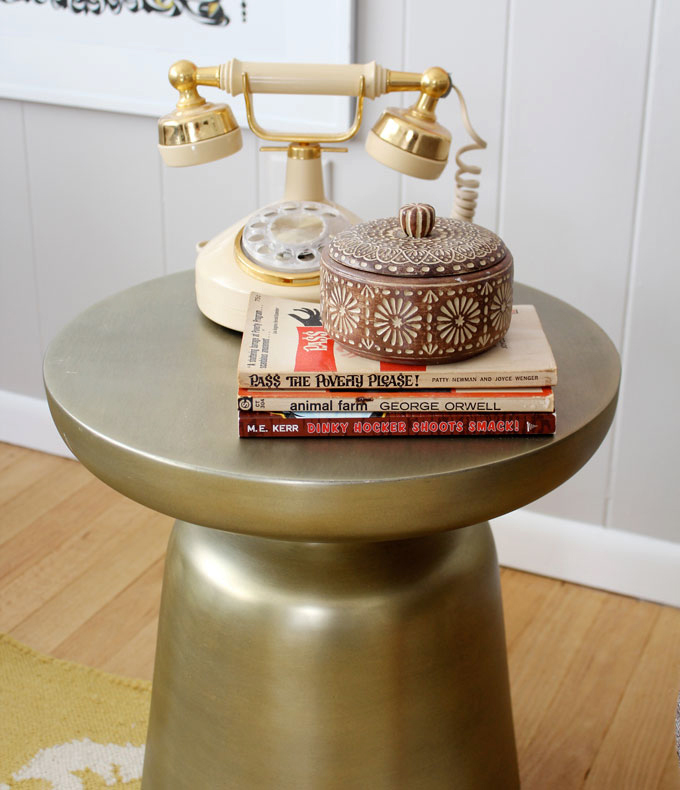 Sometimes creepy ghost dogs show up in my photos.  NBD.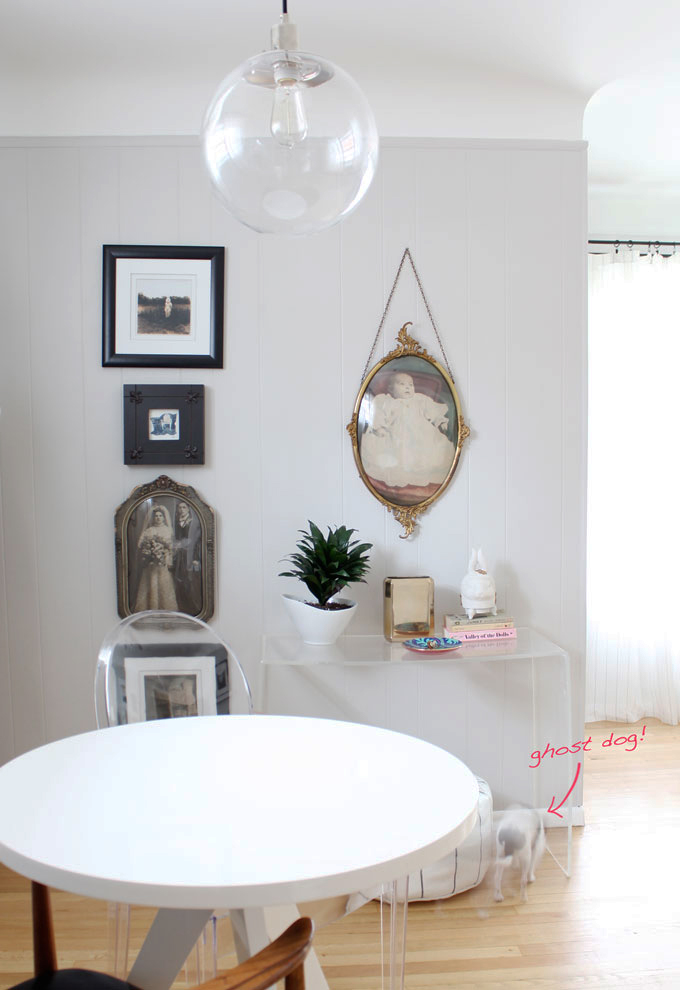 That little rapscallion.
Regarding that empty frame in the first photo, I want to fill it with something bold and graphic and slightly kitschy.  I looked at about 90 million movie and music related art prints on Society6 and Etsy, until my eyes nearly popped out of my head, and I've narrowed it down to a dozen favorites.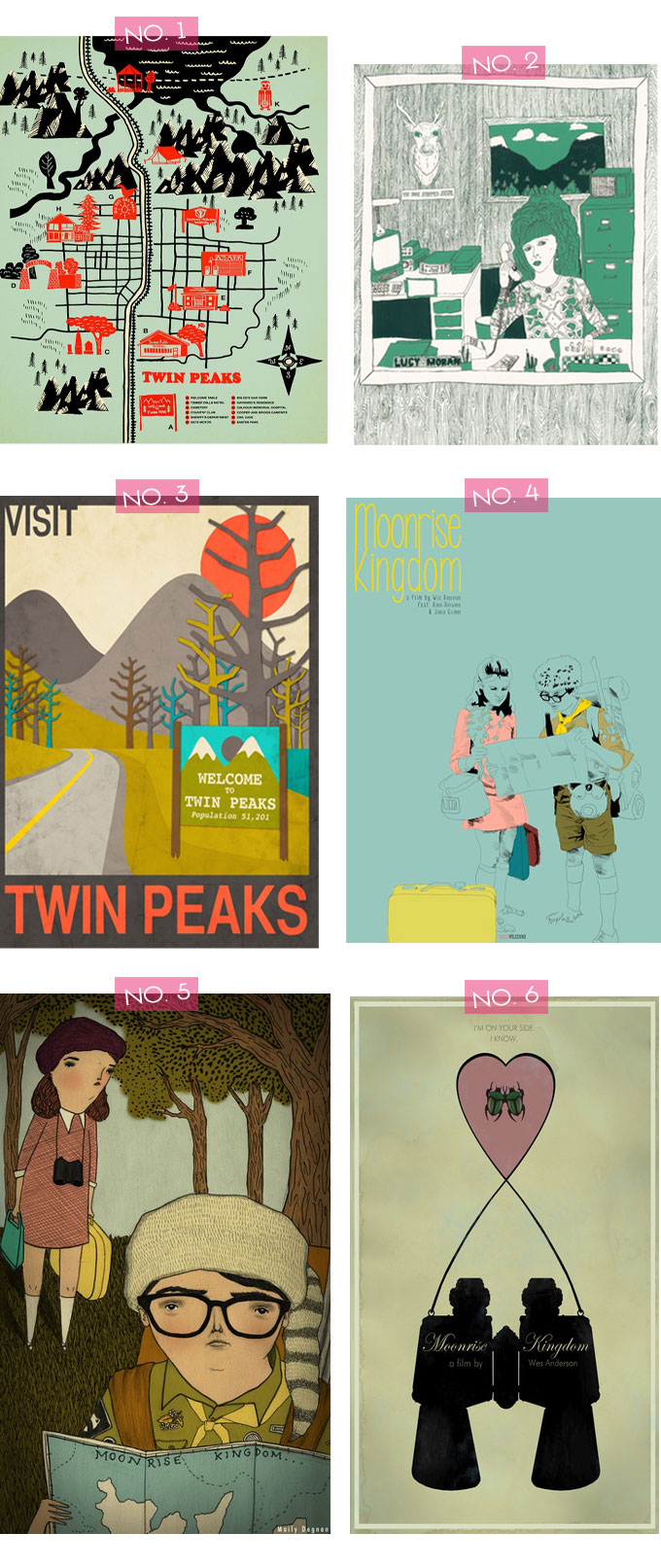 one, two, three, four, five, six

seven, eight, nine, ten, eleven, twelve
Which one would you pick? They're all so good!  Seriously, I can't decide. Tell me what to do.
You're probably thinking I should ask Mike D which one he likes, right? Because he lives in this house too, and his opinion matters?
Hahahaha, you so funny.
Let me tell you a story.  I once hung one of my own photographs in our living room.  After a year of it being displayed in the room where we spend the majority our time, I plucked that very photograph from our wall and hung it in a gallery art show. My darling beefcake of a husband arrived to the gallery, looked upon said photograph and exclaimed "Wow, I love that piece. I've never seen that one before".
I rest my case.
I'm pretty sure I could hang this in there and he wouldn't even notice.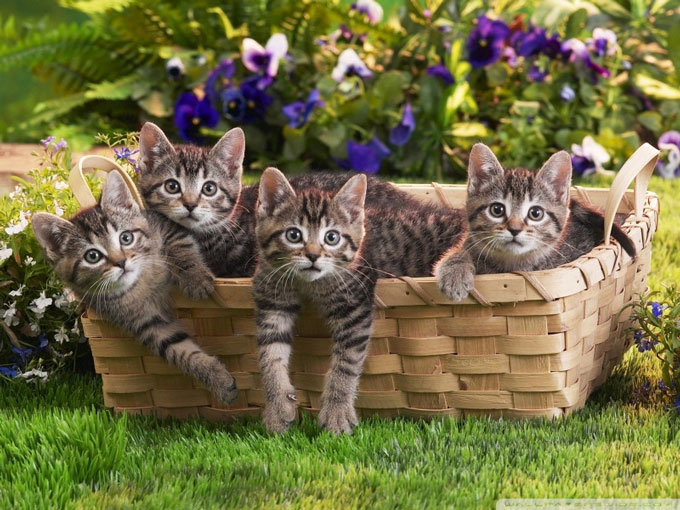 Which is tempting…
April 24, 2013
This entry was posted in
Decorating
,
Life
and tagged
art roundup
,
etsy
,
living room
,
rug
,
society 6
,
target
,
urban outfitters
,
west elm
. Bookmark the
permalink
.