Dining Room Gallery Wall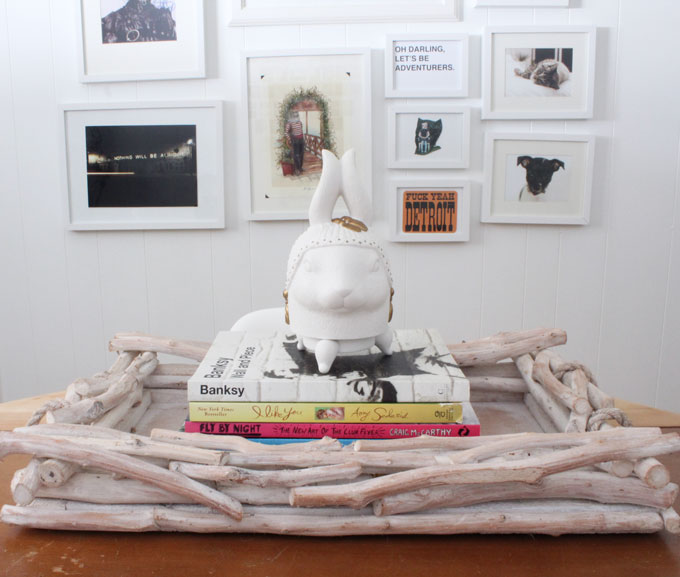 Several weeks ago I hung a gallery wall in our dining room.  I took terrible photos without a tripod (which recently broke) and then upon receiving a new tripod, intended to retake the photos, but never did.   Holidays?  Laziness?  But then I recently looked back at the original photos and thought they weren't that bad?  So let's just go with it.
This wall in our dining room sits opposite the heart shaped polaroid collage and contains two doors – one for the closet and one for the entrance into the kitchen.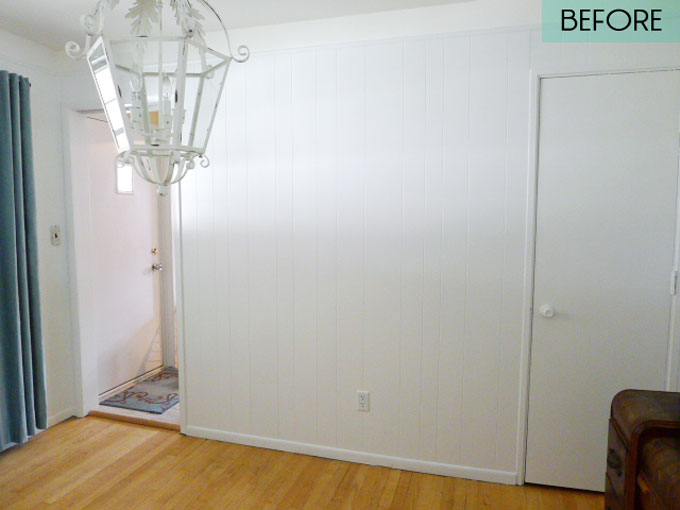 Rather than trying to find one big piece of art to fill this space, I decided to round up a bunch of art prints, postcards, and photographs.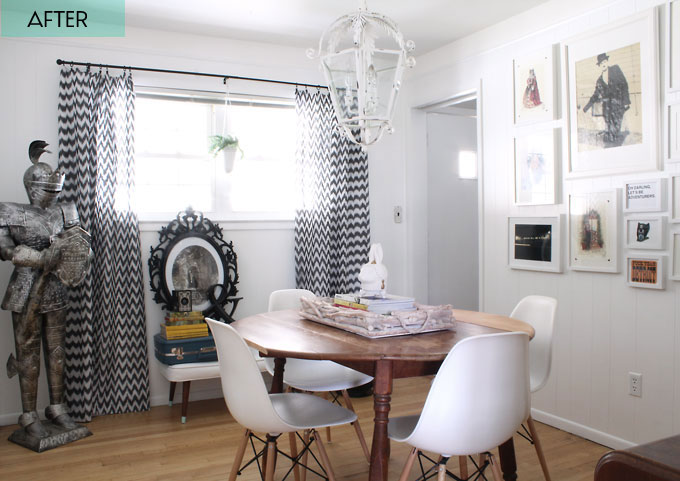 I think it's pretty cute and whatever.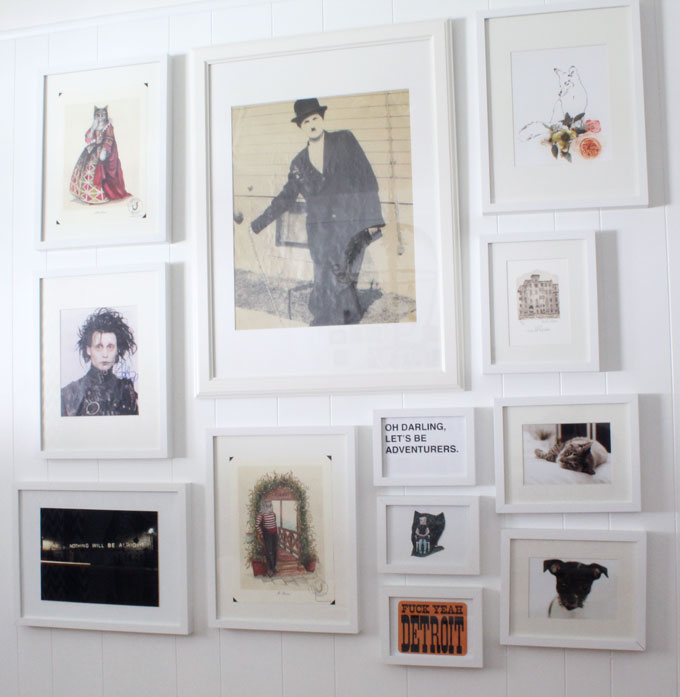 All of the frames are Ikea Ribba frames which come with mats, hanging hardware, and are cheap as dirt.
Here is what I put in them.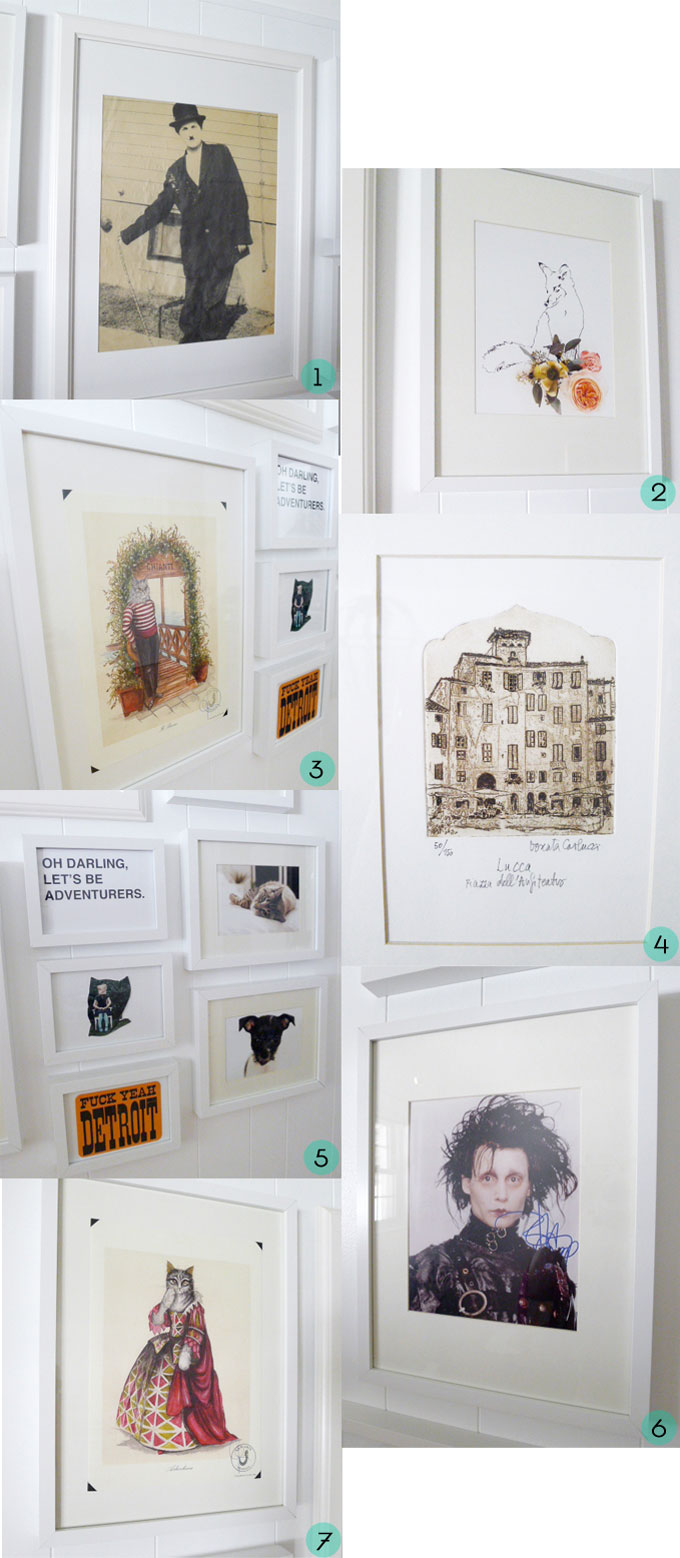 Photograph of my great grandmother (also known as the creepy baby) dressed as Charlie Chaplin on Halloween.
Fox print from Kari Herer.
Fancy cat drawing purchased from a little shop in the Tuscany region of Italy.
Original drawing of the piazza I stayed in while visiting Lucca, Italy.
Print from Fifi Duvie, postcard from Rar Rar Press, a self portrait polaroid emulsion lift and photos of Eleanor Rigby & Celia, photographed by me.
Signed photograph of Edward Scissorhands.
Another fancy cat drawing from Italy. 

Because one cannot have too many cat arts.
Here are some of my tips for creating a casual, yet cohesive gallery wall.
Gather the following:
Original artwork – drawings, paintings, sketches, photography.  Think local art shows, independent shops, art festivals, Etsy, etc.
Sentimental stuff – old black & white photos of your grandparents, post cards, photo booth strips, your kid's artwork.
Inexpensive/fun/silly/trendy stuff that you can periodically switch out when you get bored with it – album covers, band posters, printed photos, art book tear outs, leftover wallpaper, fabric scraps.
My photographs.  Zing!
If you plan to use several different colors of frames, you should always use more than one of each color.  For example, hanging five white frames with one gold frame will probably look like a mistake.  But if you hang several of each, the mix of colors will look intentional.  Like these guys.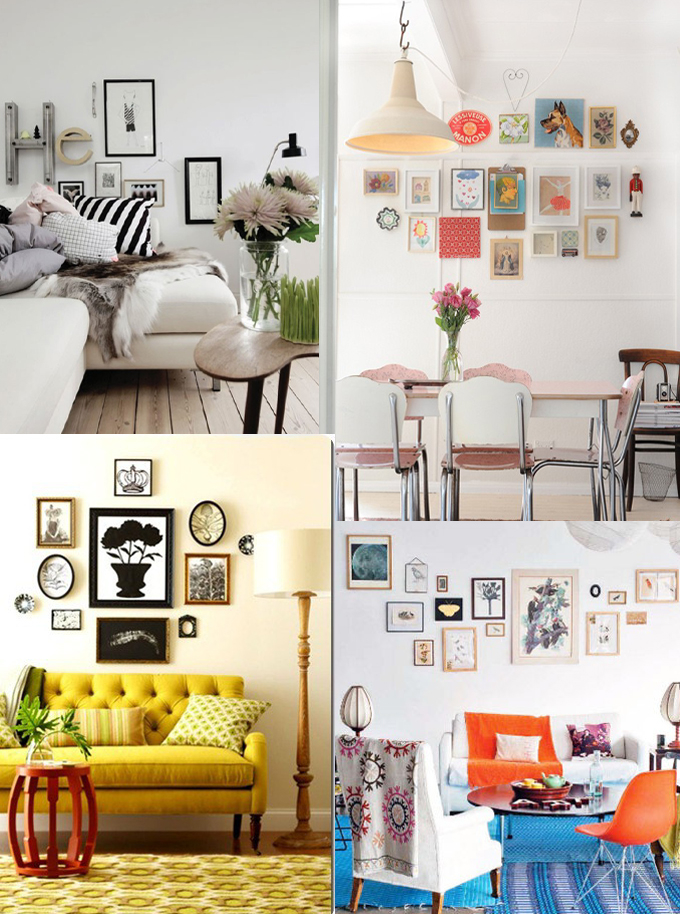 Same goes for artwork style.  Don't hang several pastel botanical prints with one Tupac album cover.  That would be weird.  But if you have several Tupac album covers and several pastel botanical prints, then it would be fine.  And by fine I mean still terrible.  Don't do that.
Instead, do this.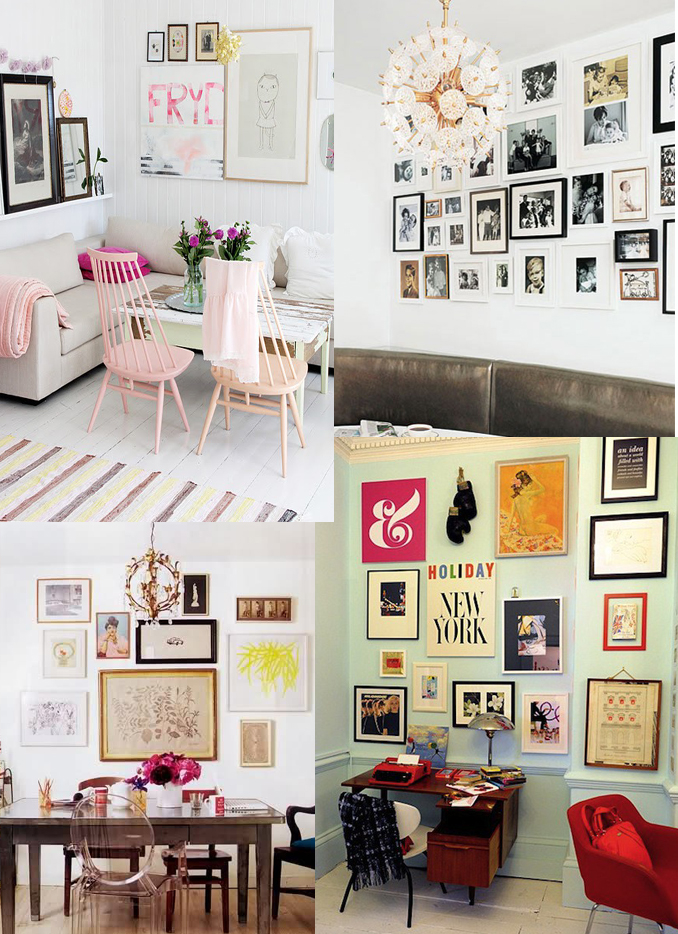 If you have an eclectic mix of colors, styles, and sizes of artwork, you can easily tie them all together by using frames in a uniform color.  To save money, you can spray paint frames you already own, or hunt down cheap frames from garage sales and thrift stores and paint them all one color.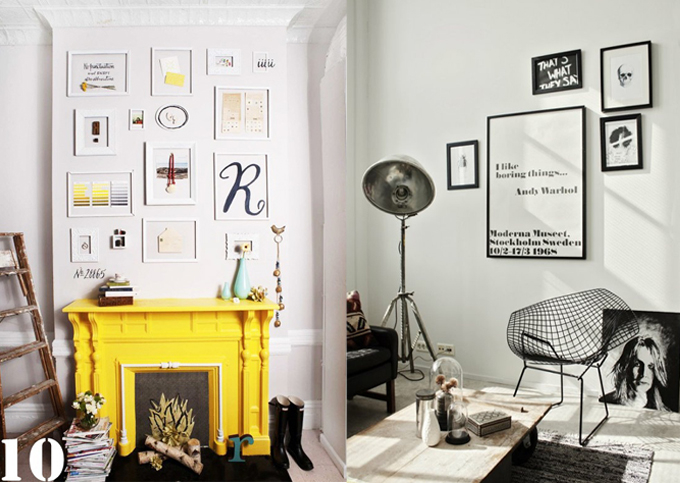 Once you have all your artwork gathered, compose your gallery on the floor so you can easily move the frames around until you come up with the best arrangement.  Evenly distribute your colors and make sure your sizes are balanced without being too symmetrical.   Be sure to fill the space!  You probably need more pieces than you think.  Once you are happy with the composition, take a digital photo of it, so you can reference the exact composition as you transfer them to the wall.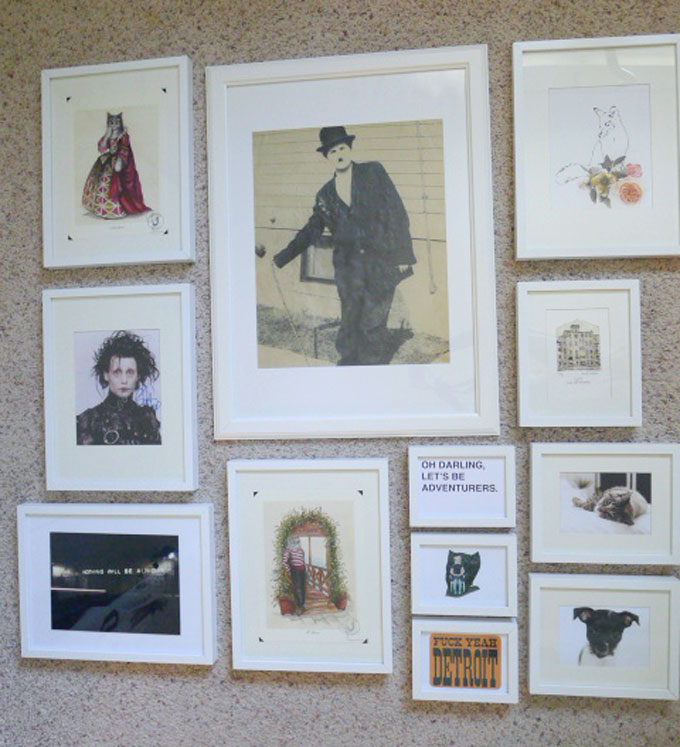 When it comes to spacing, small pieces should be spaced 1-2 inches apart.  Larger pieces (20 by 24 and up) can afford to be a bit further apart.  Those are good general rules to follow, but as you can see below, sometimes rules are made to be broken.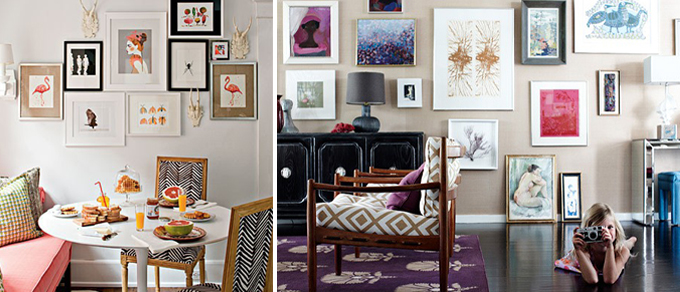 To hang your artwork, your best bet is to use the Paper template method, although sometimes I just go for it and eye-ball everything.  This method makes Mike D experience O.C.D. rage, so I usually send him out of the room.
Once you have mastered those rules, feel to break them and set your inner artist free.  Because screw you, rulez!  Right?!
But no seriously.  Follow my rules.
I think that's it for the dining room, outside of refinishing the dining table this spring/summer.  To recap, I painted, refinished an old bench, created a polaroid collage, and made some easy no-sew drapes.
Speaking of those drapes…
Not sure if you keep up with celebrity news,  but I'm famous on the twitter now.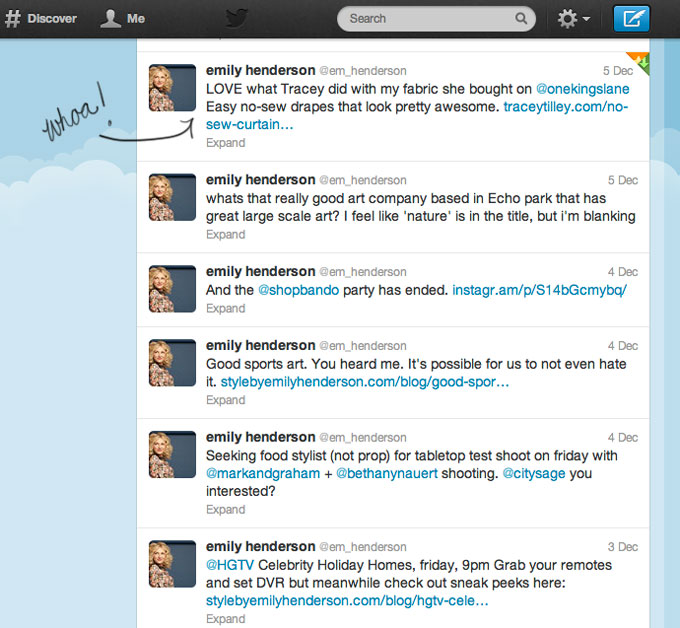 Word has spread, and now the Kardashians keep calling me to hang, which is so sweet of them, but I've been so busy smoking blunts with Justin Bieber all the time.  On my way into Starbucks this morning, the paparazzi swarmed yelling "Tracey, who are you wearing?!" and "Is it true you convinced Rihanna to leave Chris Brown for good?" to which I kindly yelled back "Vintage Old Navy circa 2006! Duhzville! No photos please!"
So in light of my recent fame, I decided it was high time to actually join twitter and now I'm tweeting and all that junk.  Follow me!
xoxo
January 10, 2013
This entry was posted in
Decorating
,
DIY Projects
and tagged
dining room
,
emily henderson
,
gallery wall
. Bookmark the
permalink
.