Much Ado About Dining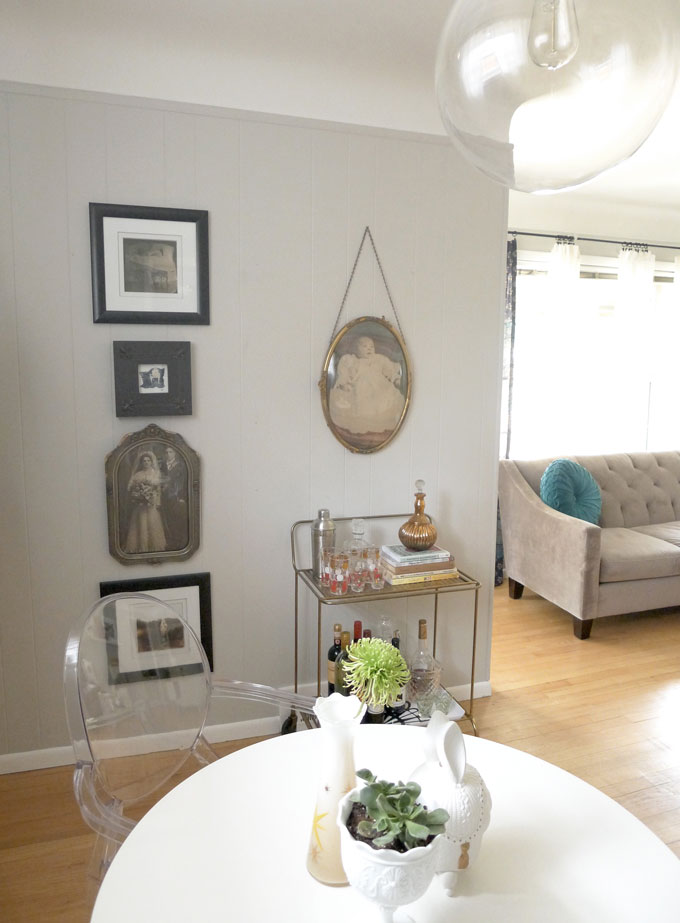 Friends! A miracle has occurred.
The dining room has been painted! Due to some time off work, and a little thing called Doggy Day Care, I got 'er done.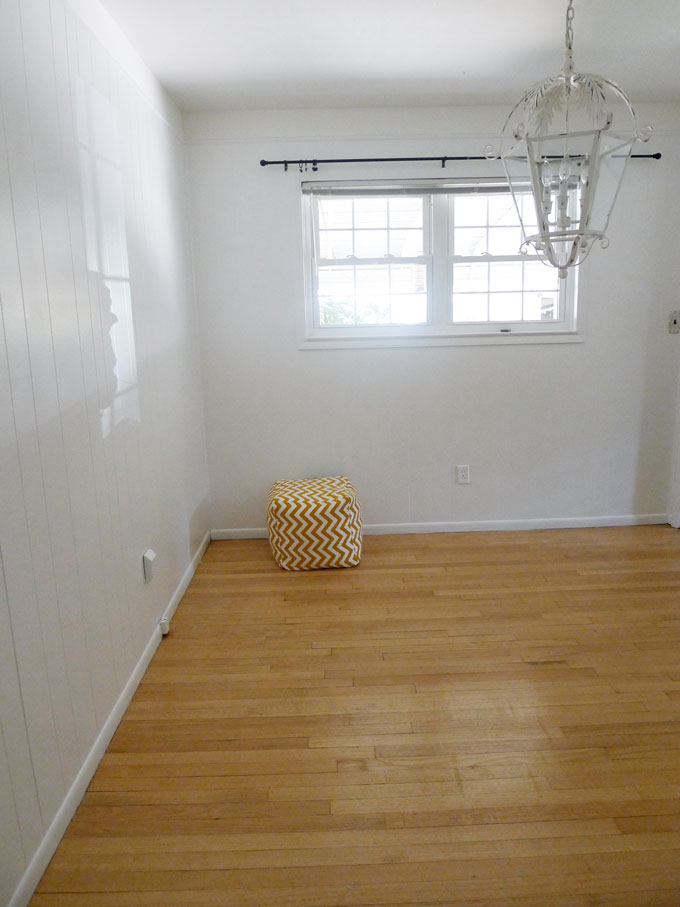 Don't look at that floor. It's dirty. But oh man, I'm so glad that turquoise is gone. Remember?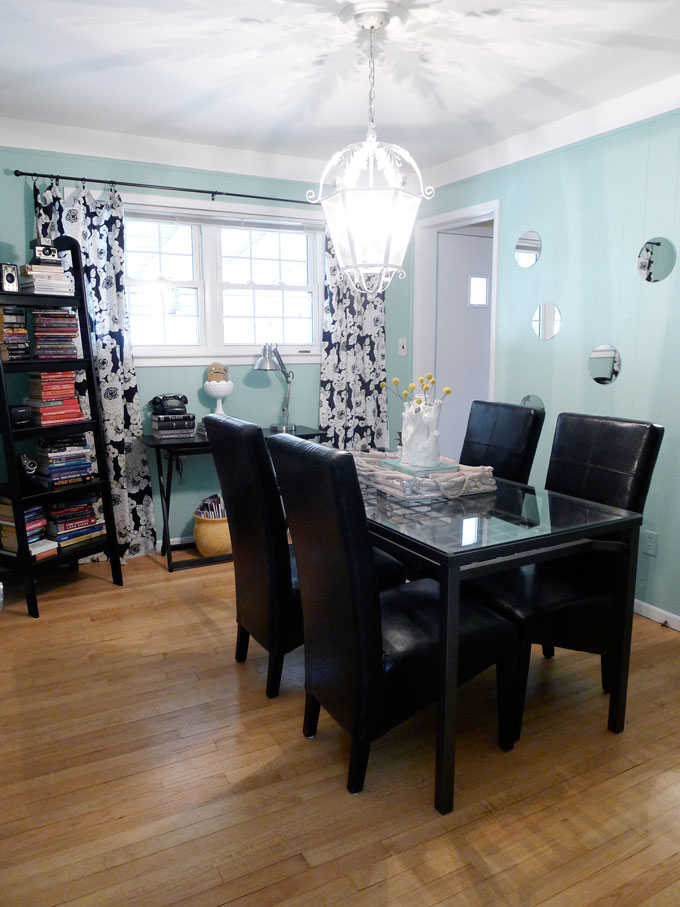 The new color is Distant Gray by Benjamin Moore, color matched to Valspar's zero VOC paint. I love it. So here's the thing. I don't really like bold color on walls. It took me a while to figure this out, but it's true. Light neutral walls are my jam. I prefer to bring in pops of color with pillows, rugs, curtains, and accessories. Those things are so much easier to change up when you're in the mood for a new look too.
Now this is where I break your heart.
I don't really have anything else to show you regarding the dining room makeover. My grandma's table still needs to be sanded & re-stained, I need to make a trip to Ikea to buy frames for art, I need to hang the art, I need to figure out a mirror situation, blah blah blah.  I have been playing around with curtain options and furniture placement though, so here's a sneak peak.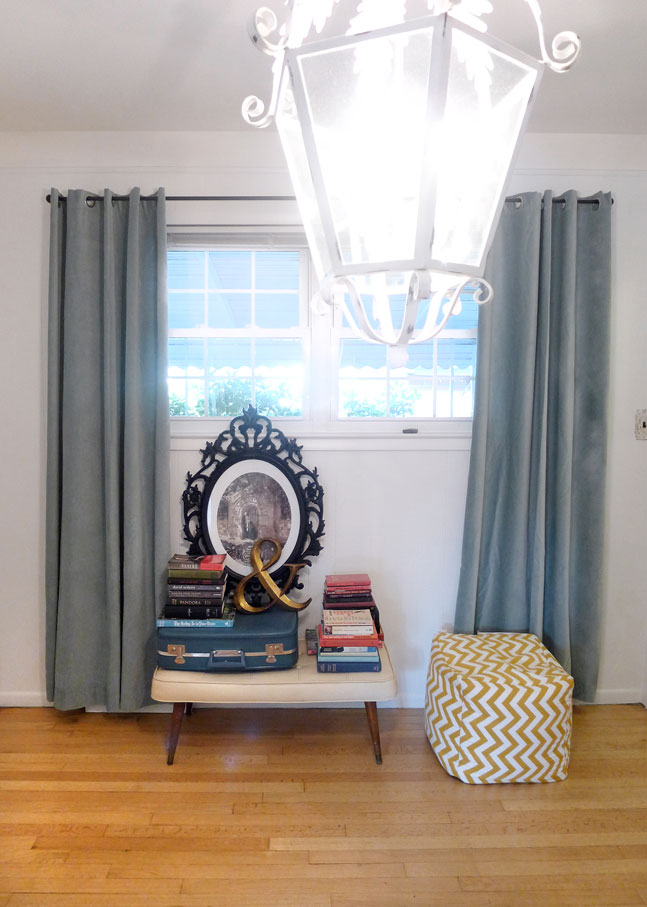 I can't guarantee any of it is staying, but it's fun to play around.  That mid century bench looks decent in this picture, but it is gross in person. It was covered in a layer of dirt when I unearthed it from my uncle's basement, only about half of which I was able to scrub out. I'm investigating professional vinyl/leather paint. Have any of you used it? I've seen some pretty good results through the googler but I've also seen some instances of the paint cracking. Dilemmas!
So there you go, the very anticlimactic update on my dining room. Wah wah wah…
But wait!
Here's something you should know about me and the Mike D. Sometimes, instead of eating in the dining room like civilized folks, we like to eat pizza while sitting on the sofa, in our pajamas, watching Dexter. Sometimes it's burritos. Sometimes it's tacos. But mainly it's pizza.
Exposed!
But come on man, who doesn't? I mean, we can't always be expected to like sit on CHAIRS and eat off of PLATES at actual TABLES and shit.  I mean, what are we? ROYALS?
But as you may know, a puppy lives here now and she is balls out crazy. We tried to make sofa dining work with her, we wanted it so, but it was a disaster. There was jumping, and licking, and messes. I strongly disliked the messes. So what is one to do?
Enter… The dining nook! Located in the south wing of our home. Or as Mike D likes to call it "the other side of the living room".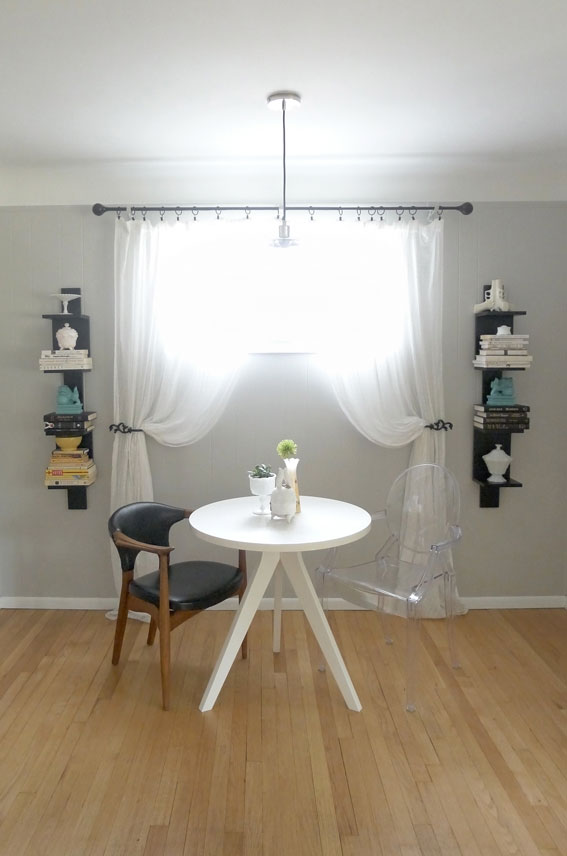 Oh pizza in front of the TV!  How I've missed you!
Do you know how hard it is to find an indoor bistro table that is not ugly, nor a million dollars? NO YOU DO NOT.
It is hard. #Whitepeopleproblems.
Thank god for West Elm. I mean, THANK GOD.
Check out my new hanging globe fixture. Also from West Elm. It's perfect for a tiny little nook.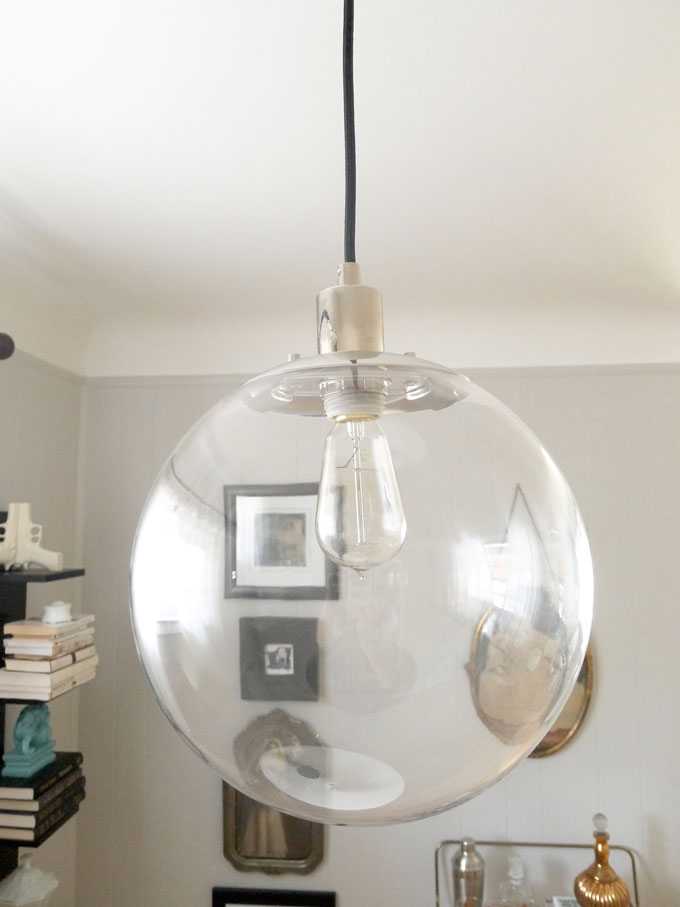 That old timey incandescent light bulb is from Anthropologie. We have it on a dimmer. Romance!
I took this as an opportunity to change up the art on the wall, and decided this was the perfect spot for my great great grandparents' wedding photo and the creepy baby photo of my nana.
Oh, and speaking of that creepy baby photo, see how the gold frame is missing the ornate thingumbobs at the top and side?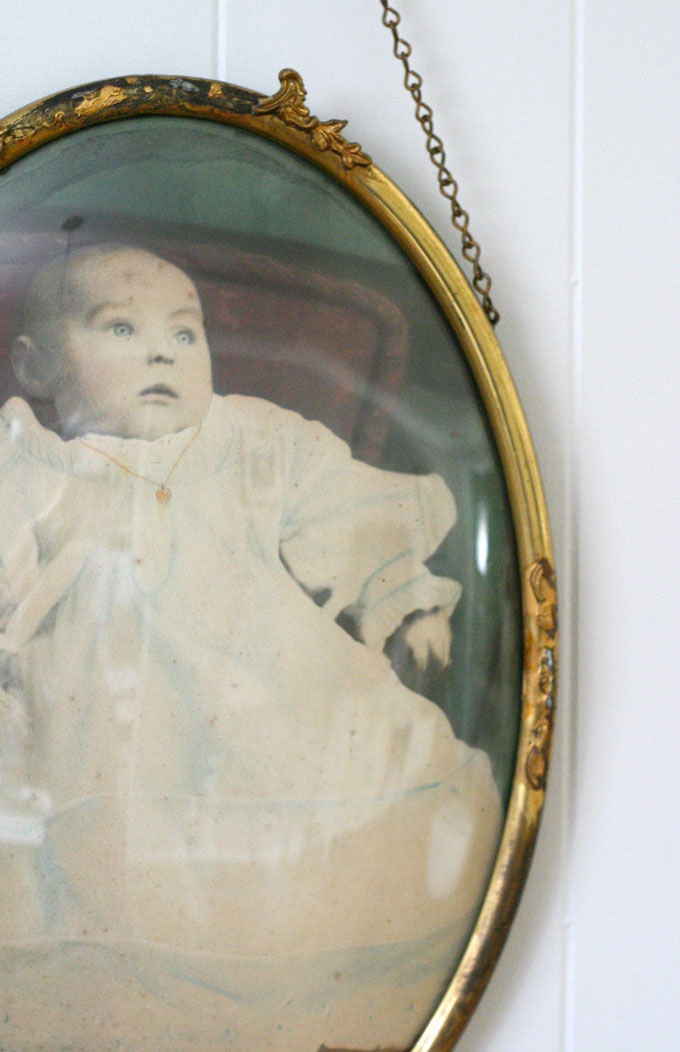 Bummer, right? Well guess what, yo? My mom found the missing pieces in the old cedar chest where this photo was kept!
A few dabs of crazy glue later …
BOOM. Fancypants.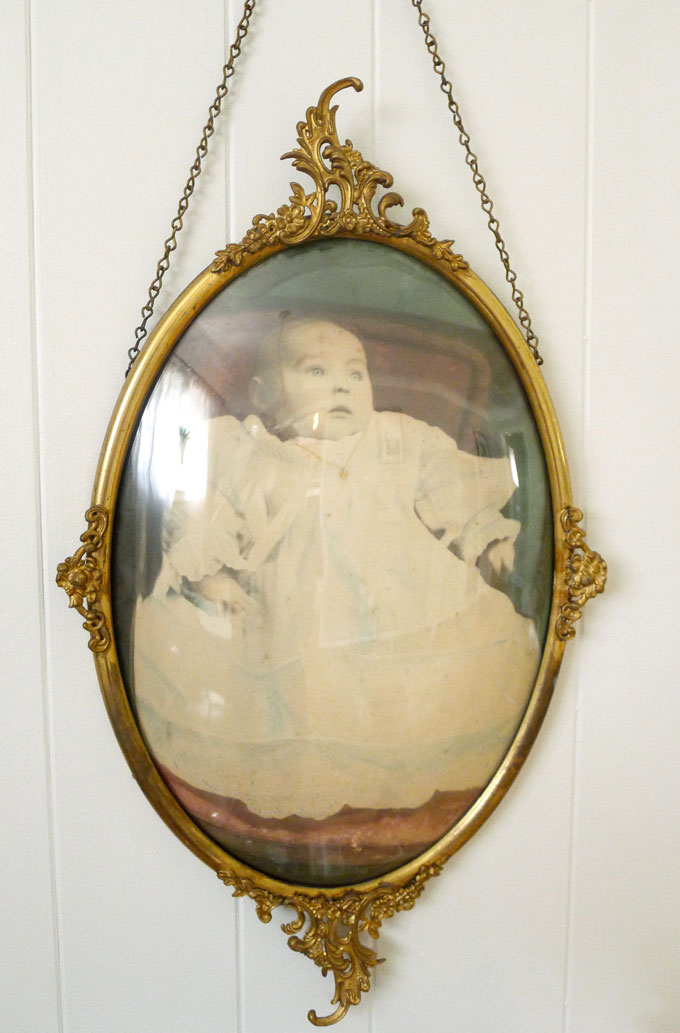 I decided to put the bar cart in the new nook, as opposed to the dining room (which was where I originally intended to put it), because I needed a tiny piece of furniture for this space and the bar cart totally fit the bill. I have other furniture planned for the dining room anyway, so this actually worked out swimmingly.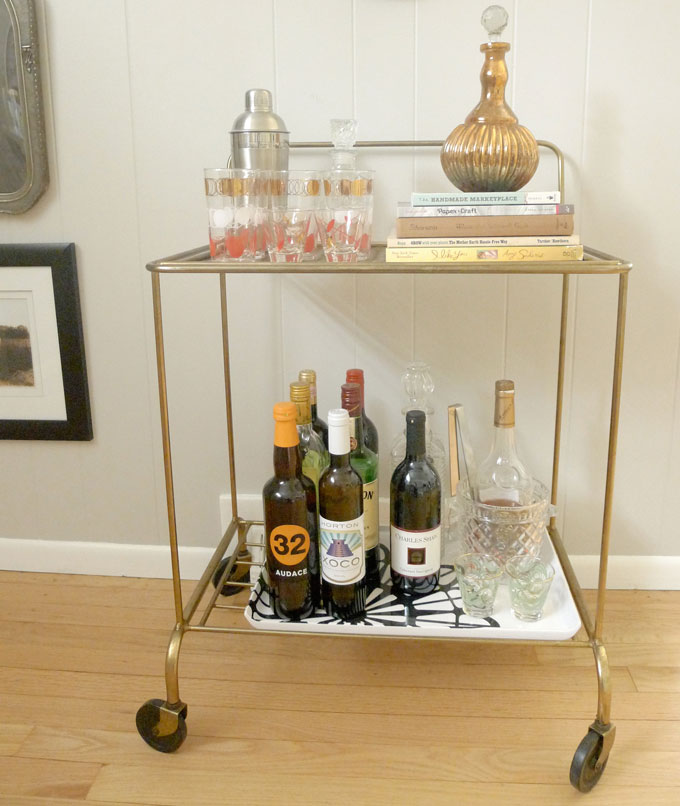 I found these adorable 60's tumblers & shot glasses at the antique mall recently.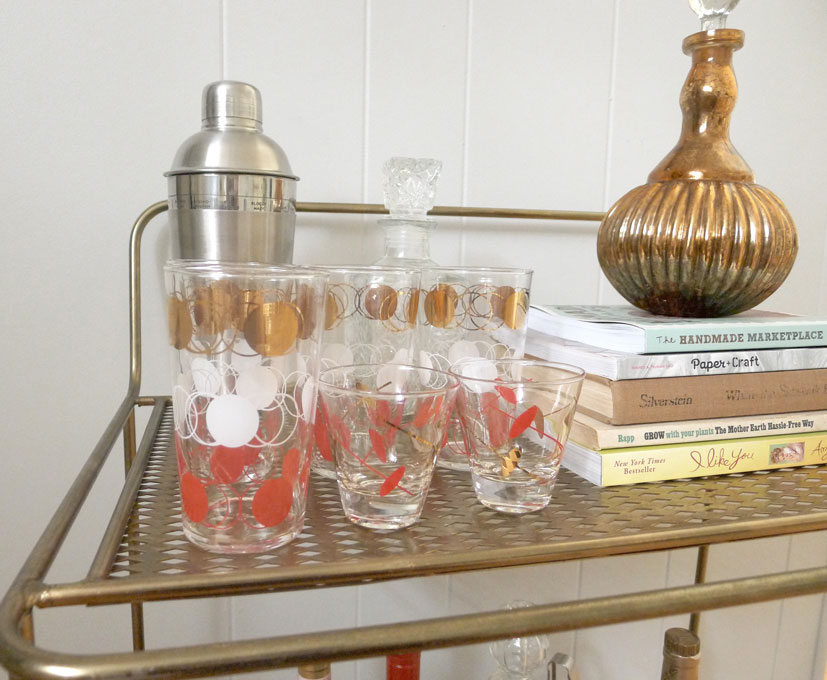 These particular views are pleasing.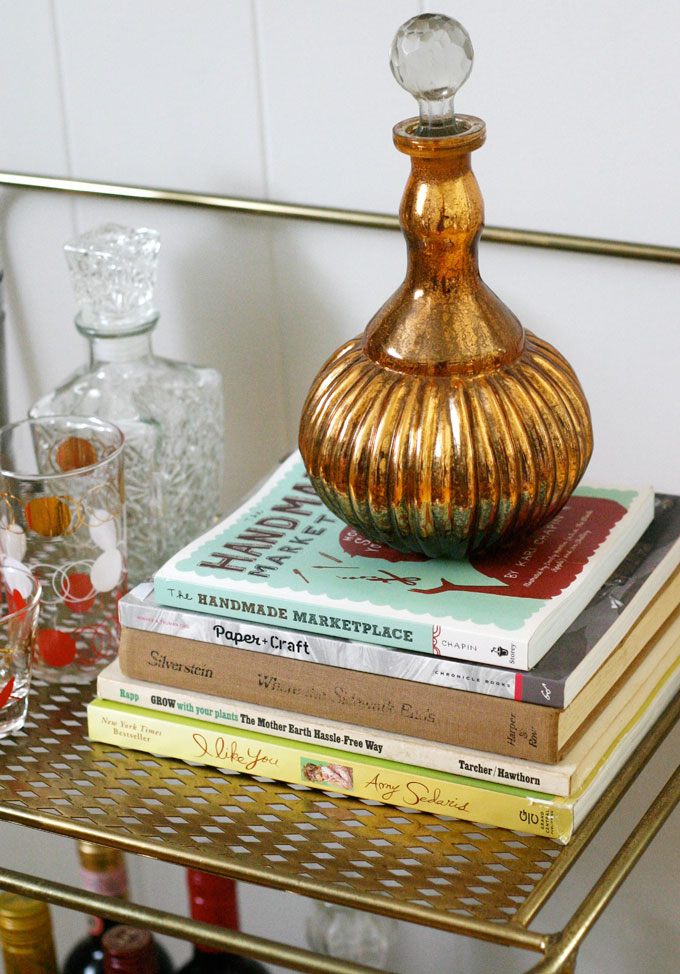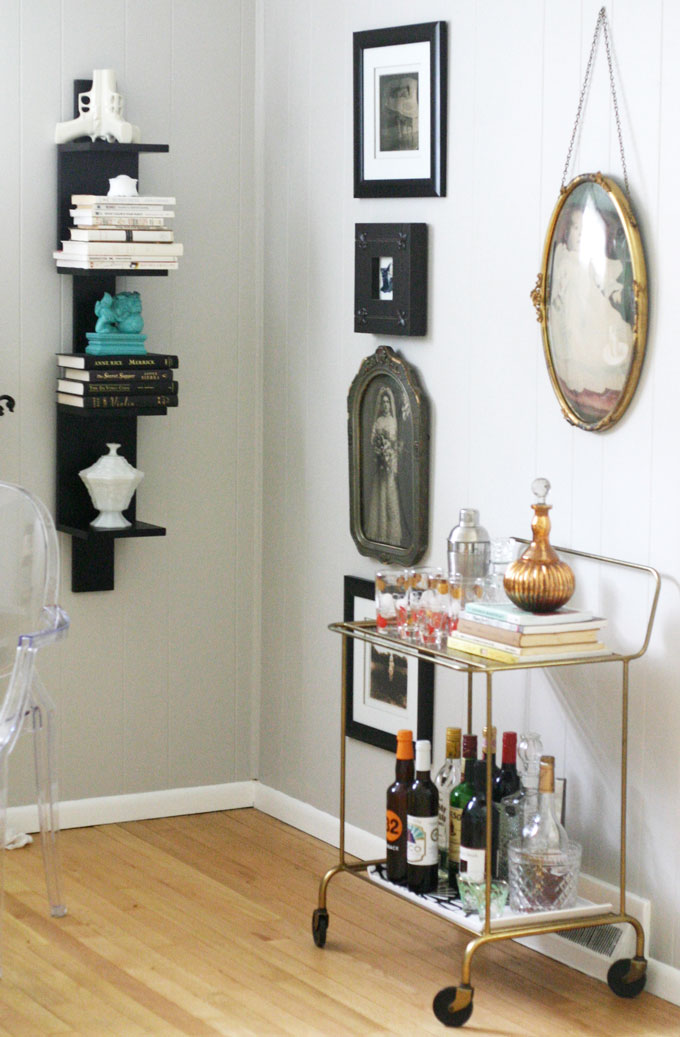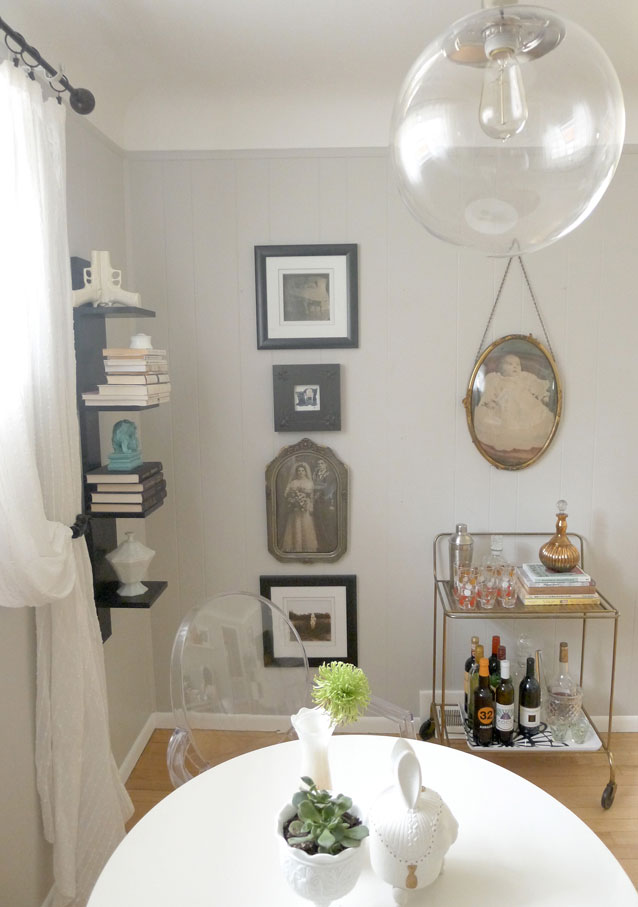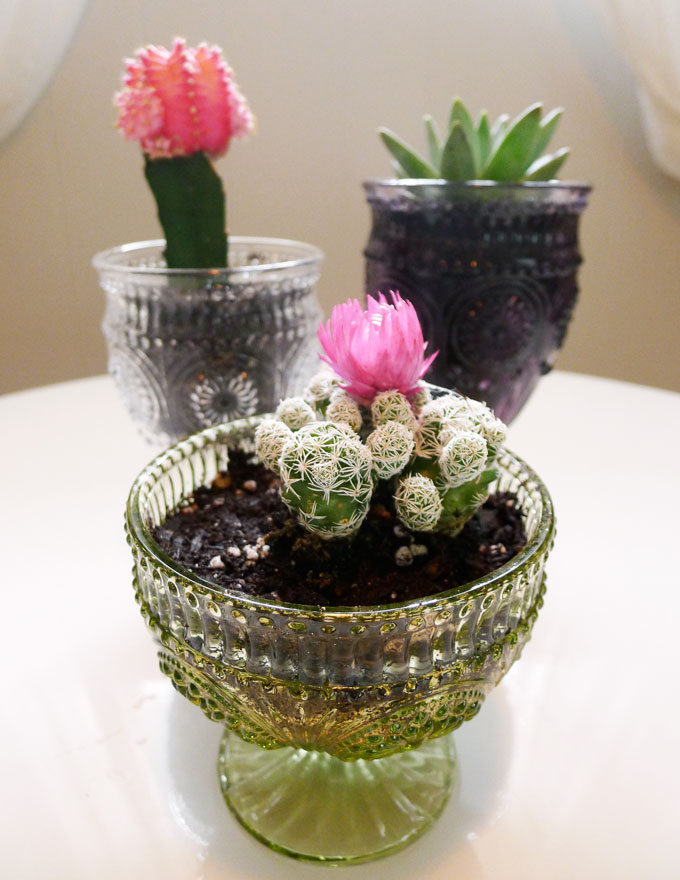 There you have it. A casual dining nook made for slovenly pleasures.
I'll be sure to keep you updated on my progress with the real dining room. You know, the one where we eat the fancy shit, like chinese takeout.
And Ikea! This weekend! But then again Ikea on weekends is nutzo. So no. Yes. No.
I'm undecided.
Otherwise, I'm very pleased with Eleanor Rigby and her badass mohawk.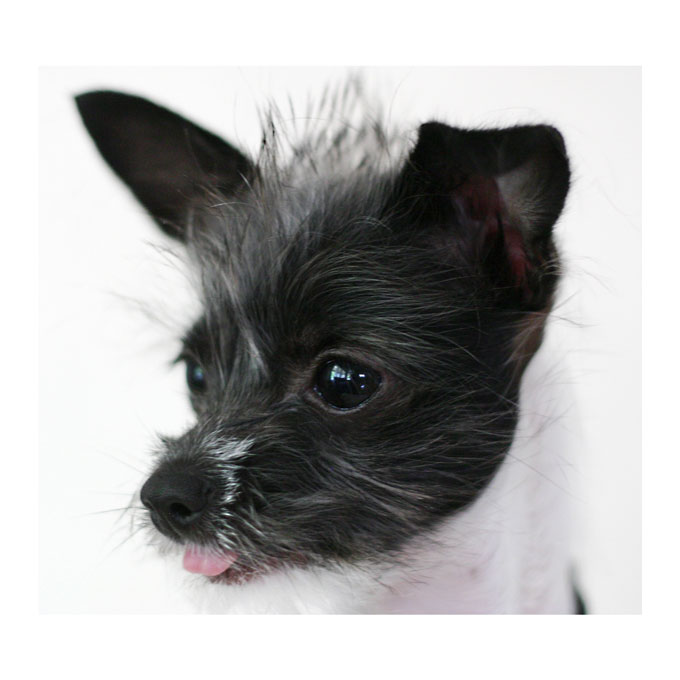 Xoxo.
July 11, 2012
This entry was posted in
Decorating
,
Vintage
and tagged
bar cart
,
breakfast nook
,
dining room
,
west elm
. Bookmark the
permalink
.