Vintage Suitcase Turned Garden Planter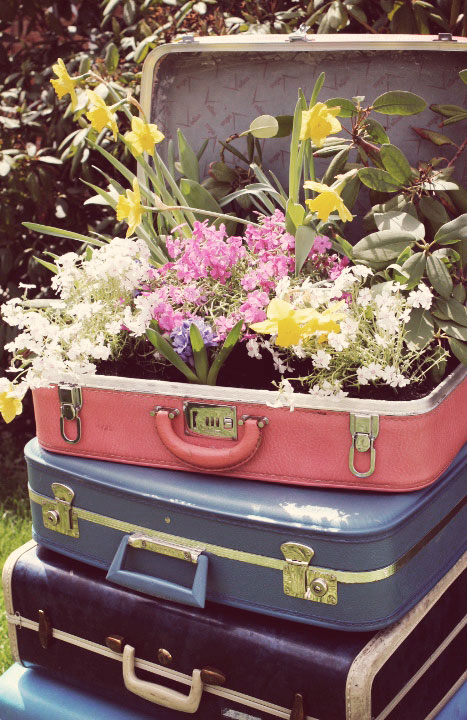 *Pardon the poor quality of these photos – I realized much too late that my camera was set to the lowest resolution.  Like super, super low.  Doh! *
Spring has officially (officially!) sprung in Michigan. Forget the groundhog. The undeniable, 100% veritable sign of spring is when Mike D bids farewell to his ceremonious winter beard.
Shout it out! The beard has been stripped!
The sun is shining, the windows are open, and the spring cleaning has begun.  No closet or drawer is safe from my reign of purging. The garage? I'm coming for you. The basement? YOU ARE MINE.
Which brings us to this suitcase I purchased at Value World for $2.40. I used it as a prop in my pop up shop over a year ago and it has sat unused in our basement ever since.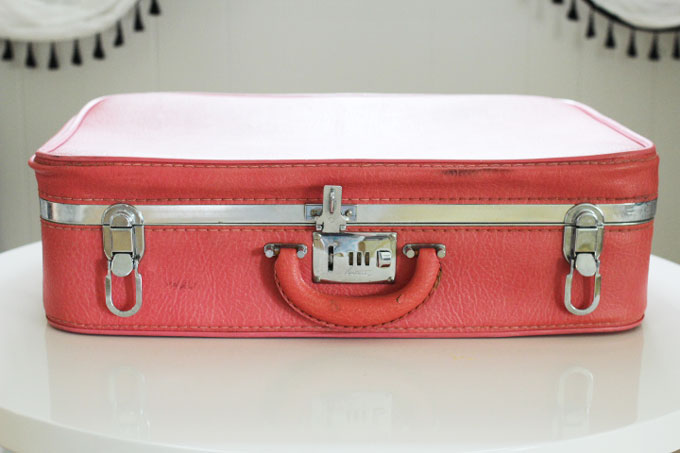 This thing is NAS-TAY. I didn't open it while at Value World because, well, it was $2.40, so whatever. I grabbed it and ran. The outside looked fine, a little dirty, but nothing terrible. I brought it home, scrubbed the outside, then popped it open.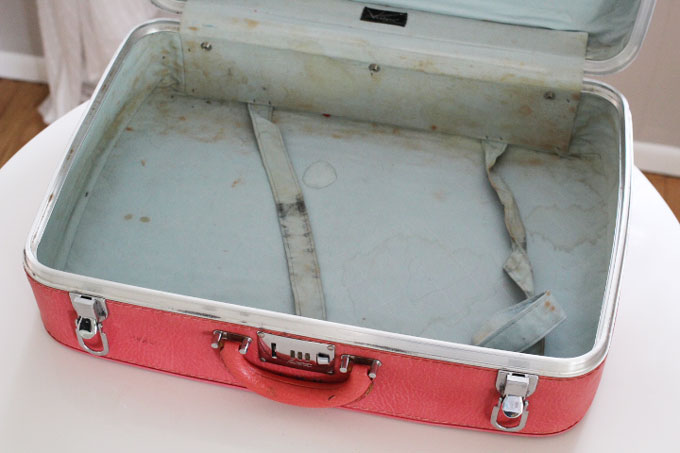 Egads!
Were they carrying around dead bodies in this thing?! My eyes were permanently scarred. And now yours are too!
Part of me would rather snort bath salts than mess with this thing, but the crazy part of me became determined to give it a new life. Because despite it's filthy insides, the outside is still pretty cute (like me).
I enlisted the help of Pinterest and queried "What can you make out of a nasty old suitcase that makes you want to barf?". To which Pinterest replied, "How about this?".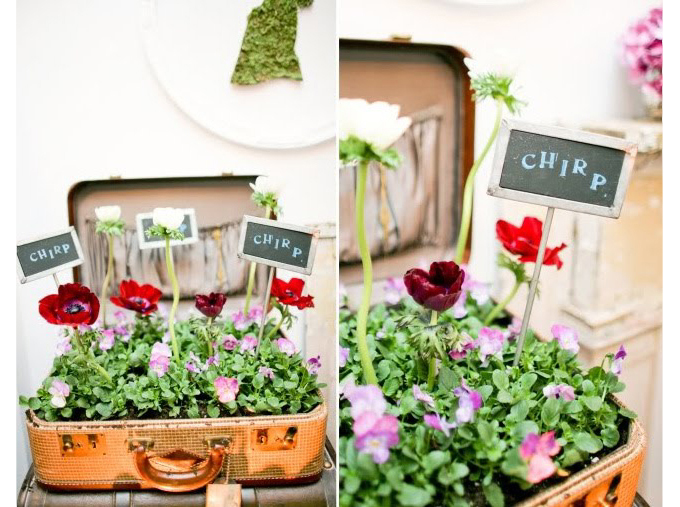 Well played, Pinterest.
And so it began, the making of something cute out of something barfy in under 30 minutes. That should be Pinterest's tagline. YOU'RE WELCOME PINTEREST.
Here's how it went down.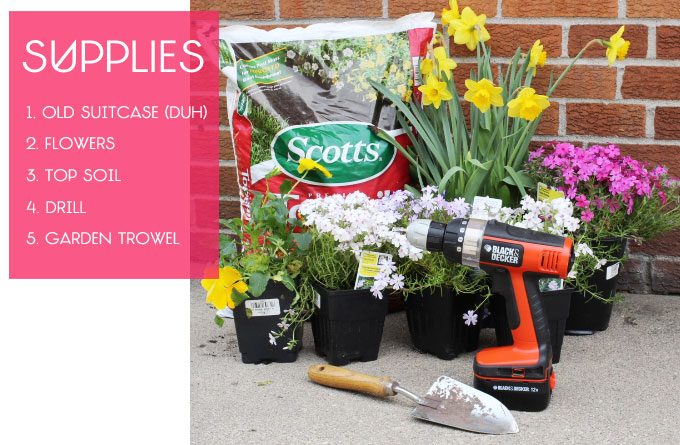 Firstly, I ripped out all the nastypants fabric, carefully trying not to catch hepatitis.

Hey-oh! I found a pill hidden in the liner. LET'S GET THIS PARTY STARTED.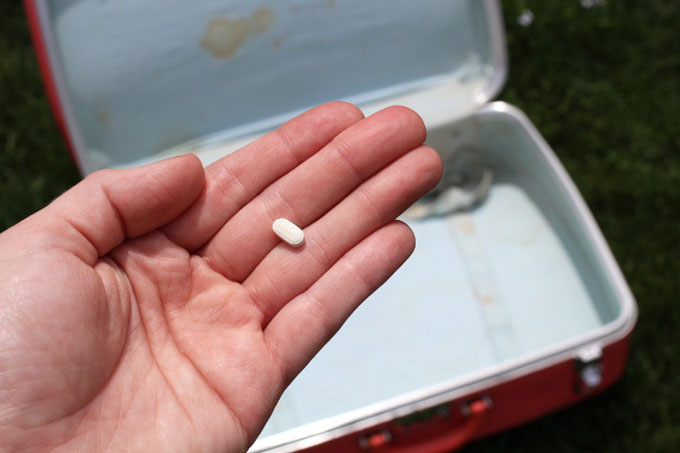 Next, I drilled some holes for drainage. Drainage is important.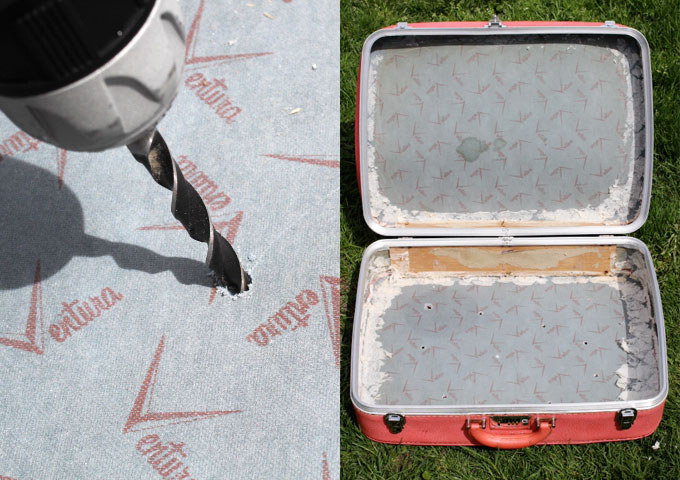 Then I added an inch or so of top soil.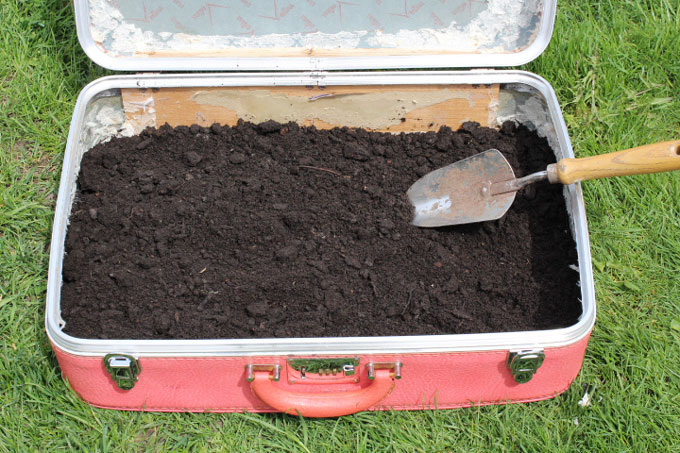 Lastly, I began adding my flowers, layering them from the tallest in the back to the shortest in the front.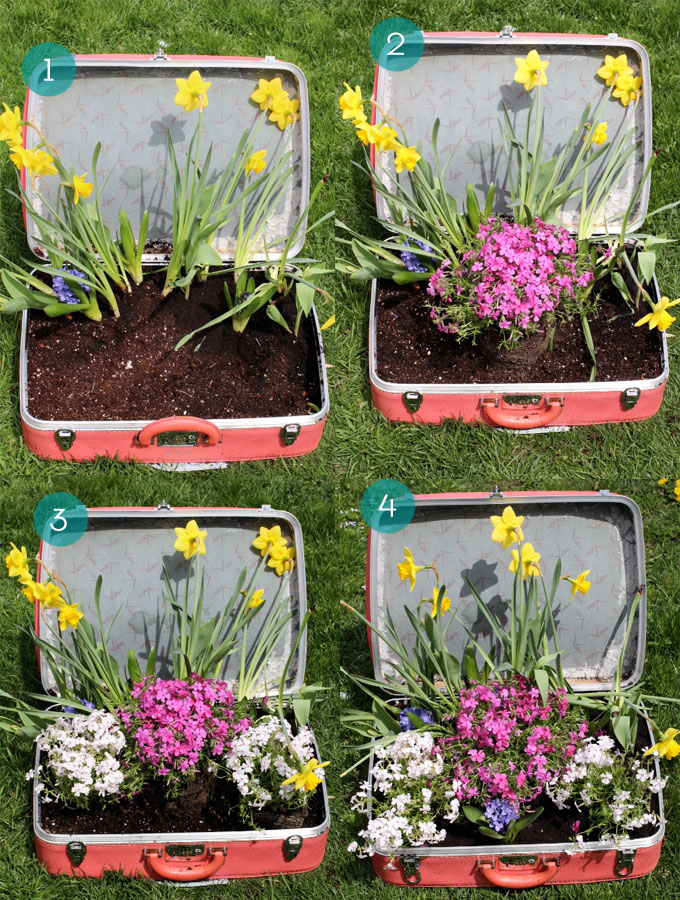 After some fluffing and styling, one can hardly remember her checkered past. Can you believe this thing used to carry around drugs and dead bodies?  (Allegedly).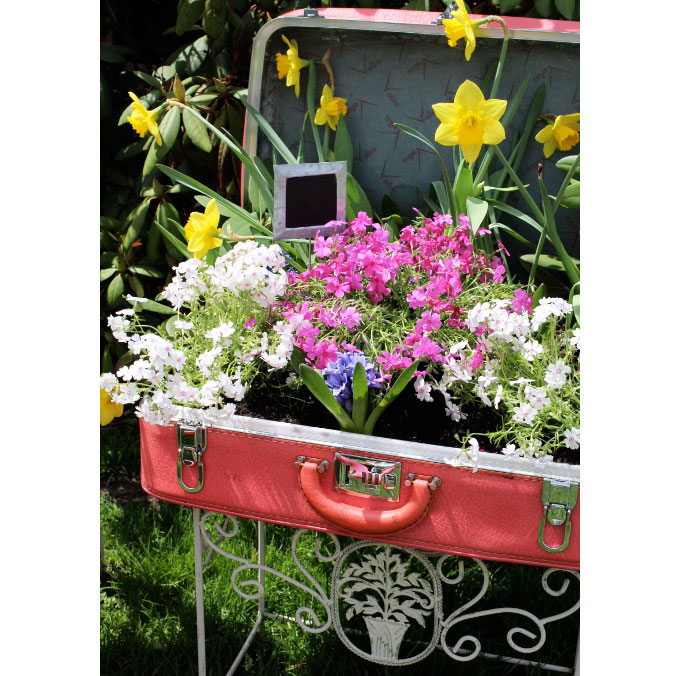 Every time I step out my back door, it instantly makes me happy. I'm saving landfills, people. One foul drug infested suitcase at a time.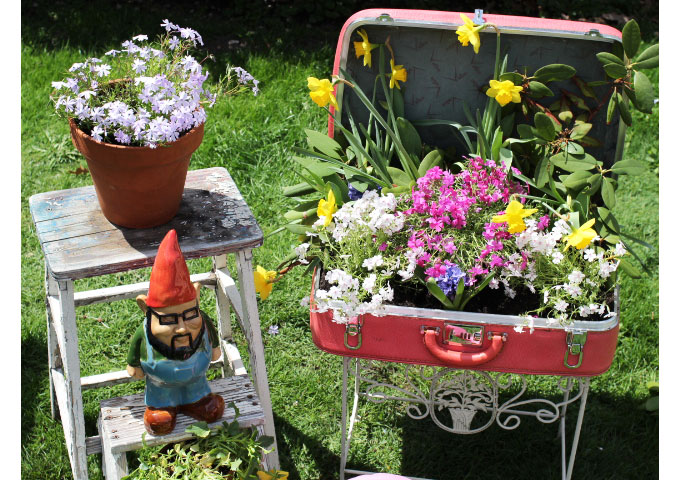 Wouldn't it be so pretty to display several of these throughout an outdoor party? Perhaps a bon voyage party, or an outdoor wedding reception?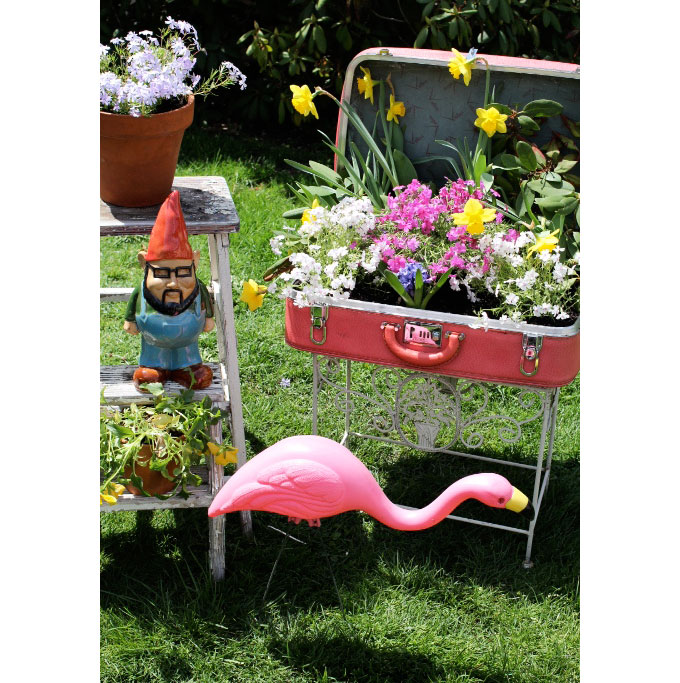 How about a round of applause for that Mike D garden gnome look-alike? Thanks mom!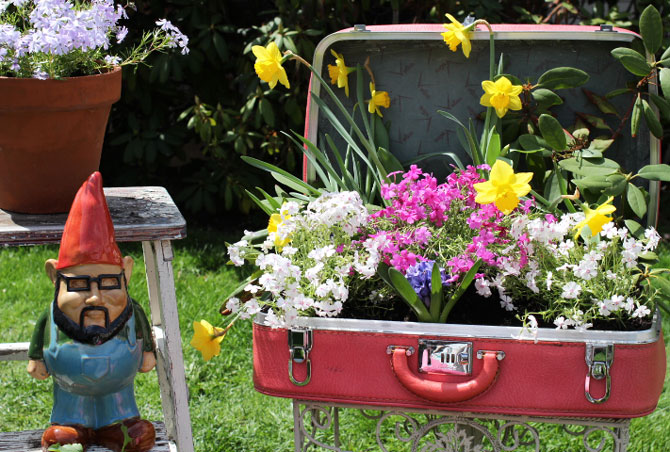 Have you saved anything from a landfill lately? I'd love to see your projects!
xoxo
May 8, 2013
This entry was posted in
Decorating
,
DIY Projects
,
Vintage
and tagged
flowers
,
garden planter
,
pinterest
,
spring
,
vintage suitcase
. Bookmark the
permalink
.