Bathroom Progress!
I made some headway on the bathroom! Earlier this week I painted the ceiling, primed, and painted the walls. I also hung a new towel bar and medicine cabinet. Take a look!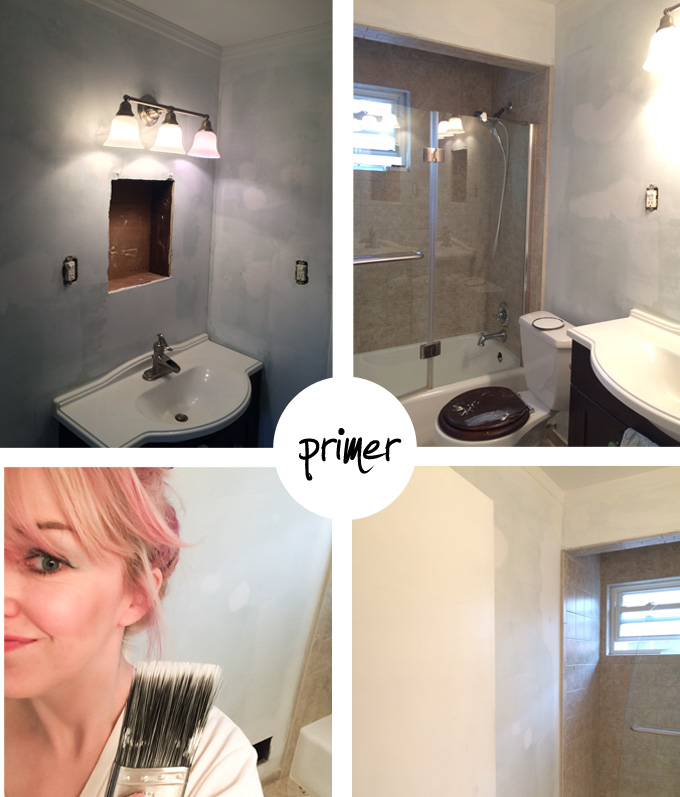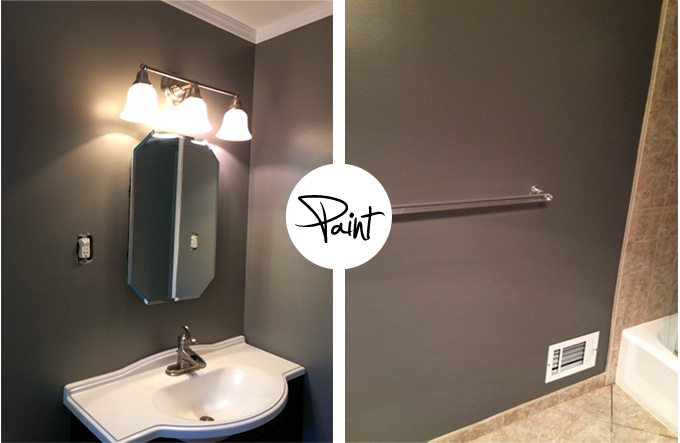 I apologize for the dark & grainy pictures. I'm just so excited the moss green is gone! I think the new gray color compliments the warm tones in the tile and the dark hue adds some drama.
We installed the medicine cabinet in the cut-out that was already in the wall from the previous owners but the door just barely clears the light fixture. Eventually I'll scoot the light fixture up a few inches, but for now it's fine.
Onto the grout. Ugh. We never sealed it after our tile was installed and that was a big mistake. Over the last few years it turned dark and dingy. we have spent way more on grout cleaner than we would of on sealer. I've heard that baking soda and white vinegar work wonders for cleaning grout so I found a recipe online that called for 7 cups water, 1/2 cup baking soda, 1/3 cup lemon juice and 1/4 cup vinegar. I sprayed the mixture onto the grout, let it sit for a few hours, then scrubbed and scrubbed and scrubbed with a stiff bristled grout brush. It worked better than I expected! I wasn't able to get all of it done so I'll do another round this weekend. Once it's all sparkly and clean, grout sealer is happening. Live and learn.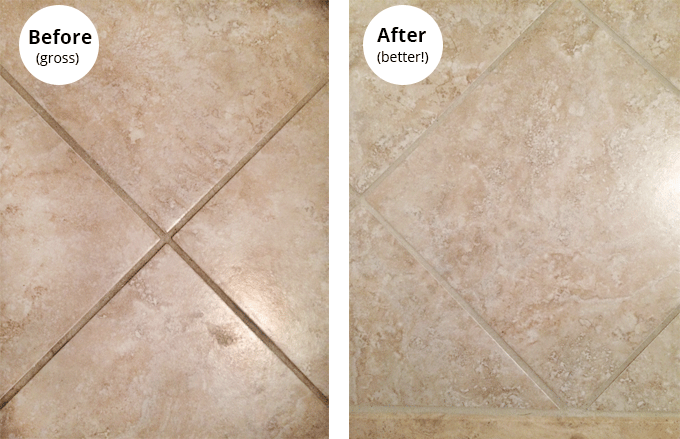 What's left?
Paint the ceiling.
Prime & paint walls.
Hang towel bar & tp holder.
Replace cabinet hardware.
Replace the toilet seat.
Touch up scratches on the cabinet.
Replace the switch covers.
Scrub grout.
Scrub grout again.
Seal grout.
Paint the door.
Replace the door knob.
Re-caulk around the tub.
Cut, stain, and hang shelves (I bought these shelves and these brackets).
Add cute stuff (rug, plants, art, candles, towels, etc).
I hope to get a big chunk of those remaining items done this weekend. Wish me luck!
Happy weekend to you!
June 5, 2015
This entry was posted in
Decorating
,
DIY Projects
,
Life
and tagged
bathroom
,
bathroom makeover
,
grout
,
grout cleaner
,
vinegar baking soda grout cleaner
,
vinegar baking soda lemon
. Bookmark the
permalink
.