Bathroom Makeover Time!
When I bought my house ten years ago, the bathroom looked like this: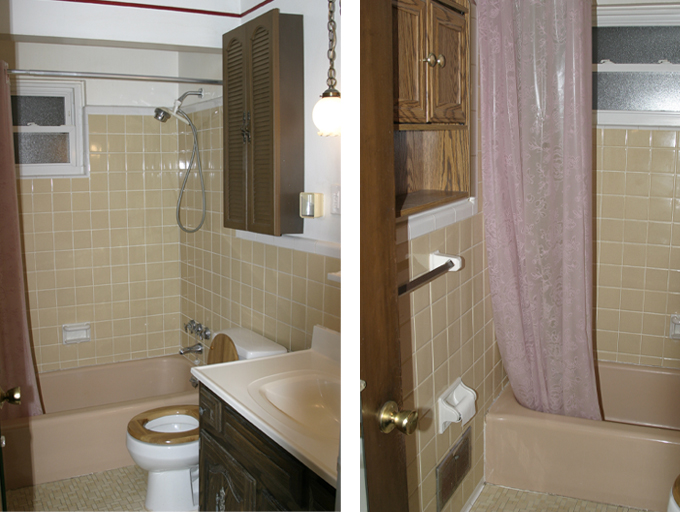 I'll spare you close-ups of the black mold, the rusted faucet, and my revolted tears. The bath tub looks tan in that photo, but trust, it was Pepto Bismol pink.
As a naive first time home buyer, I planned to fix up the house quickly (hahahaha) and then flip the house for a MAJOR profit (hahahaha). So when I gutted the bathroom, I made choices that weren't reflective of my personal style, but instead what I thought would be considered safe to a potential buyer. And so I went the cheap and dirty route: marbled ceramic tile, an off-the-shelf Home Depot vanity, and generic chrome fixtures. I know, I know, total snoozeville. SIGH. We live and we learn, right? Don't get me wrong, it's not terrible, and I certainly don't hate it, but do I sometimes gaze longingly at this photo while caressing my monitor and whispering "someday we'll be together, sexy bathroom of my dreams."? Yes.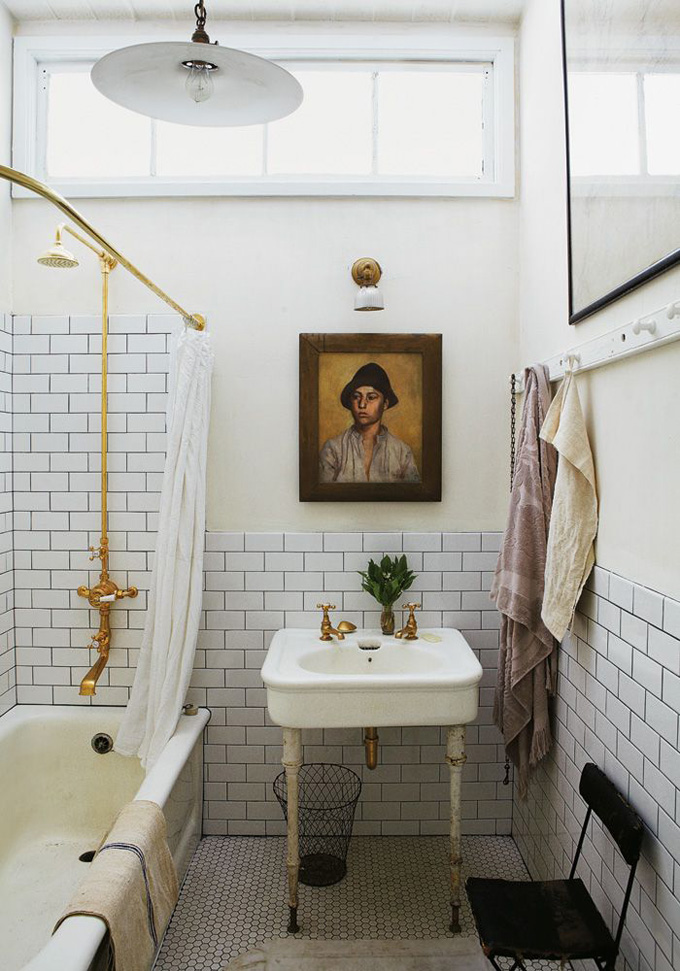 Ugh. The beauty. It pains my heart.
Anywho, it has been seven years since our bathroom has seen a new coat of paint, and I'm 100% over the moss green walls. I'm not planning a major overhaul, just a little face lift. Let's hyper-scrutinize the room, shall we?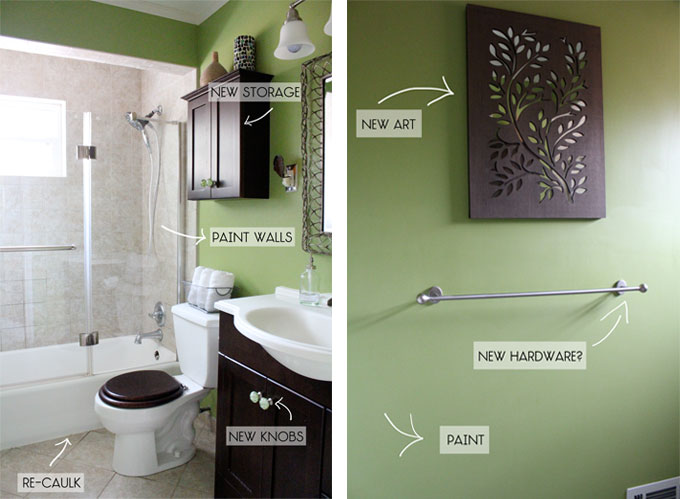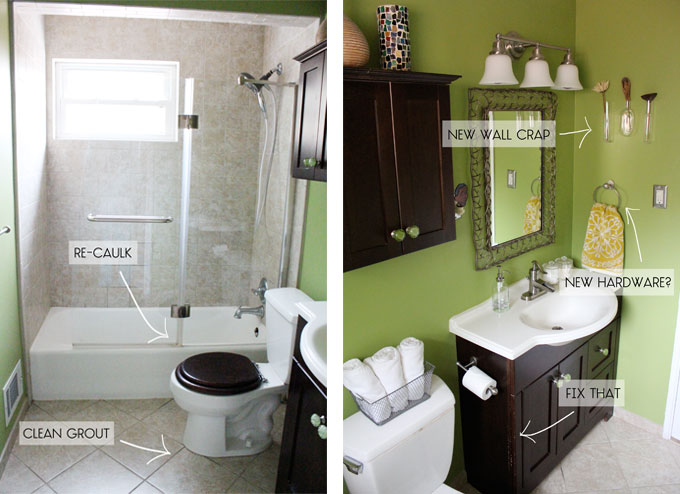 To do list:
Prime & paint the walls, ceiling, and door.
Re-caulk around the tub and sink.
Try out some DIY grout cleaning techniques and products. I've heard this product works really well. Have any of you tried it?
Replace the knobs on the vanity.
Replace the medicine cabinet? Maybe? I'm not sold on this. I love the look of open shelves but I need closed storage to hide our ugly products.
New wall art and accessories.
Replace the toilet paper holder and towel bar?
Replace the toilet seat with a plain white one.
Here's a roundup of pretty things I put together for the new design. A mood board, if you will.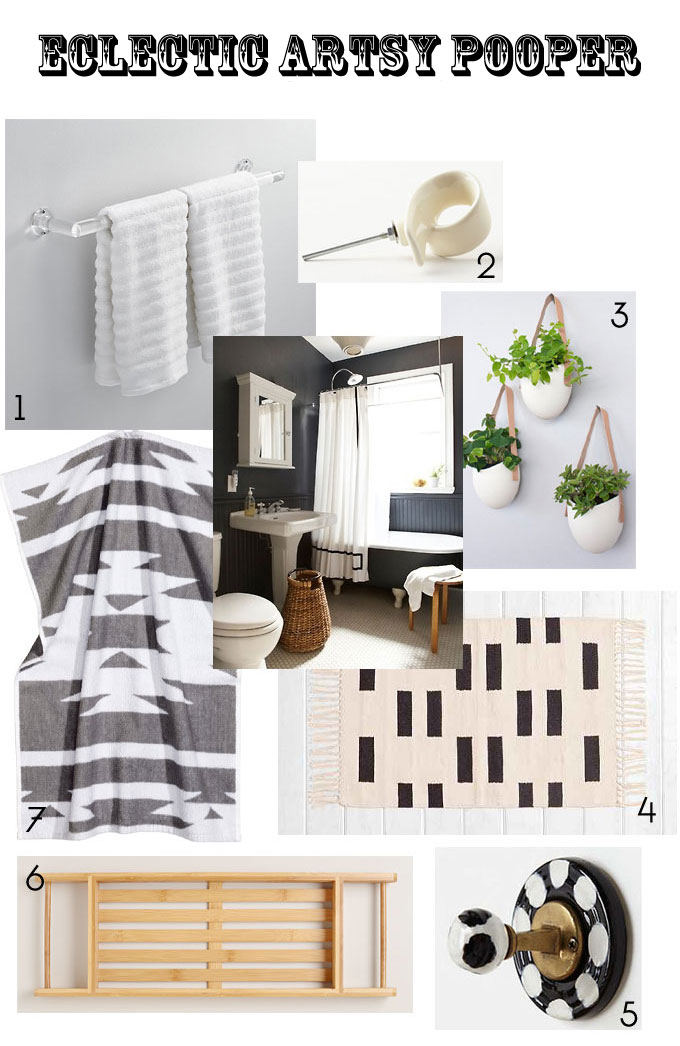 I think dark gray walls will play nicely with the cream tones in the tile. I've been looking at paint swatches throughout different times of the day, and man, it's hard to find a good gray that doesn't turn blue, green, or purple at night. I have it narrowed down to 2-3 swatches, so I just need to jump the gun and pick one. I'd like to bring in some plants, either on the wall or on the window sill, and incorporate some warm textiles. I already picked up those drawer knobs and door hooks on clearance from Anthropologie a while back (looks like they're sold out now), and though there's nothing wrong with the towel bar that we have now,  I really like those acrylic ones from CB2. Hmmm…
Ok, I'm off to buy paint!
Just kidding, it's 11:00pm. I'm going to clarisonic my face and watch Orange is the New Black. But, this weekend! Paint! (Hopefully).
July 17, 2014
This entry was posted in
Decorating
,
DIY Projects
and tagged
bathroom
,
grout
,
tile
. Bookmark the
permalink
.