Posted on July 17, 2014
When I bought my house ten years ago, the bathroom looked like this: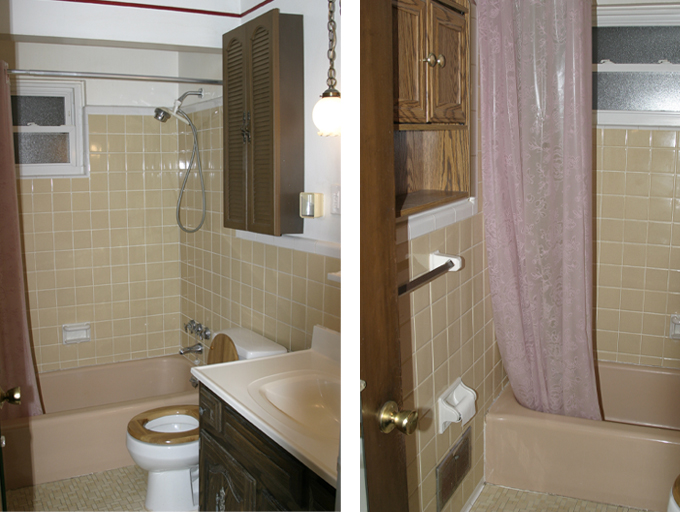 I'll spare you close-ups of the black mold, the rusted faucet, and my revolted tears. The bath tub looks tan in that photo, but trust, it was Pepto Bismol pink.
As a naive first time home buyer, I planned to fix up the house quickly (hahahaha) and then flip the house for a MAJOR profit (hahahaha). So when I gutted the bathroom, I made choices that weren't reflective of my personal style, but instead what I thought would be considered safe to a potential buyer. And so I went the cheap and dirty route: marbled ceramic tile, an off-the-shelf Home Depot vanity, and generic chrome fixtures. I know, I know, total snoozeville. SIGH. We live and we learn, right? Don't get me wrong, it's not terrible, and I certainly don't hate it, but do I sometimes gaze longingly at this photo while caressing my monitor and whispering "someday we'll be together, sexy bathroom of my dreams."? Yes.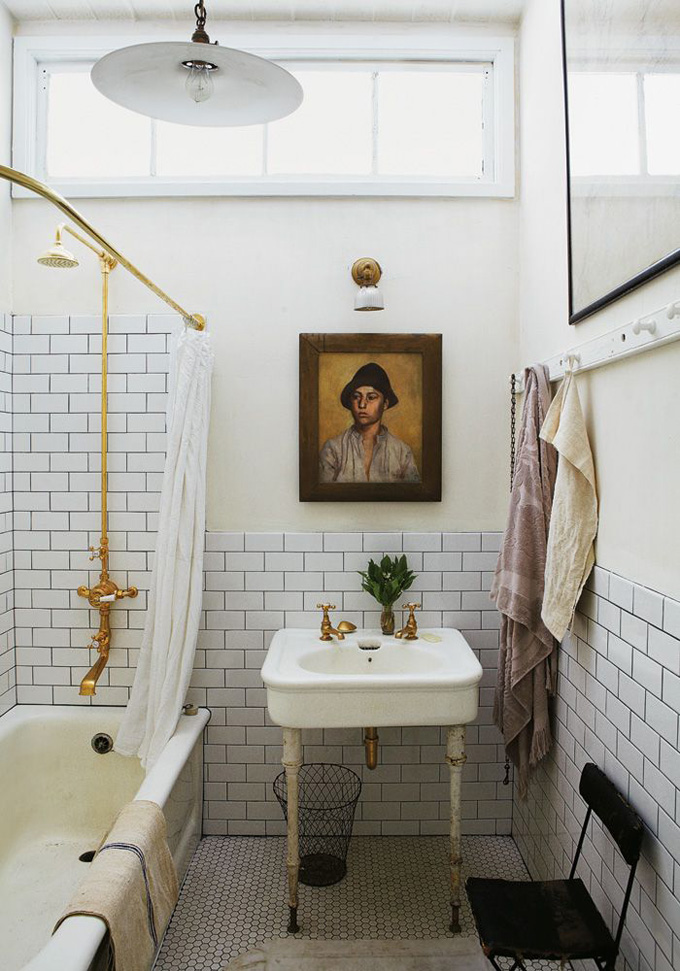 Ugh. The beauty. It pains my heart.
Anywho, it has been seven years since our bathroom has seen a new coat of paint, and I'm 100% over the moss green walls. I'm not planning a major overhaul, just a little face lift. Let's hyper-scrutinize the room, shall we?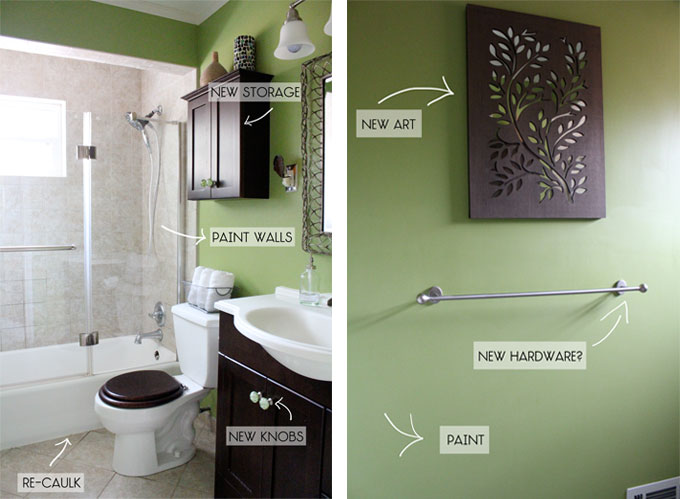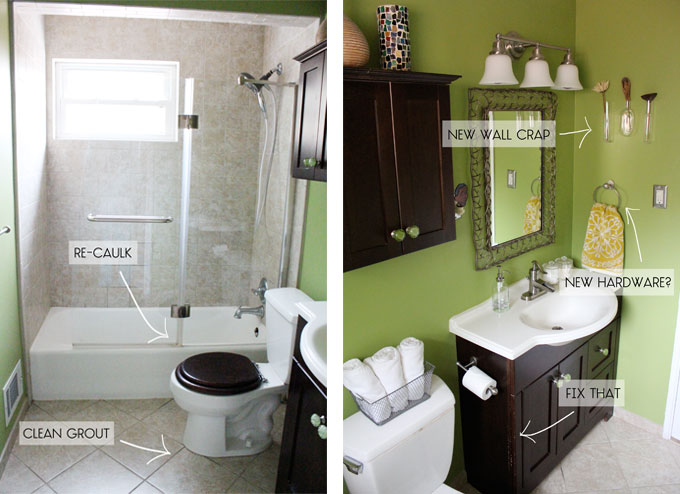 To do list:
Prime & paint the walls, ceiling, and door.
Re-caulk around the tub and sink.
Try out some DIY grout cleaning techniques and products. I've heard this product works really well. Have any of you tried it?
Replace the knobs on the vanity.
Replace the medicine cabinet? Maybe? I'm not sold on this. I love the look of open shelves but I need closed storage to hide our ugly products.
New wall art and accessories.
Replace the toilet paper holder and towel bar?
Replace the toilet seat with a plain white one.
Here's a roundup of pretty things I put together for the new design. A mood board, if you will.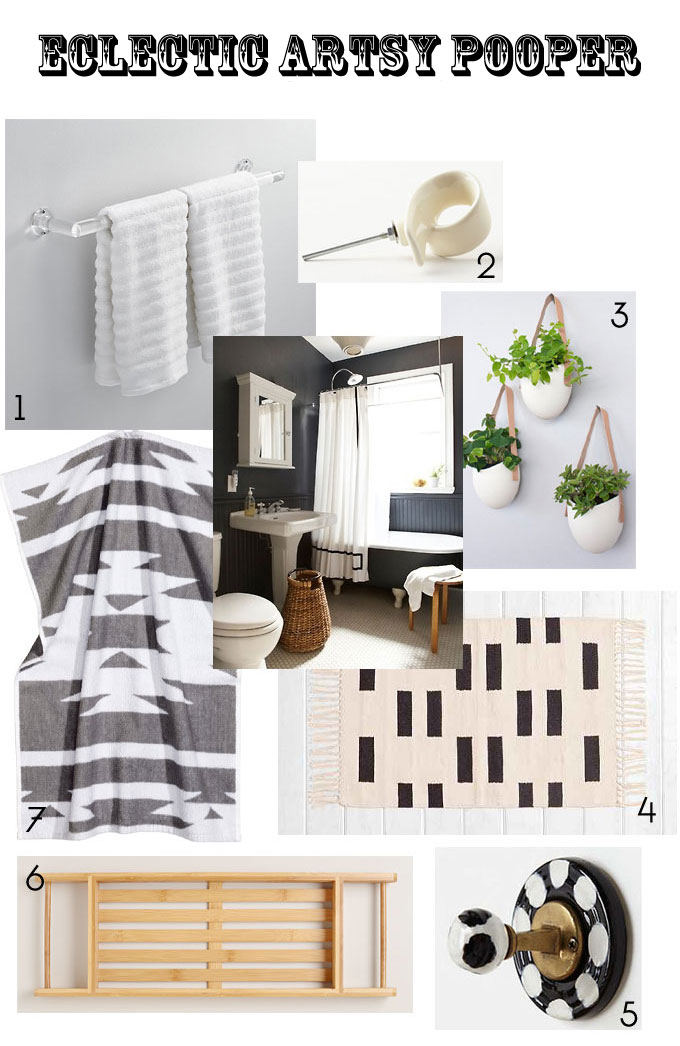 I think dark gray walls will play nicely with the cream tones in the tile. I've been looking at paint swatches throughout different times of the day, and man, it's hard to find a good gray that doesn't turn blue, green, or purple at night. I have it narrowed down to 2-3 swatches, so I just need to jump the gun and pick one. I'd like to bring in some plants, either on the wall or on the window sill, and incorporate some warm textiles. I already picked up those drawer knobs and door hooks on clearance from Anthropologie a while back (looks like they're sold out now), and though there's nothing wrong with the towel bar that we have now,  I really like those acrylic ones from CB2. Hmmm…
Ok, I'm off to buy paint!
Just kidding, it's 11:00pm. I'm going to clarisonic my face and watch Orange is the New Black. But, this weekend! Paint! (Hopefully).
Posted on June 3, 2014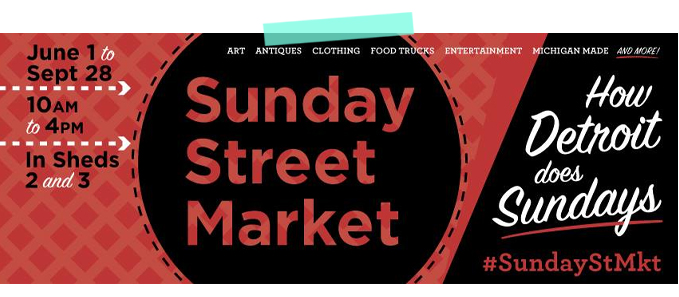 A few weeks ago, my interwebs pal Bethany Nixon (owner of Reware Vintage, founding member of Handmade Detroit, and all around cool gal) contacted me about an opportunity to curate a pop-up shop at Goodwill's new boutique location inside Detroit's Eastern Market. She recently signed on as one of their local stylists and suggested I participate as well. Of course I was game and immediately hopped on board. Thanks for thinking of me, Bethany!
So here's the deal. Goodwill Detroit will have a pop-up shop at Eastern Market's new Sunday Street Market, every other Sunday, from June 1st through September 28th. The shop will be located inside Shed 2 and will be open from 10am to 4pm. Each shop will be curated by a local Detroit stylist (there are seven, including me). Each of us are combing through the local Goodwill stores to find exceptional items that match our personal style. Each shop will feature at least 40-50 pieces of hand picked clothing and accessories, completely styled outfits, and unique vintage housewares. I will be curating two of the shops – the first on Sunday June 29th and the second on Sunday August 24th.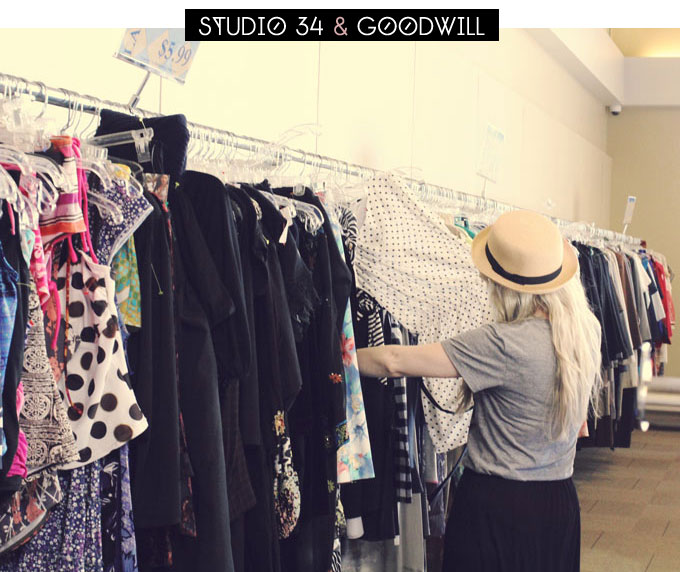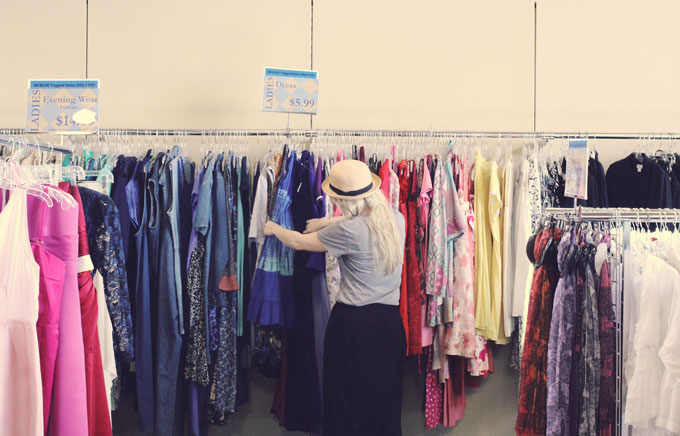 I've visited each of the local Goodwill locations in the past couple weeks, and I must say, I've been very impressed with their stores. I've shopped a LOT of second-hand stores over the years and I can say from experience that they are not all created equal. Nothing bums me out more than spending an hour or two sifting through a dirty/smelly second-hand store that straight up gives me the super-willies only to come out empty handed. The Goodwill stores, on the other hand, offer a more palatable and upscale retail experience. They have hardwood floors, pleasant overhead lighting, and their stores are very clean. The prices are great, new items are added daily, and the quality of the merchandise is really good. I've pulled fantastic pieces from Coach, Michael Kors, Dooney & Bourke, Banana Republic, Free People, Levi's, and Gap. (Goodwill did not ask me to review the stores or say any of this stuff, by the way. I just had such a great experience and wanted to share it.)
Here's a sneak peek at the types of items you can expect to find in my pop-up shop on June 29th and August 24th.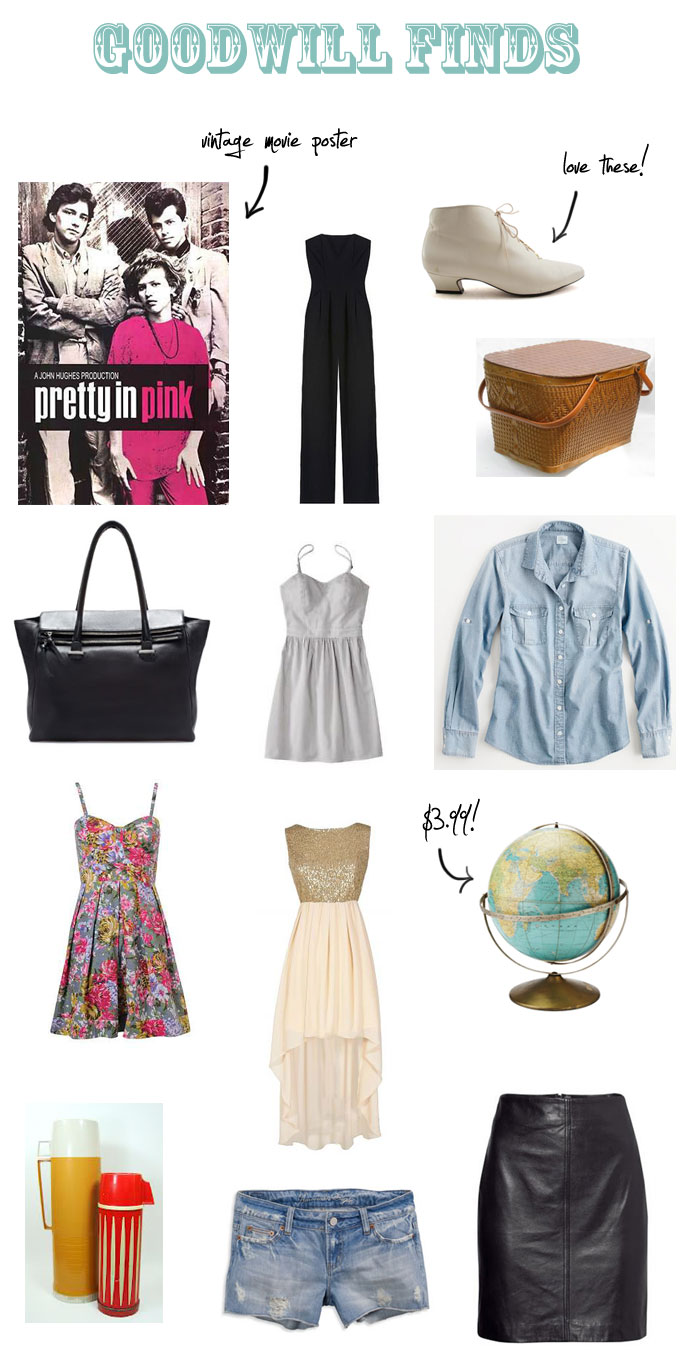 I'm only pulling items that are in great condition, are of good quality, and fit my own personal style. I won't add a single thing to the shop that I wouldn't wear myself or have in my own home. The clothing, shoes, and accessories I've selected are on trend and in like-new condition. I'm pulling all sizes, including plus sizes, so nobody will be left out. NOT ON MY WATCH. The housewares are primarily mid-century vintage and akin to what you would find at a nicely curated store, like Lost & Found Vintage or Vogue Vintage, but the prices are wayyyy more affordable. You have no idea how hard it's been to not take all this dope-ass stuff home with me!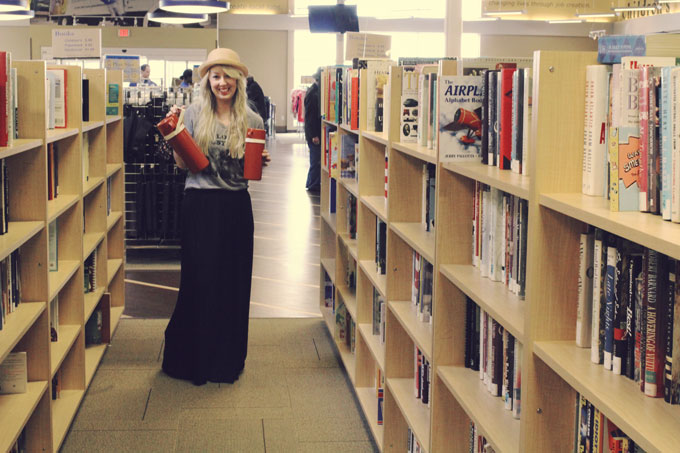 Someone please buy that Pretty in Pink poster, because she's not going to appreciate herself. And if you want to get your fingers on a BADASS designer purse, get to my shop early. I pulled a few really good ones and they are priced to go! There will be soooo much good stuff, it's stupid.
Come see me at Goodwill's YB Blue shop on Sunday June 29th & Sunday August 24th and treat yo'self to some new duds. Bring cash, hugs, and all your fashionable cousins! Located inside Shed 2 at Eastern Market, 10am to 4pm.
Here is the schedule for all of the Goodwill pop-up shops this summer and links to all the stylists involved. I can't wait to see what they found and shop their collections!
xoxo
Posted in #sundaystmkt, detroit, eastern market, goodwill, goodwill detroit, shed 2, sunday street market, thrift, thrifting, vintage // 1 Comment
Posted on May 1, 2014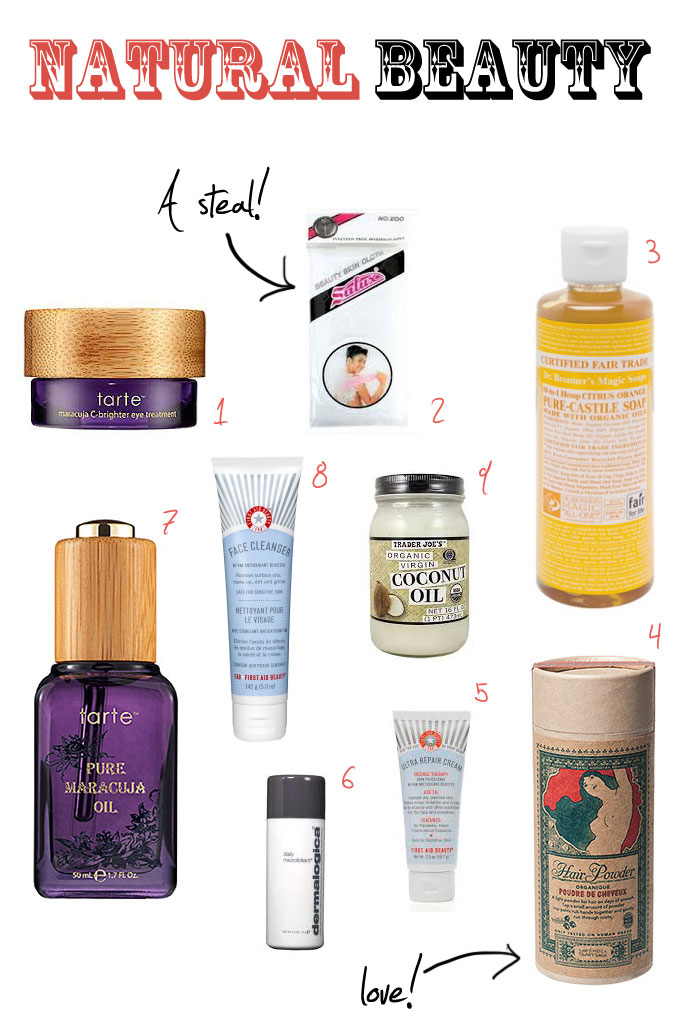 I enjoy getting new recommendations for beauty products from friends, so I thought it would be fun to share with you a few beauty products that I have been using (and loving) lately. In the last few years I've made a conscious effort to purchase products that are more natural, ethically made, and animal friendly. It was hard at first to break up with some of my tried and true drugstore brands, but so many of those products contain nasty chemicals and are tested on animals. With the rising number of companies making natural and animal friendly products, it's not difficult to find alternatives these days. Though it's important to note that terms like "natural" and "cruelty-free" are not clearly defined by law, so they can be used to mean just about anything a manufacturer wants them to mean. PETA keeps a comprehension list of companies that do NOT test on animals here.
My skin is very dry, sensitive, and prone to breakouts which is a tricky combination to work with. Acne products are too drying, and many products designed for dry skin cause irritation and/or breakouts. Through trial and error, I've found that products with minimal ingredients work best for my skin. I avoid harsh chemicals, dyes, and fragrances as well. Here are a few of the products I have come to love recently.
1.  Tarte Maracuja C-Brighter Eye Treatment This eye cream is very hydrating, calms down my puffiness, and lays nicely under makeup. I find most eye creams to be irritating, but this cream doesn't make my skin react at all. A little bit goes a long way.
2.  Salux Japanese Wash Cloth Ok, so these are not exactly the most "natural" of products (they're made of nylon and polyester) but I added them anyway because they are machine washable and last forever, making them more eco-friendly than those mesh drugstore bath poufs. The Salux washcloths exfoliate really well (my skin feels so soft after a shower), they dry quickly, and are less prone to harboring bacteria than the drugstore poufs.
3. Dr. Bronner's Pure Castile Soap I use this as a body wash in the shower and also as a hand soap. It lathers up nicely with my Salux wash cloth and I use this in place of shaving gel on my legs (it works just as good). I use it to clean my Clarisonic brush head and my makeup brushes as well.
4.  Lulu Organics Hair Powder This is, by far, my favorite dry shampoo, and I've tried a lot of them! I only wash my hair twice a week, so I use dry shampoo on an almost daily basis. Unlike other dry shampoos I've tried, this stuff does not leave a residue or lighten the color of my hair. I use the lavender-clary-sage scent which is lovely, but not overpowering. It's organic and talc-free, so I rub it into my scalp with no worries. Extra bonus – the packaging is so pretty, I don't ever want to put it away!
5.  First Aid Beauty Ultra Repair Cream In the winter, or when I have any exceptionally dry spots,  I apply a thin layer of this over the Tarte Maracuja Oil (more on that below). It clears up any dry/red/itchy spots and keeps my skin hydrated. It lays nicely under makeup too. Heads up! Use coupon code MOM25 to get 25% off all orders from 5/1 – 5/3.
6.  Dermalogica Daily Microfoliant I know the price tag is hefty, but this is honestly the best exfoliator I've ever used. I don't use it every day, and the bottle is generously sized, so it lasts a very long time. I've lost count of how many months I've had my current bottle.
7.  Tarte Pure Maracuja Oil This oil keeps my skin hydrated without any irritation. The bottle is generously sized and I only use about 3 or 4 drops to cover my entire face and neck so it lasts a long time.
8.  First Aid Beauty Face Cleanser This cleanser removes makeup really well and doesn't dry out or strip my skin. It works great with my Clarisonic, and a little bit goes a long way. Heads up! Use coupon code MOM25 to get 25% off all orders from 5/1 – 5/3.
9.  Trader Joe's Organic Virgin Coconut Oil It pains me to think about how much money I have wasted on body lotion over the years, not to mention all the chemicals I've rubbed into my skin. I use this as a body moisturizer after I get out of the shower and on the ends of my hair after styling. It's great for removing eye make-up and as a lip moisturizer as well. It has a slightly nutty smell when first applied, but it dissipates pretty quickly and doesn't interfere with perfume. It's inexpensive, raw, vegan, and doesn't contain any chemicals.
Keep in mind, I don't take an all or nothing stance on my diet or the household/beauty products that I buy. For me, it's not about being perfect, it's about constantly evaluating the things I do and how I can improve. Not every product I use in my home or on my body is vegan or organic and I'm at peace with that. I'm getting better every day, and I'm proud of many of the changes I've made. Here's to progress!
So what about you? What are some of your favorite natural, animal friendly products?  I'd like to find a natural deodorant to use on days when I know I won't need an antiperspirant (ie: sitting in my office all day). Any suggestions?
Editor's Note: I was not paid or perked by anyone to mention these products. These are just products that I've used and loved and wanted to share.
Posted in animal friendly, beauty, beauty products, natural, organic, vegan // Add a Comment
Posted on March 25, 2014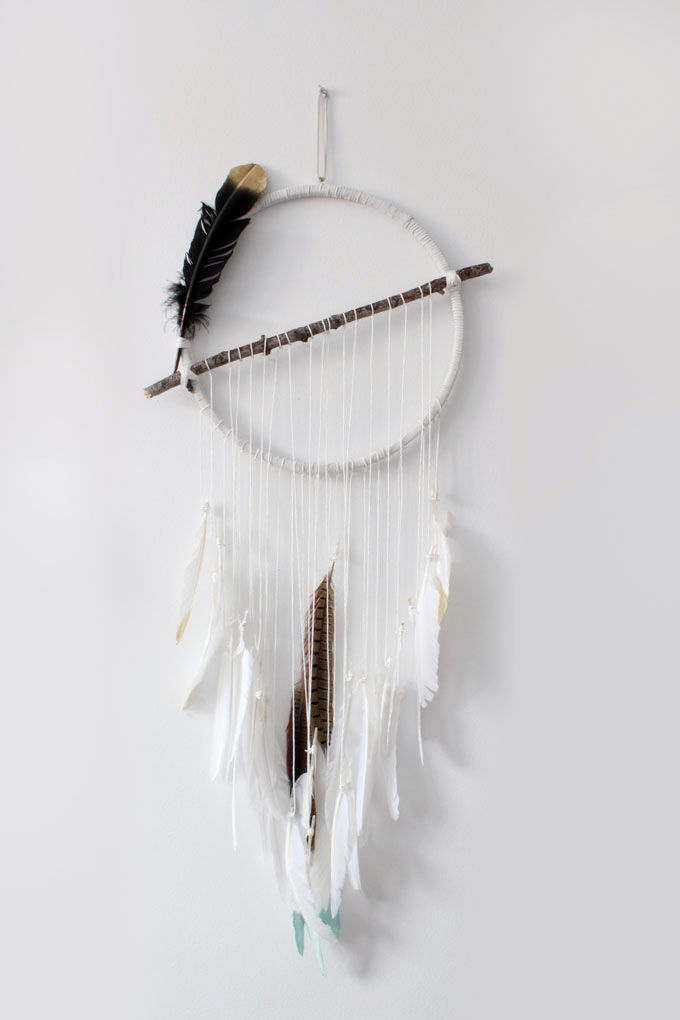 Something peculiar happened the other night. I awoke in the wee hours of the morning to a faint pitter-patter on the other side of our bedroom. I sat up slowly, held my breath, and listened intently. Celia poked her head out from under the covers and watched curiously as I cocked my head to the side.  Is it a tapping? No… maybe more like a crackling? I pulled back the covers and crept across the room. As my eyes adjusted, I noticed our new dream catcher fluttering against the wall, its feathers pirouetting and pas jetéing, like tiny ballerinas. I scratched my head for a moment and looked around. Is there a draft in here?… I shrugged it off, crept back to bed, and buried my face under the covers. As I drifted back to sleep, I imagined the feathers wearing tutus and dancing to Swan Lake.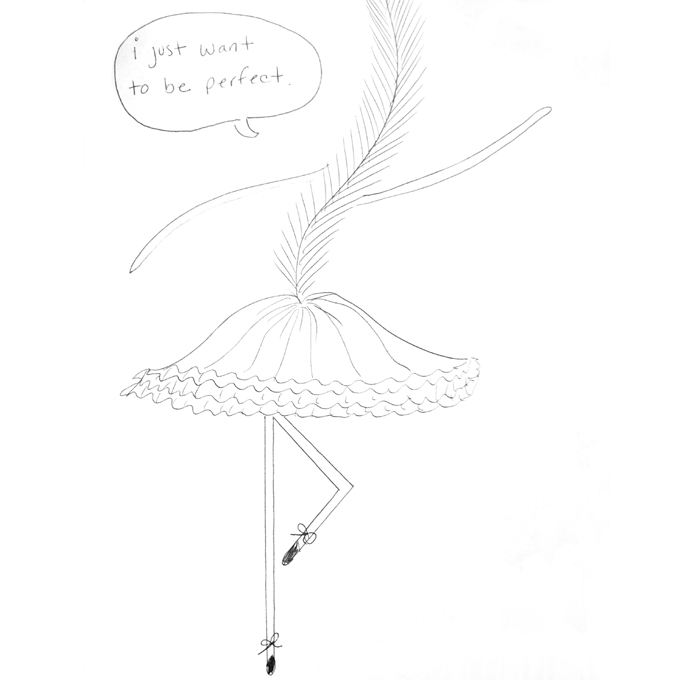 When I awoke the next morning, I recalled another dream. I was at a cocktail bar having a glass of wine with Bruce Willis and my good friend Melanie. Bruce leaned over the table, reached into my hair, and lifted out a dark strand. "I just love these low-lights. They give your hair so much dimension!" Melanie joined in, "It's like a decadent river of chocolate running through a field of wheat!". I rose from bed feeling positively bouncy and unusually optimistic about my hair. I dare say the universe was attempting to send me another dream about my teeth falling out that night, but thanks to my new dream catcher, it died hard (like a vengeance).
A little bit about dream catchers: Native Americans believe the night air is filled with dreams, both good and bad. The dream catcher catches the dreams as they flow by. Only good dreams can pass through while bad dreams are caught in the webbing and perish when the sun rises.
And now! The part where I show you how to make your own Die Hard Dream Catcher™
First: Gather supplies.

A wooden embroidery hoop (I used a 14 inch hoop, but any size will do)
A stick from your yard, at least one inch wider than your hoop
30-40 Feathers (I used artificial feathers from JoAnn Fabrics)
Suede cord
String/twine (similar thickness to bakers twine)
Optional: craft paint, for painting the ends of your feathers. I used metallic gold and robins egg for a little extra glamourtimez.

1. Begin by wrapping the suede cord all around the hoop. This takes a while. I recommend putting on some music or a movie to help pass the time. I listened to this podcast from This American Life in which they discuss seven boring topics to avoid at dinner parties. Ironically, one of these topics is how you slept, and/or your dreams. Apparently people find these topics uninteresting. IS ANYBODY STILL HERE?
2. Once your hoop is completely wrapped in suede cord, attach the stick to the hoop with twine.
3. Tie individual strands of twine (aprox 30 inches long) to the branch, about 1/2 inch apart from each other. I tied 17 strands of twine to my branch (you may need less if you use a smaller hoop). Do the same for the bottom half of the hoop.
4. Wrap the bottom of each strand around the stem of a feather and tie in a knot. I chose to trim my strands of twine into an inverted triangle shape (see below), but you can do whatever your heart desires! Be creative.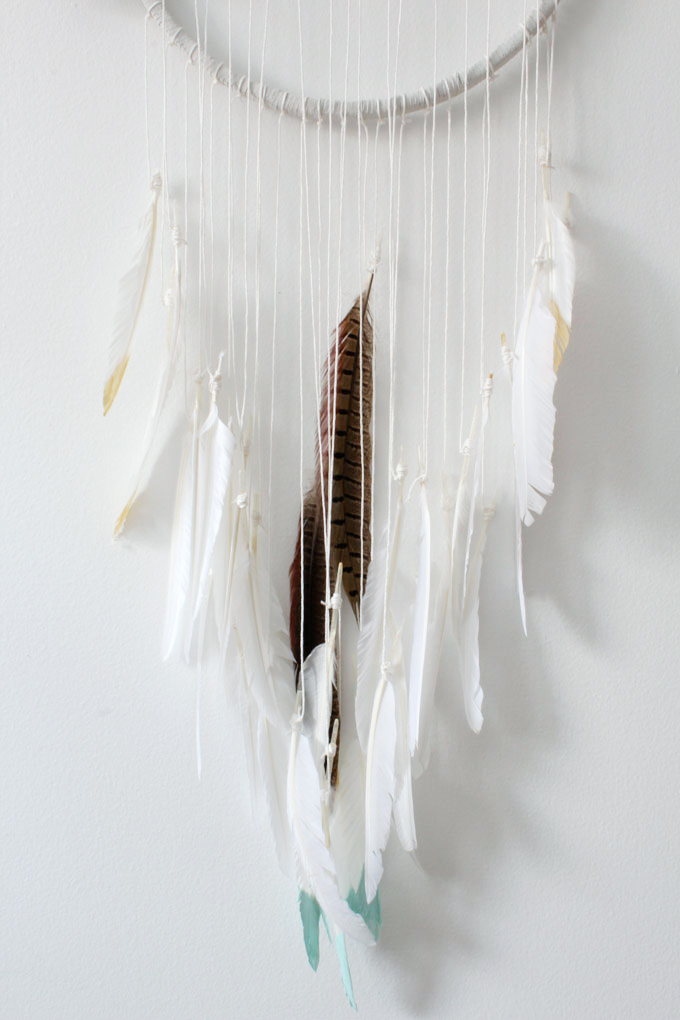 Hang the dream catcher near your bed, or your favorite napping place.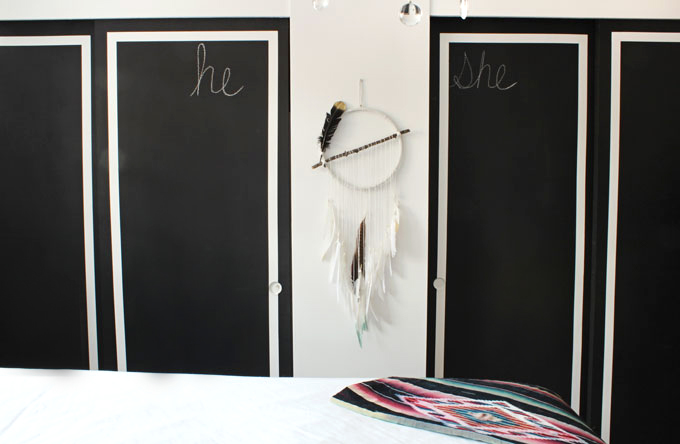 Enjoy blissful dreams for all of eternity.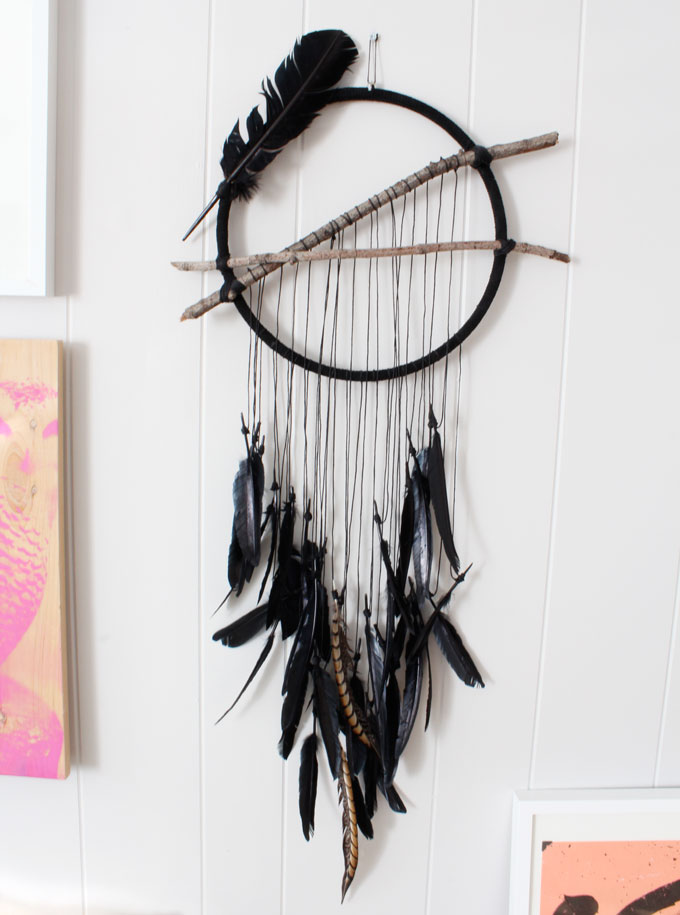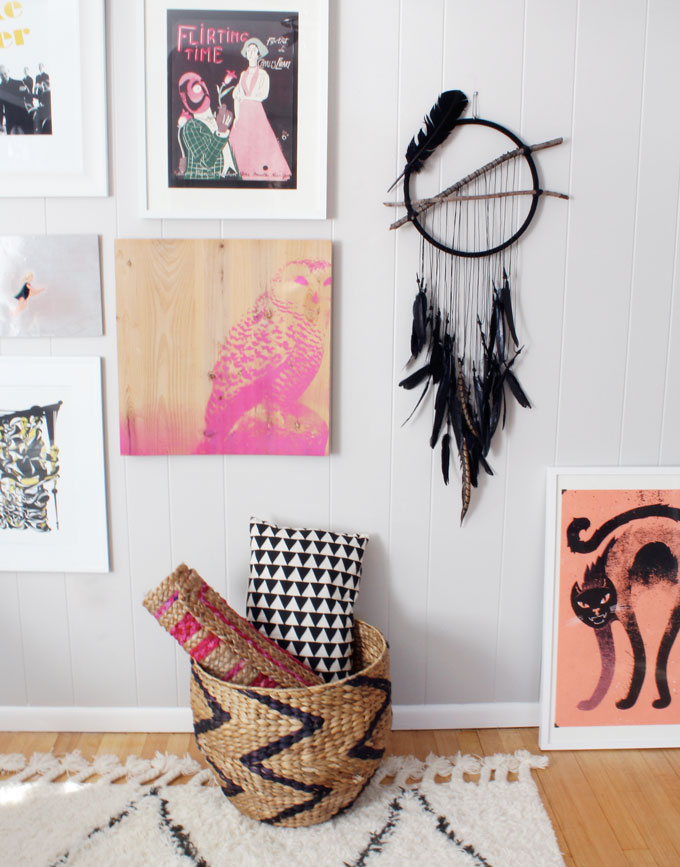 xoxo
Posted in bruce willis, craft, crafting, DIY, dream catcher, dreamcatcher, dreams, feathers // 2 Comments
Posted on March 3, 2014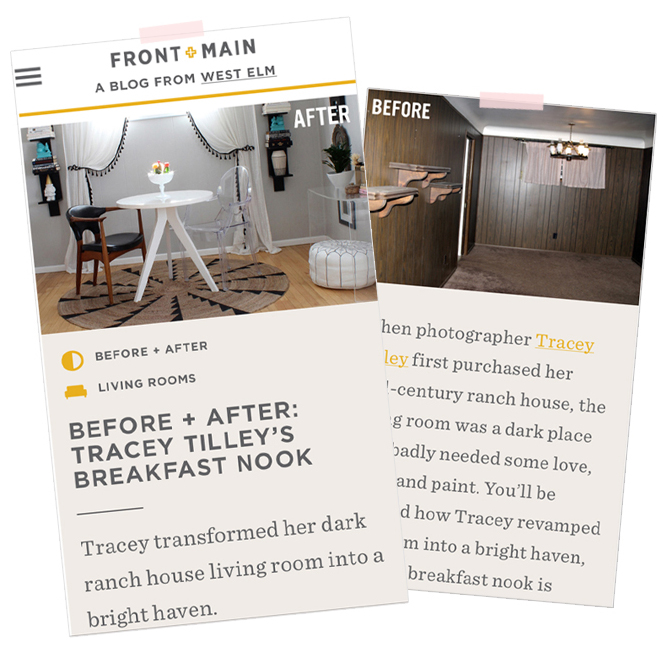 The incredibly nice folks at West Elm invited me to share some before and after photos of my breakfast nook on their blog, Front & Main. I've been following Front & Main for a while now (they share recipes, tips for entertaining, and design inspiration – it's really a great blog) so I was more than delighted to be asked. Eleanor insisted on making an appearance too, of course. What a diva.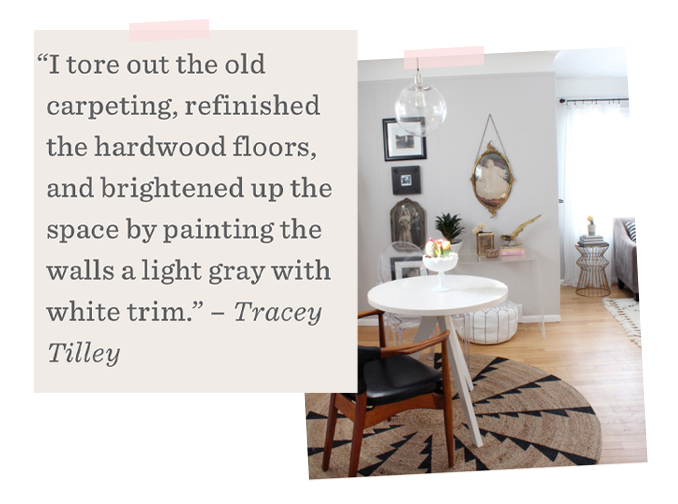 If you have a moment, take a look! Man, the before photos of this house will never cease to make me cringe.
xoxo
Posted in before and after, breakfast nook, front & main, west elm // Add a Comment