My Latest Beauty Favorites.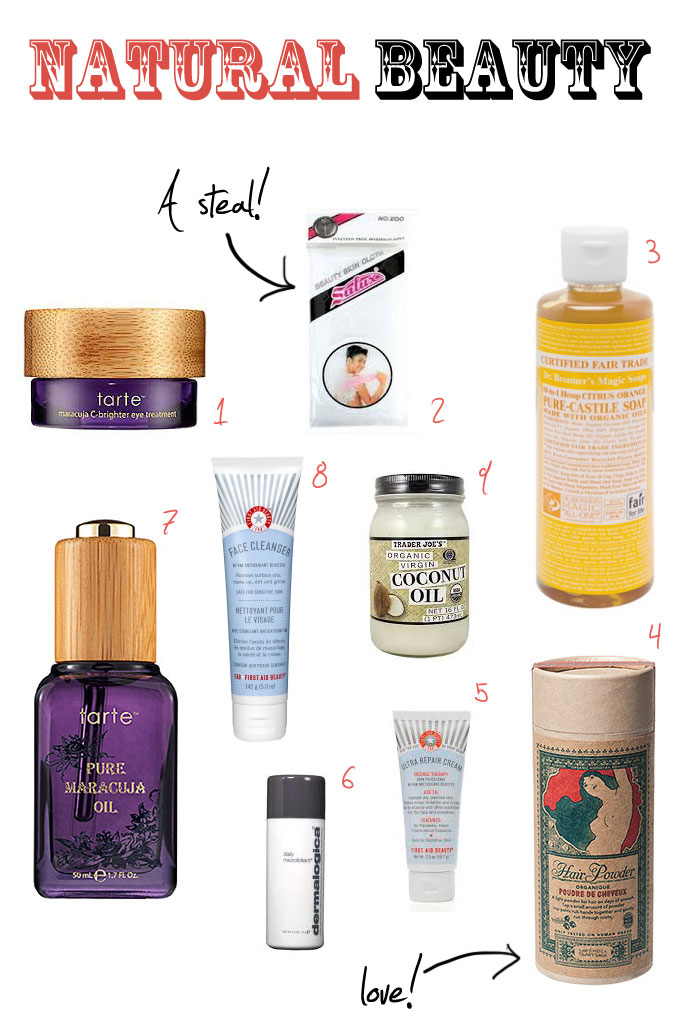 I enjoy getting new recommendations for beauty products from friends, so I thought it would be fun to share with you a few beauty products that I have been using (and loving) lately. In the last few years I've made a conscious effort to purchase products that are more natural, ethically made, and animal friendly. It was hard at first to break up with some of my tried and true drugstore brands, but so many of those products contain nasty chemicals and are tested on animals. With the rising number of companies making natural and animal friendly products, it's not difficult to find alternatives these days. Though it's important to note that terms like "natural" and "cruelty-free" are not clearly defined by law, so they can be used to mean just about anything a manufacturer wants them to mean. PETA keeps a comprehension list of companies that do NOT test on animals here.
My skin is very dry, sensitive, and prone to breakouts which is a tricky combination to work with. Acne products are too drying, and many products designed for dry skin cause irritation and/or breakouts. Through trial and error, I've found that products with minimal ingredients work best for my skin. I avoid harsh chemicals, dyes, and fragrances as well. Here are a few of the products I have come to love recently.
1.  Tarte Maracuja C-Brighter Eye Treatment This eye cream is very hydrating, calms down my puffiness, and lays nicely under makeup. I find most eye creams to be irritating, but this cream doesn't make my skin react at all. A little bit goes a long way.
2.  Salux Japanese Wash Cloth Ok, so these are not exactly the most "natural" of products (they're made of nylon and polyester) but I added them anyway because they are machine washable and last forever, making them more eco-friendly than those mesh drugstore bath poufs. The Salux washcloths exfoliate really well (my skin feels so soft after a shower), they dry quickly, and are less prone to harboring bacteria than the drugstore poufs.
3. Dr. Bronner's Pure Castile Soap I use this as a body wash in the shower and also as a hand soap. It lathers up nicely with my Salux wash cloth and I use this in place of shaving gel on my legs (it works just as good). I use it to clean my Clarisonic brush head and my makeup brushes as well.
4.  Lulu Organics Hair Powder This is, by far, my favorite dry shampoo, and I've tried a lot of them! I only wash my hair twice a week, so I use dry shampoo on an almost daily basis. Unlike other dry shampoos I've tried, this stuff does not leave a residue or lighten the color of my hair. I use the lavender-clary-sage scent which is lovely, but not overpowering. It's organic and talc-free, so I rub it into my scalp with no worries. Extra bonus – the packaging is so pretty, I don't ever want to put it away!
5.  First Aid Beauty Ultra Repair Cream In the winter, or when I have any exceptionally dry spots,  I apply a thin layer of this over the Tarte Maracuja Oil (more on that below). It clears up any dry/red/itchy spots and keeps my skin hydrated. It lays nicely under makeup too. Heads up! Use coupon code MOM25 to get 25% off all orders from 5/1 – 5/3.
6.  Dermalogica Daily Microfoliant I know the price tag is hefty, but this is honestly the best exfoliator I've ever used. I don't use it every day, and the bottle is generously sized, so it lasts a very long time. I've lost count of how many months I've had my current bottle.
7.  Tarte Pure Maracuja Oil This oil keeps my skin hydrated without any irritation. The bottle is generously sized and I only use about 3 or 4 drops to cover my entire face and neck so it lasts a long time.
8.  First Aid Beauty Face Cleanser This cleanser removes makeup really well and doesn't dry out or strip my skin. It works great with my Clarisonic, and a little bit goes a long way. Heads up! Use coupon code MOM25 to get 25% off all orders from 5/1 – 5/3.
9.  Trader Joe's Organic Virgin Coconut Oil It pains me to think about how much money I have wasted on body lotion over the years, not to mention all the chemicals I've rubbed into my skin. I use this as a body moisturizer after I get out of the shower and on the ends of my hair after styling. It's great for removing eye make-up and as a lip moisturizer as well. It has a slightly nutty smell when first applied, but it dissipates pretty quickly and doesn't interfere with perfume. It's inexpensive, raw, vegan, and doesn't contain any chemicals.
Keep in mind, I don't take an all or nothing stance on my diet or the household/beauty products that I buy. For me, it's not about being perfect, it's about constantly evaluating the things I do and how I can improve. Not every product I use in my home or on my body is vegan or organic and I'm at peace with that. I'm getting better every day, and I'm proud of many of the changes I've made. Here's to progress!
So what about you? What are some of your favorite natural, animal friendly products?  I'd like to find a natural deodorant to use on days when I know I won't need an antiperspirant (ie: sitting in my office all day). Any suggestions?
Editor's Note: I was not paid or perked by anyone to mention these products. These are just products that I've used and loved and wanted to share.
May 1, 2014
This entry was posted in
Life
,
Uncategorized
and tagged
animal friendly
,
beauty
,
beauty products
,
natural
,
organic
,
vegan
. Bookmark the
permalink
.