What's Going on in My Bedroom?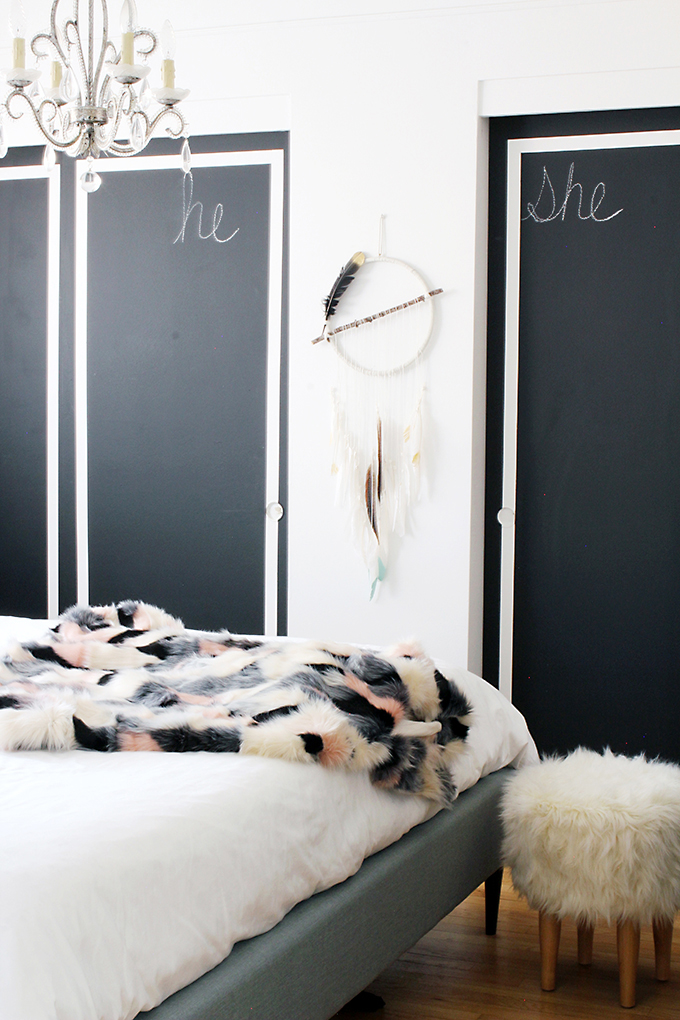 We recently upgraded to a king-size memory foam mattress. After years of sleeping on a queen-size garbage mattress with a pit the size of Grand Canyon in the middle, it was long over due. I often woke with an aching back, hips, or neck and it made me depressed and annoyed. But now I wake up every day feeling like this: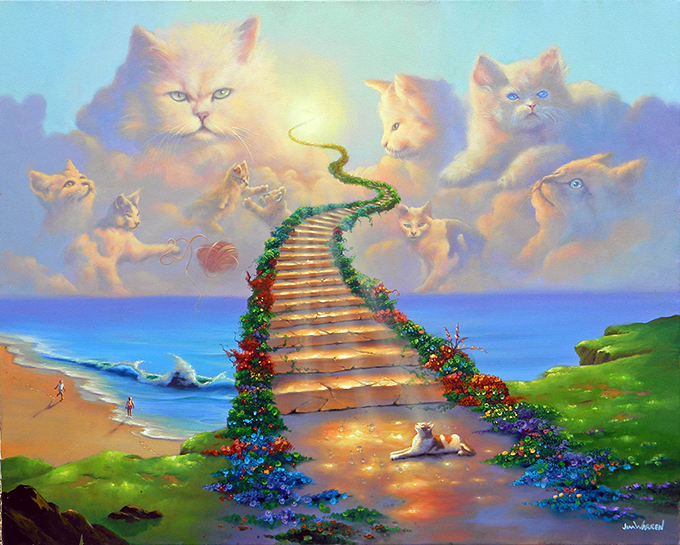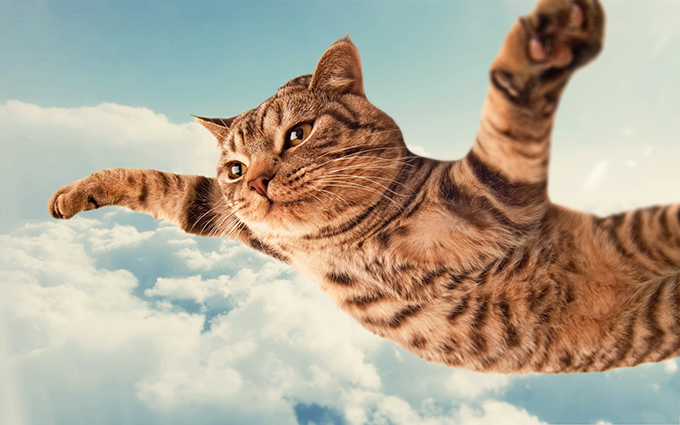 A king size bed has been on our wishlist for years, and I figured if we were going to get a new mattress anyway, we might as well upgrade to a king now. I researched a bunch of the online bed-in-a-box mattress companies – Leesa, Brooklyn Bedding, Casper, Tuft and Needle, and honestly, they all seemed kinda the same. Free shipping, 100 night risk-free trials, a bevy of glowing reviews. In the end I chose Casper because, based on customer feedback, it seemed to be the softest of the bunch, which is good for side sleepers like me. It arrived in a sturdy box, just like my favorite wine, and was super easy to set up.  The mattress came compressed, so all we had to do was pull it out of the box, unroll it, and watch it expand to size. Mike D and I loved it immediately. It alleviated the soreness I was waking up with in my back and hips, which was great, but after a few nights, I began to notice some soreness in my shoulders. I made a quick call to Casper to see if they could recommend anything. The woman I spoke with was very nice and offered to send a free topper to alleviate some of the pressure on my shoulders. YASSS! So nice. She explained how the mattress is designed for an average size human, so those under 140 lbs might find the mattress a bit too firm. That explains why I (a grown woman trapped in a 12 year old's body) had some shoulder soreness but Mike D was fine. I received the topper within a week and it totally did the trick. No more shoulder soreness, and I've been sleeping like a baby ever since. It's the perfect combination of firm and soft now, and Mike still loves it, even with the new topper (in fact, he didn't even notice a difference). This isn't a sponsored post by the way, even though it seems like it totally is. I just wanted to share my good experience with you. Because y'all my dudes.
We sold our queen sized bed it and replaced it with this  bed in sky gray. It's a real grown-up kinda bed – it's sturdy, comfortable, looks nice, and you can't beat that price! I picked up some new sheets (on sale! Hurry!) and traded in my great grandmother's chenille bedspread for a down alternative comforter for the winter. It's all so comfy and warm now. I just want to spend the rest of this stupid dark winter lounging about on my new mattress-in-a-box, drinking wine-in-a-box and watching dick-in-a-box.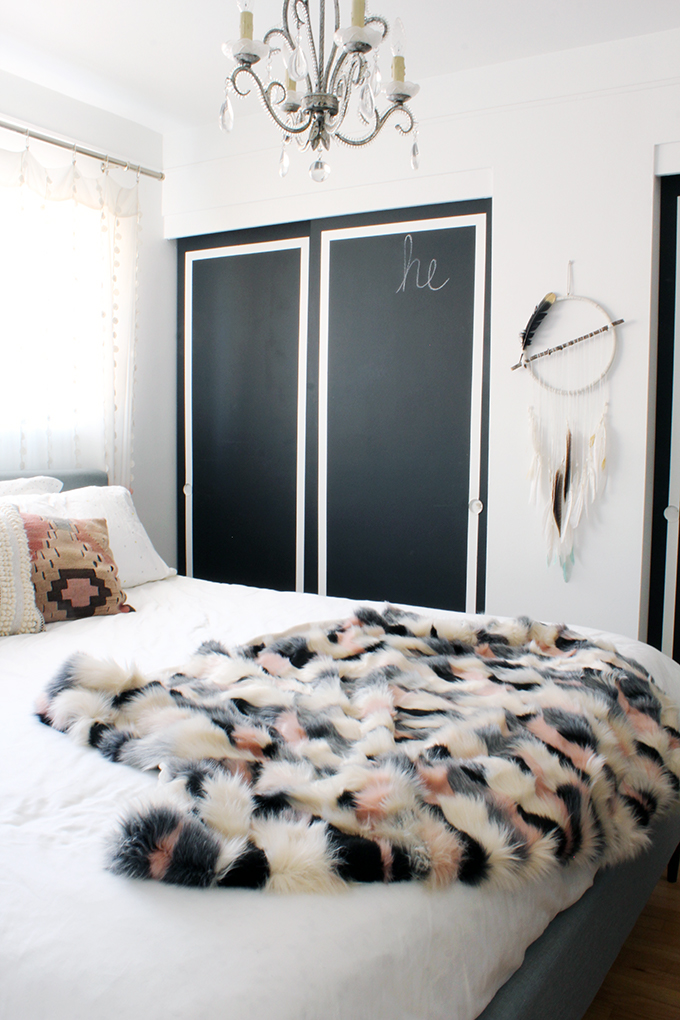 Our bedroom is tiny, so with the addition of the king sized bed, there was room for only one nightstand. The mirrored table I had there was pretty, but I  always kept a pile of junk on the nightstand – a book, lip balm, eye cream, remote, vitamins, you get the picture, so I wanted something with storage to hide all that garbage out of sight. I looked around in stores and online, fruitlessly, before remembering I had an old nightstand from my parents house in the basement that might work. I brought it upstairs to try it in the space, and low and behold, it was the perfect size and scale. It just needed some zhushing.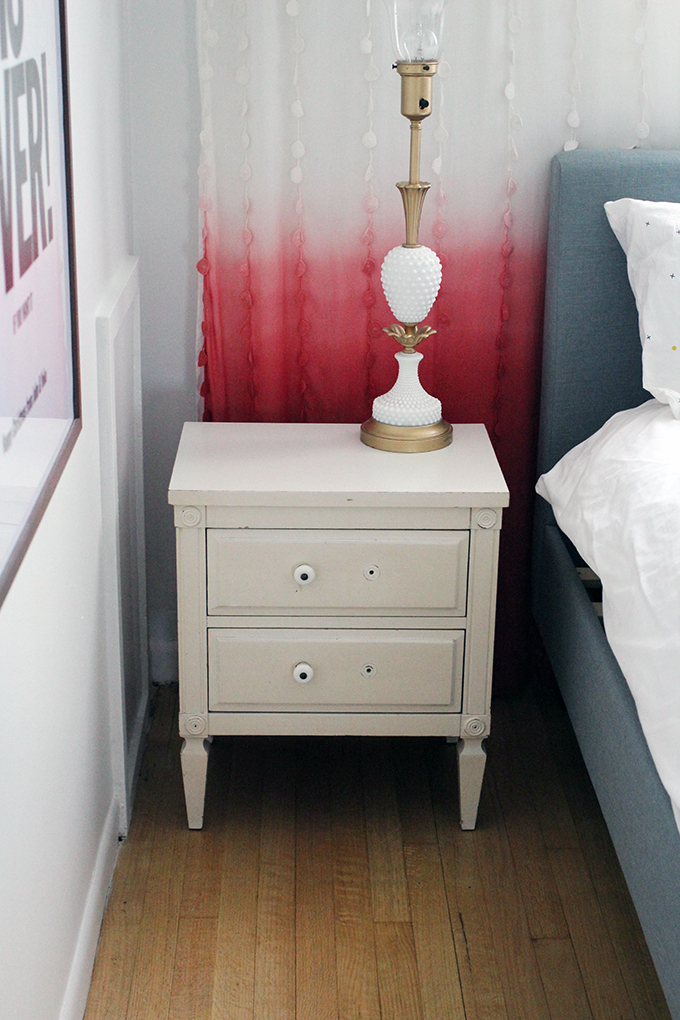 Ok, fine, it was totally whacktastic. First I wiped it down with some Mrs Meyers soap and warm water, then I lightly sanded the surface to roughen it up for paint. I brushed on two coats of "Soot" by Benjamin Moore in satin finish (the same color I used on my dresser a few years back) and it was looking pretty good. Then, the pièce de ré·sis·tance – these fancytown handles from Anthropologie.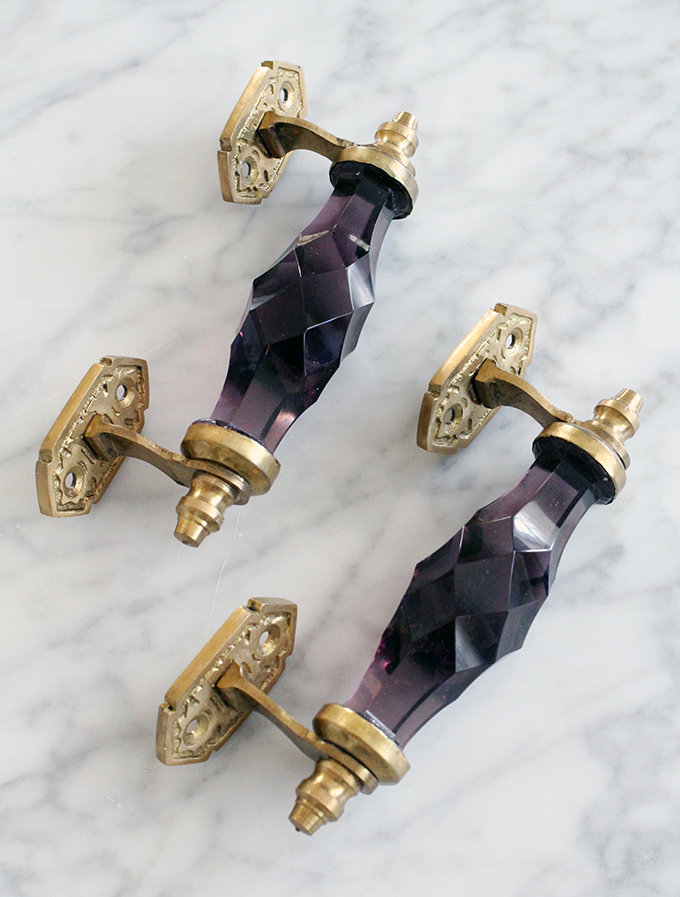 I bought 8 of them on clearance several years ago, but only needed six for my dresser. I'm so glad I held onto those two extra handles. They are bringing the heat and they are bringing it hard.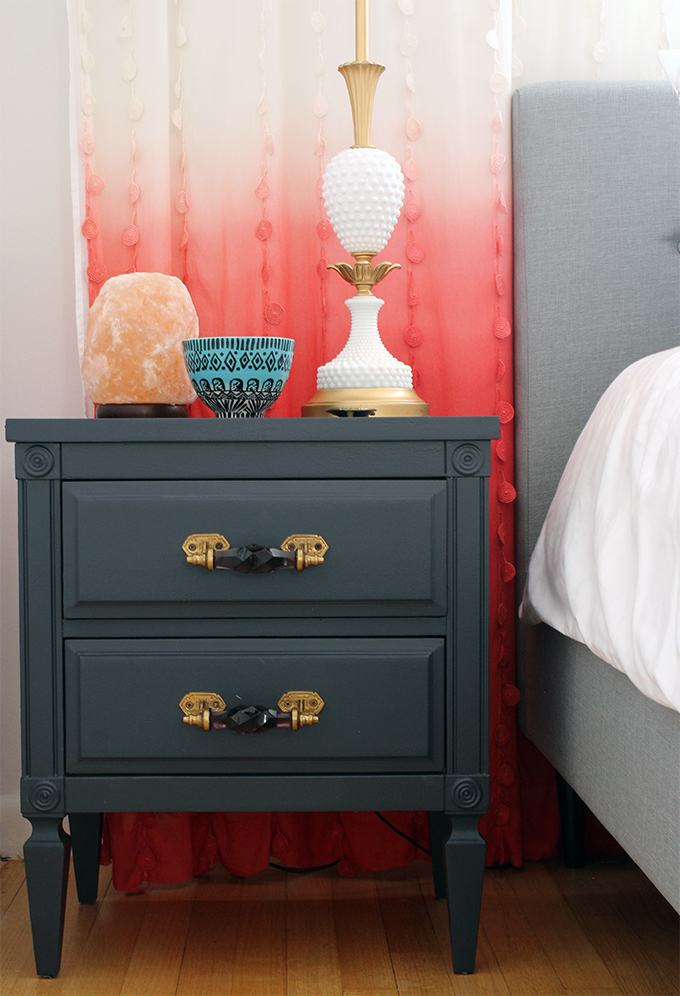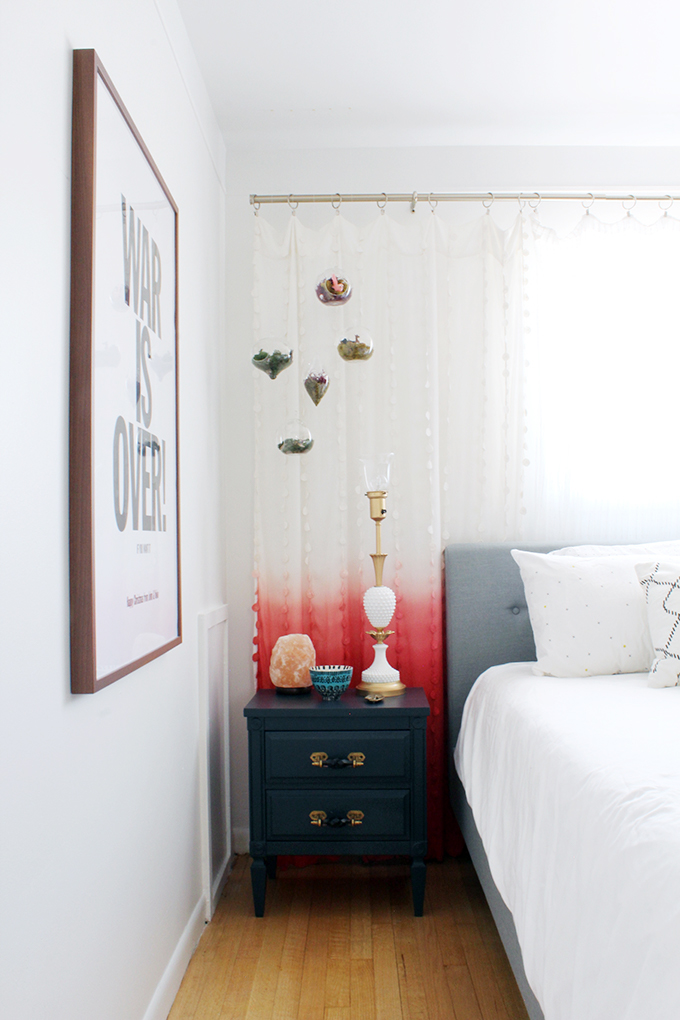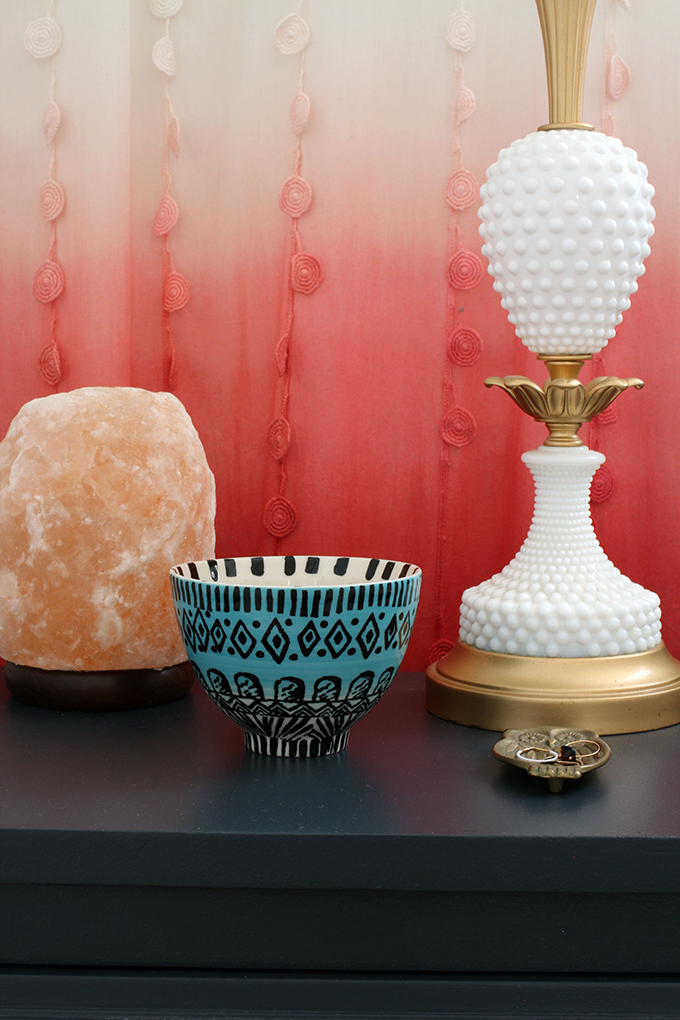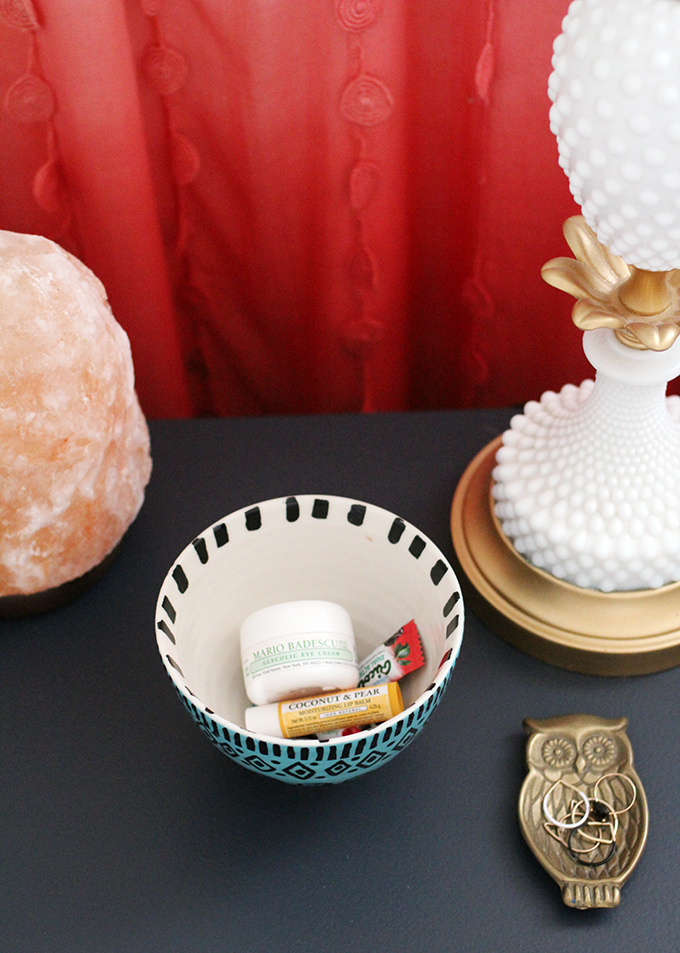 Is your head, like, totally exploding from the transformation? Just wait until you see the drawer liners I cut to size with my very own hands.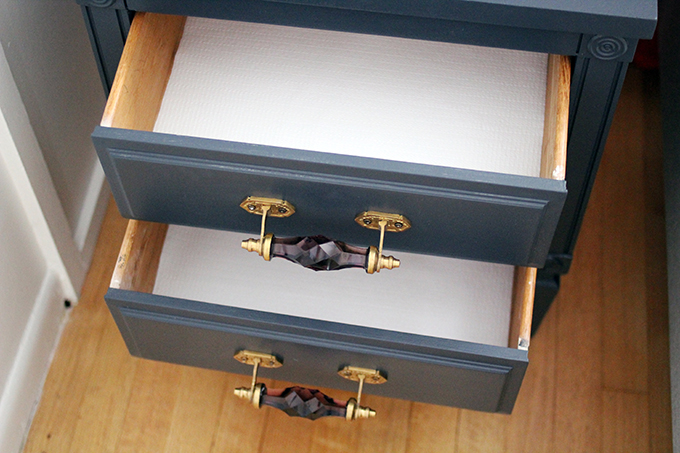 DAYYYYUM those drawers are SECK. (Like your mom).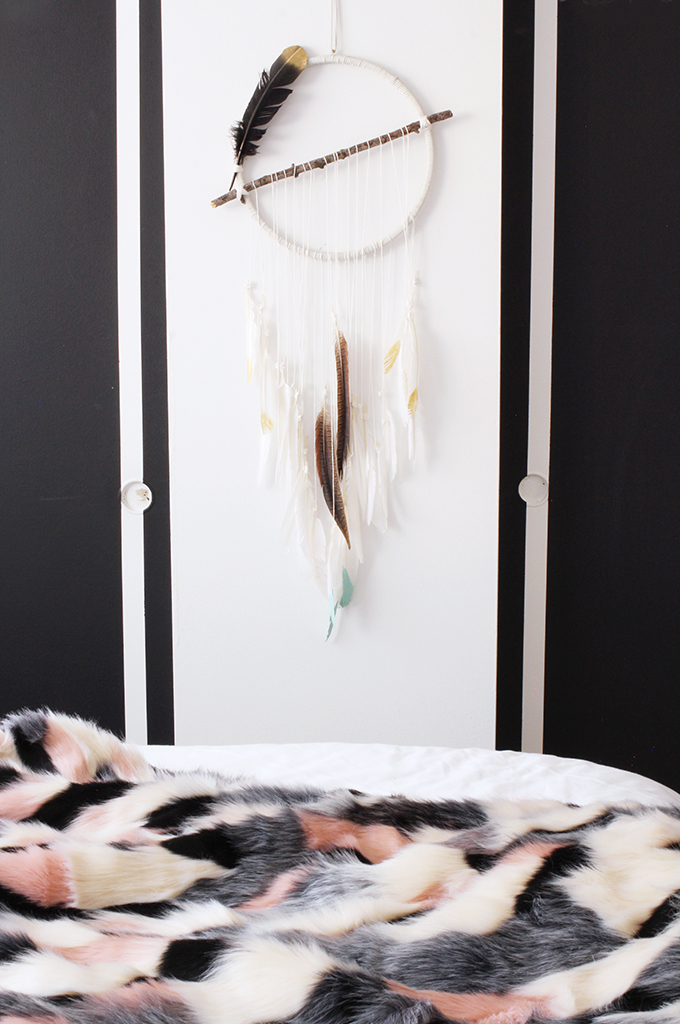 That blanket and that dreamcatcher were totally separated at birth! Now they're best friends and plan to bring their wayward parents back together.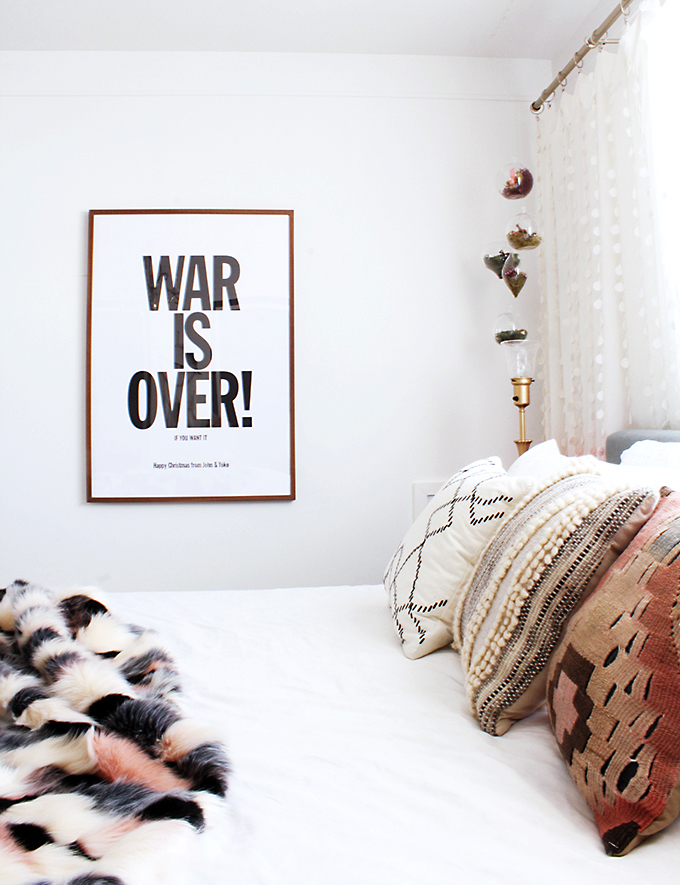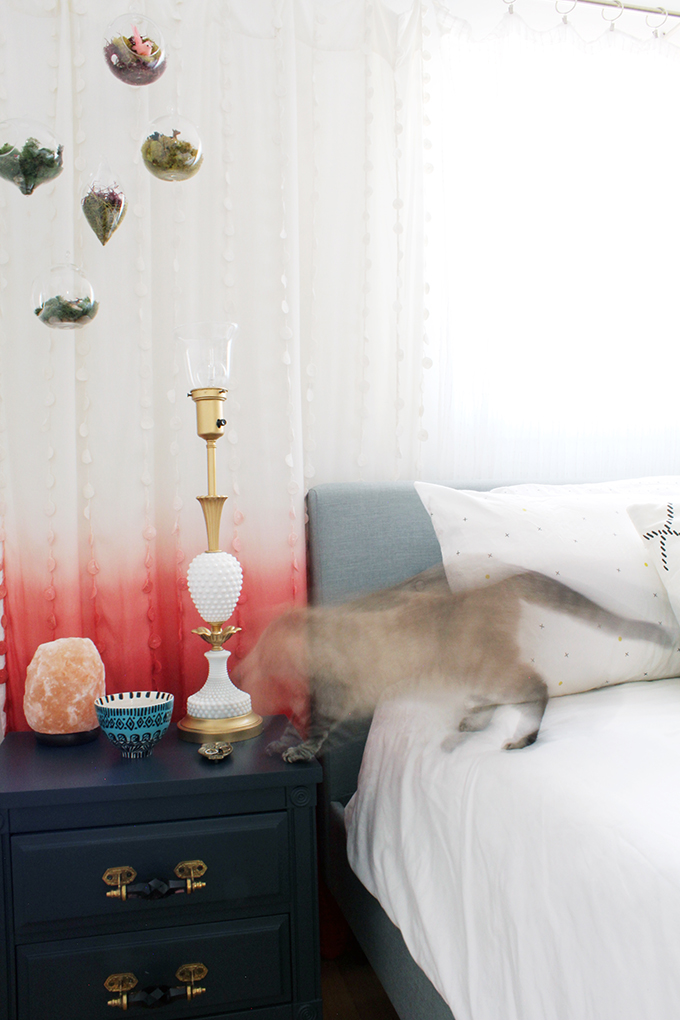 That's our sassy ghost cat. She came with the nightstand and terrorizes us in our sleep.
NO BIG DEAL.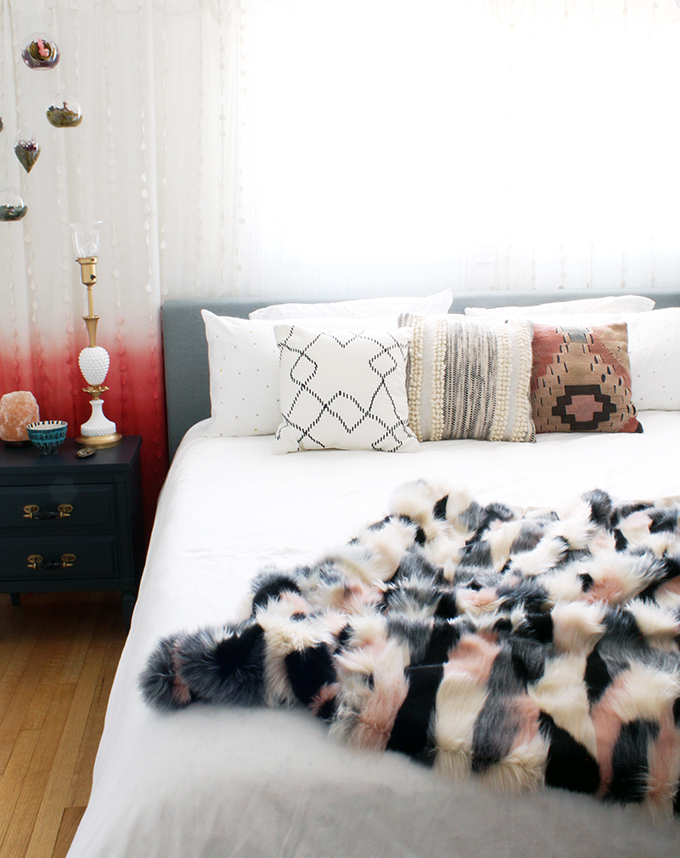 The end!
January 31, 2016
This entry was posted in
Decorating
,
DIY Projects
,
Vintage
and tagged
bedroom
,
bedroom updates
,
casper mattress
,
dreamcatcher
,
new mattress
,
nightstand makeover
. Bookmark the
permalink
.