Vintage Finds and the Woeful Ennui of a 1930's Homemaker.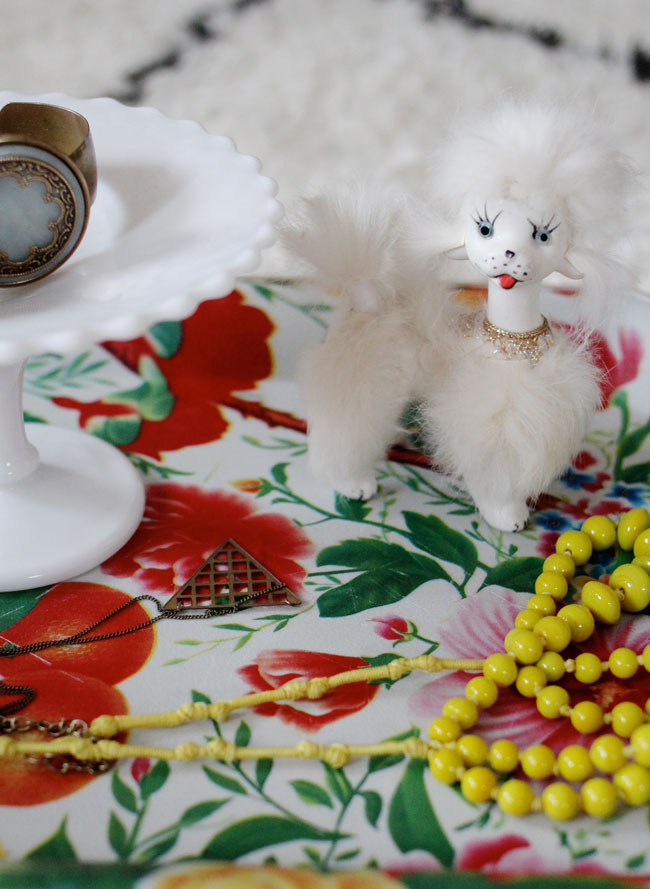 If you know me, and I think you do, you are aware that I'm often popping in to estate sales, thrift stores, and fleamarkets, searching for treasures and a ruddy bargain or two. It's my strange addiction.  Here's what I nabbed over the past few months.
Sip N'Smoke ashtray from Oddfellows.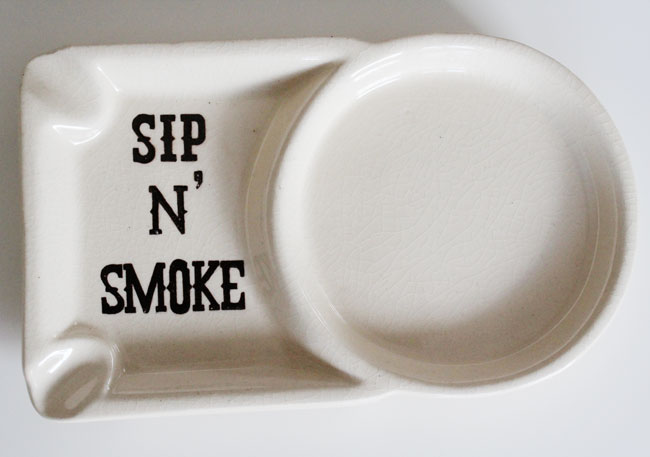 Oh how I miss the days when smoking wasn't bad for you. You could drive around in your car with the windows rolled up, your kid strapped in the backseat (or not strapped, because seat belts weren't really important back then), and smoke away without a care in the world. Sound familiar mom & dad? Just kidding! [cough cough]. Really though, why hasn't someone invented a healthy cigarette yet? I'm not talking about that e-cigarette garbage, I'm talking about real cigarettes, but instead of  nicotine they're full of ginseng or some shit? A smoke-able multi vitamin. Can someone please get on that? I could really go for a non-cancerous sip n' smoke.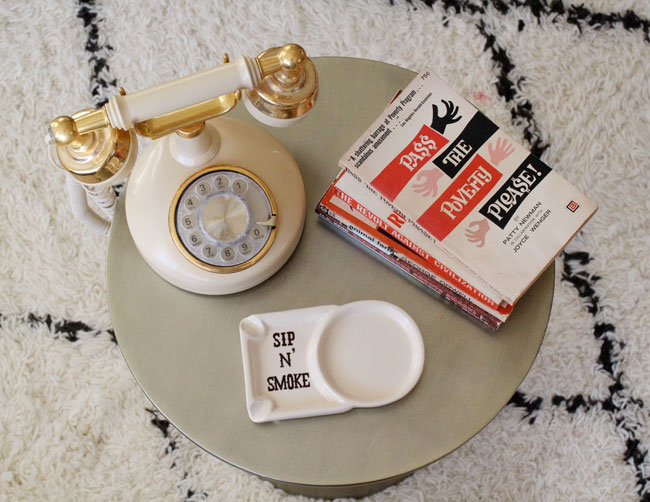 Speaking of cancer sticks…  I found this ash tray at Oddfellows as well, but gifted it to my friend Tiffany for her birthday. One can only have so many unusable, yet adorable ashtrays in their home.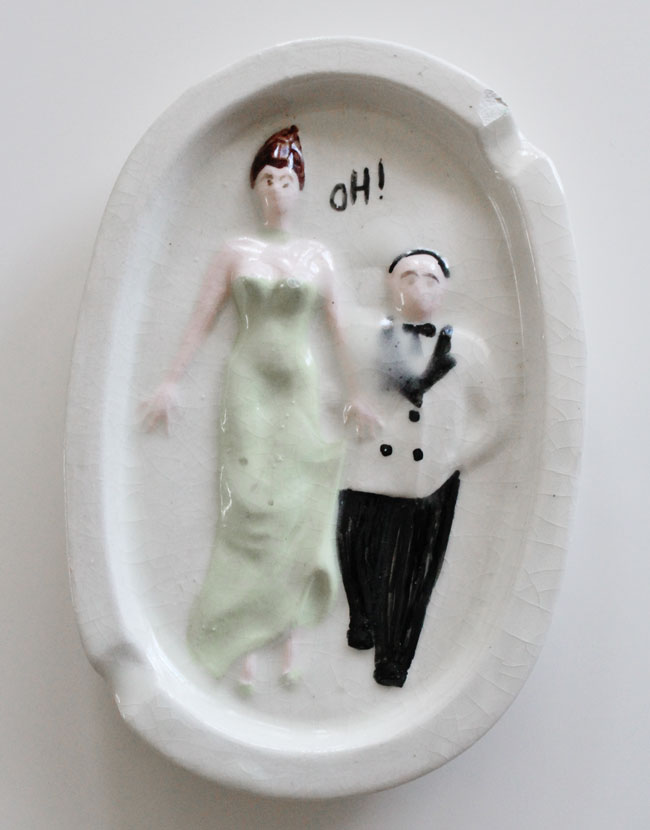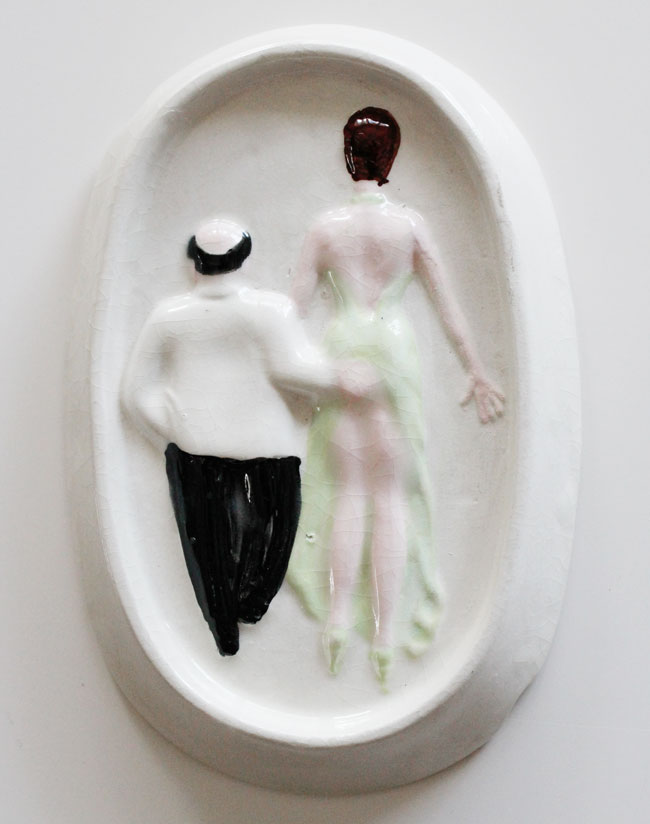 Let's talk about these crazy-sexy-cool poodles.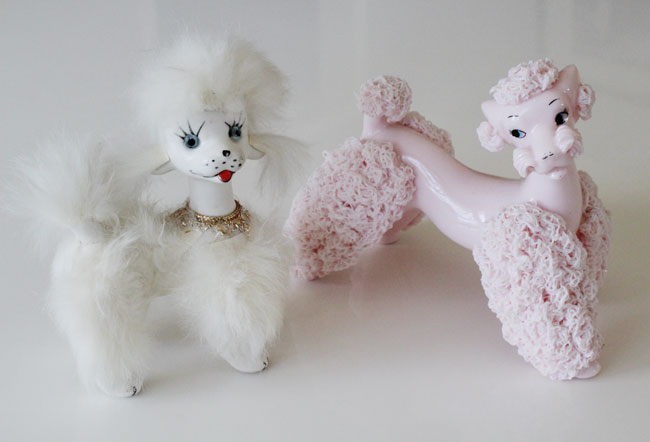 I went to an estate sale put on by Vogue Vintage for a family who collected e.v.e.r.y.t.h.i.n.g. Ceramic garden bunnies? They had fifty. Wicker baskets? Probably a hundred. Christmas teddy bears? This is where they went to die. It was impressive and horrifying all at the same time. Not only did they have every shot glass and ceramic bell ever made, they also had a large collection of pink spaghetti poodles. I've often admired spaghetti poodles at antique stores, but they're usually too expensive for me. Lucky for me, this one was priced to go. A few weeks ago, I came across the white Japanese poodle at Oddfellows, and having an inherent soft spot for weird poodle figurines, I couldn't pass him up.  It has real fur, which ironically feels nothing like that of a poodle.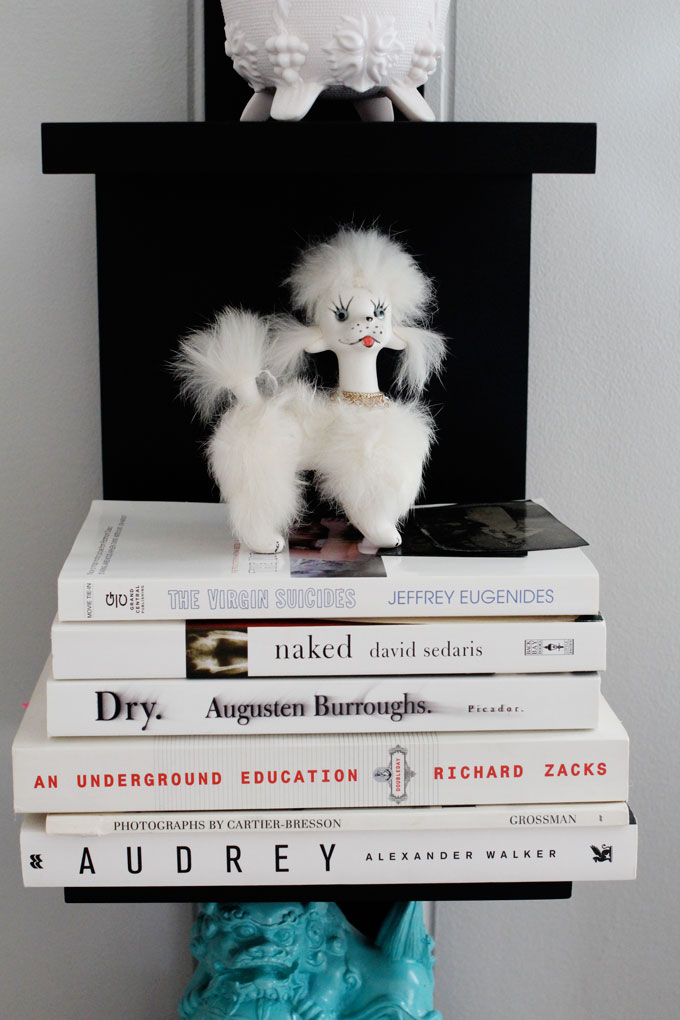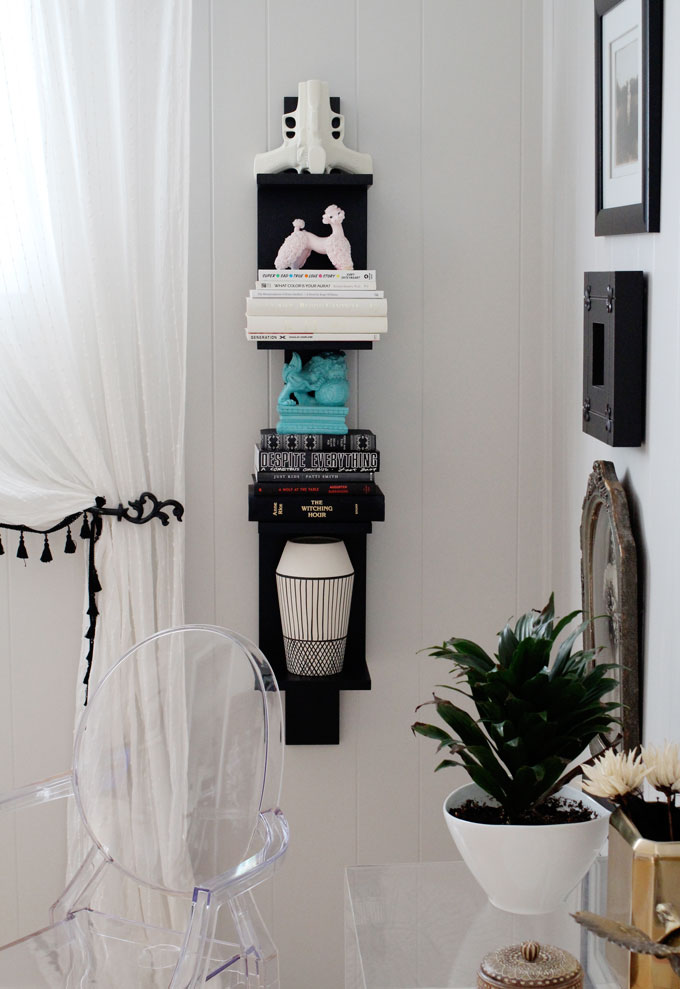 Back in July I bought these two tropical print serving trays for $2 at the annual Royal Oak Garage Sale. They were marked $5 for the set, but when I handed the seller my cash, she said "Oh, these should be $2″. And who was I to argue? They are perfect for outdoor parties.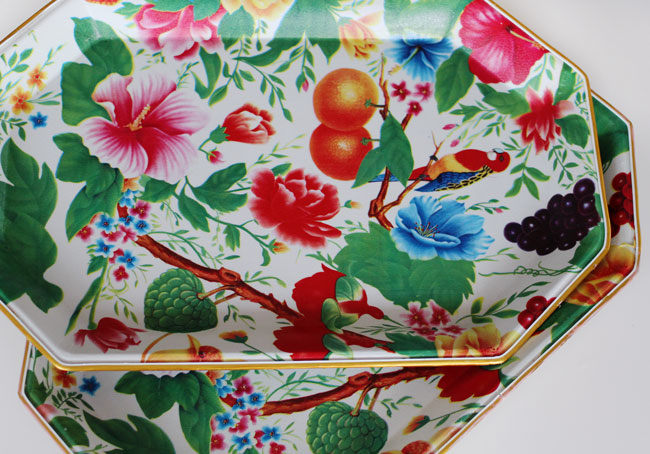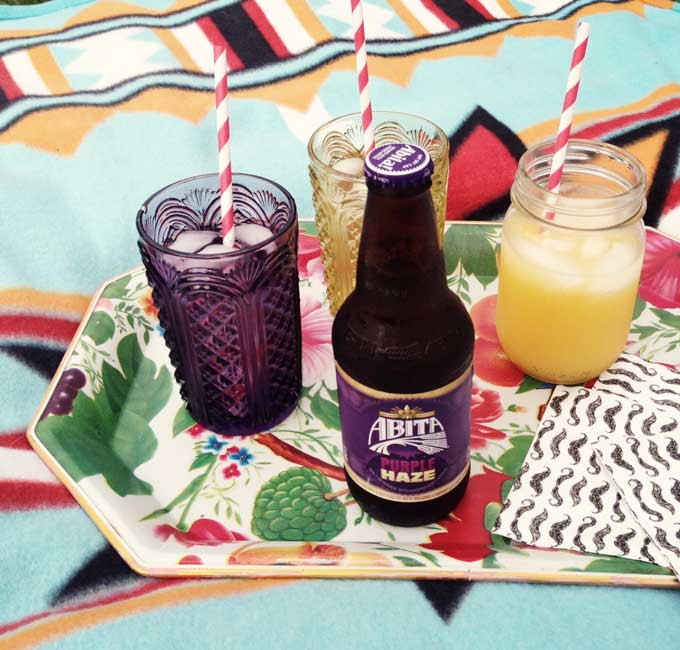 Don't they remind you of something Joyce from Edward Scissorhands would use for serving her ambrosia salad?

Ask anyone who interacts with me on the regular and they will attest that my sole mission for the past 5 years has been to find a small, mid-century, stacking record player console. My requirements are as follows – must work – must stack – must be small – must be mid-century – must not be a million dollars. And did you know? They're about as easy to find as a tap dancing unicorn. Every now and again I'd find one on ebay, but it would be in Texas or Florida, or I'd find one around here that was in bad shape or a million dollars. I decided to pop into Vogue Vintage one day, and the owner mentioned that he rented out a small 1955 RCA Victor to the Rattlesnake Club for a mad-men themed party. He said it would be back in the store in a week. So a week went by, I popped in, and lo and behold, it was perfect! And small! And affordable! And…. broken. Womp, womp. He sent it off to his repairman, told me to call back in a week, I called back, it wasn't fixed yet, he told me to call back in three days, I called back, it wasn't fixed yet, yada yada. That went on for several weeks and was kind of excruciating. But due to the powers of blogging, BAM. Here she is, all shined up and in my living room.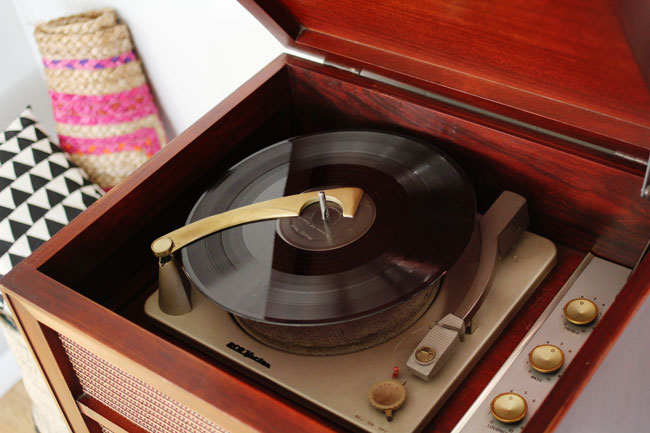 Hello, record player of my dreams!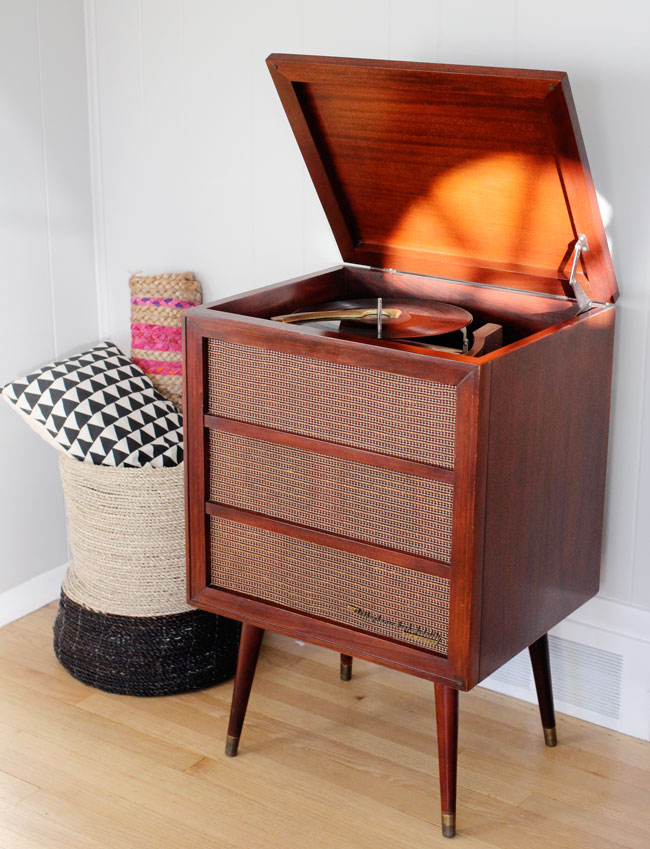 I found this 1960's Saltillo blanket at Lost & Found Vintage in Royal Oak.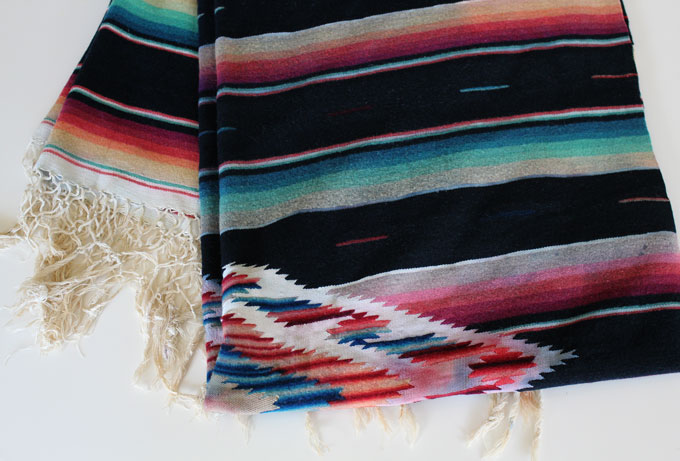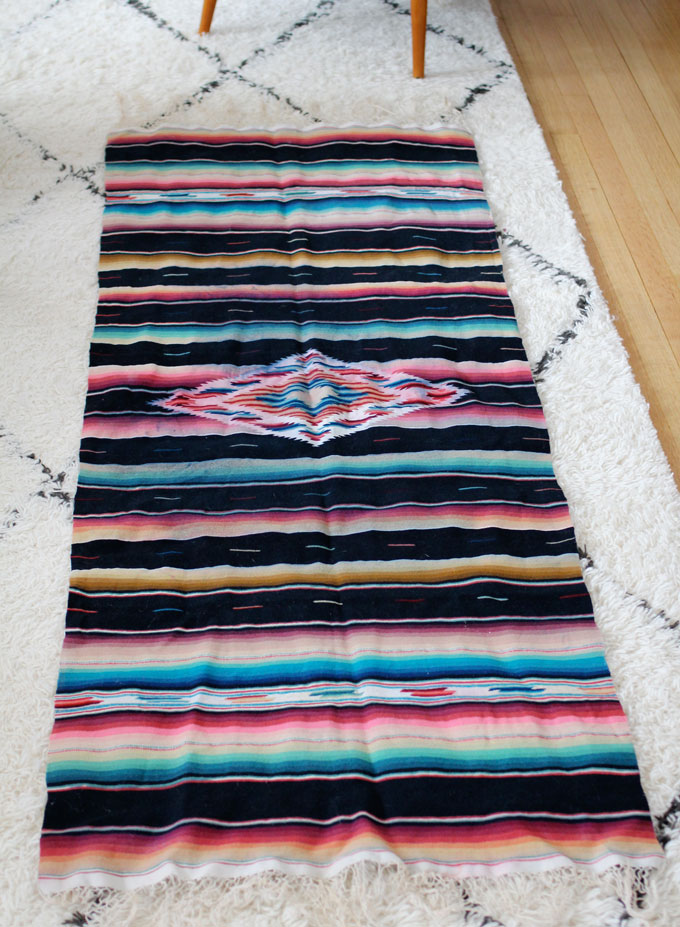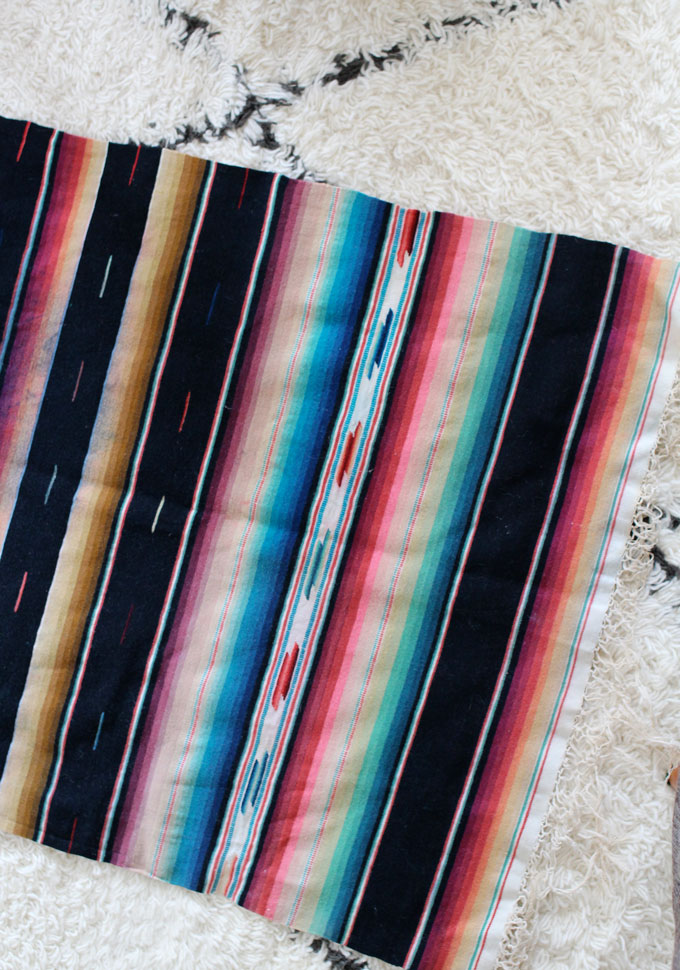 The colors are beautiful and it's very soft, but I have no idea what to do with it. Hang it on the wall? Drape it across the back of a chair? Make an outfit for Celia?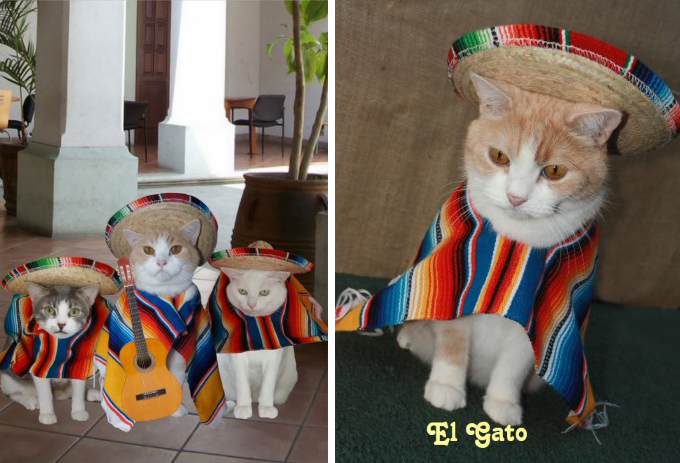 I just showed her these pictures and she was unimpressed.
I picked up a stack of Good Housekeeping magazines from the 1930's for two dollars a piece at the Royal Oak Garage Sale.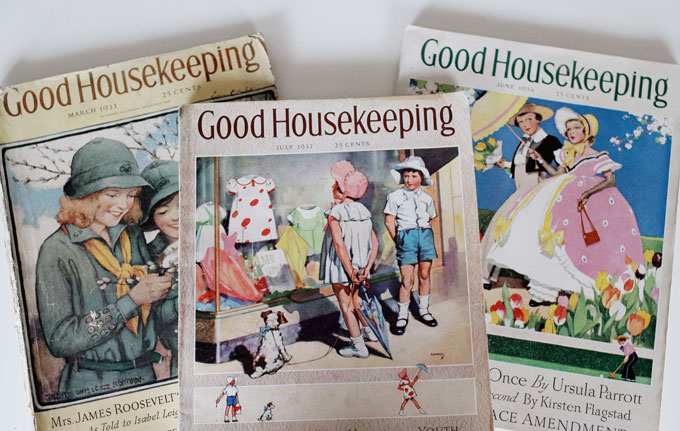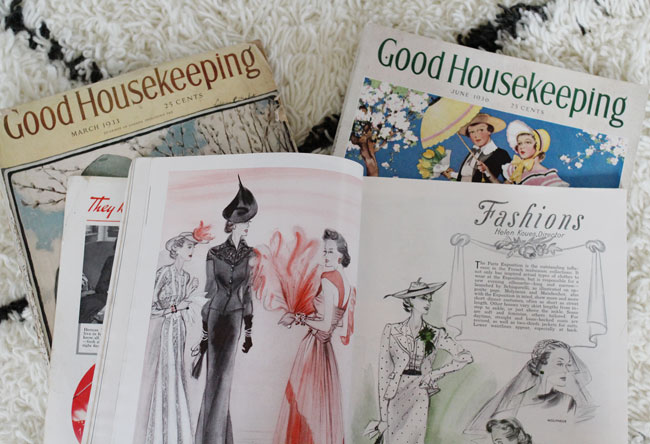 I found some AMAZING articles. And by amazing, I mean sexist and horrible.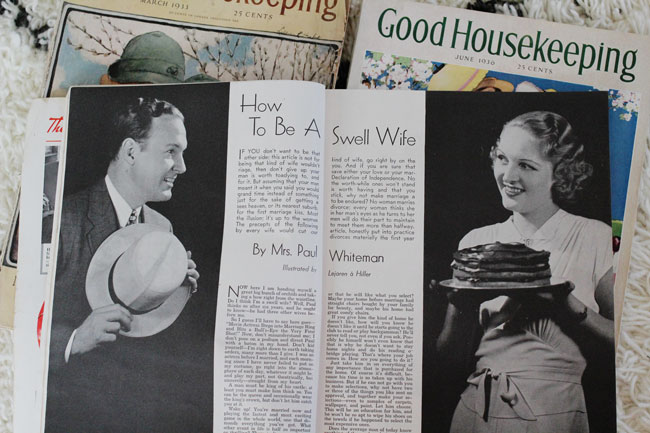 In an article titled How to be a Swell Wife, I found this golden nugget of advice: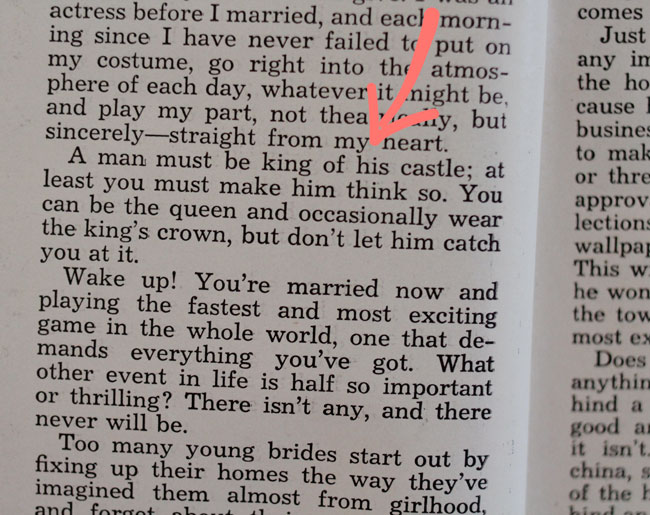 Nothing more thrilling than marriage, eh? And these tidings of encouragement: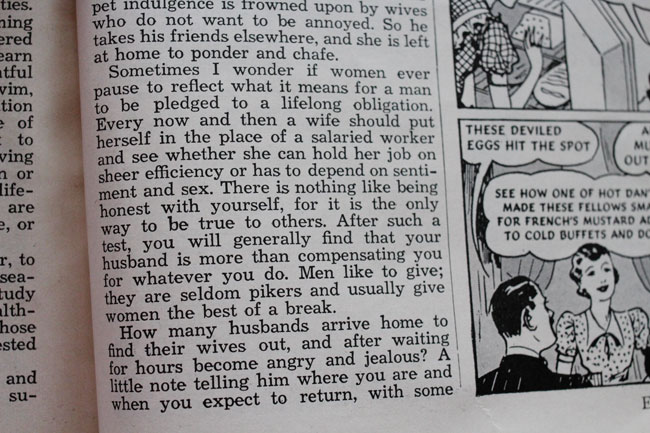 Thank God I've been able to hold my job based on sentiment and sex and not had to rely on sheer efficiency. I mean, can you even?!
And this barf-a-thon: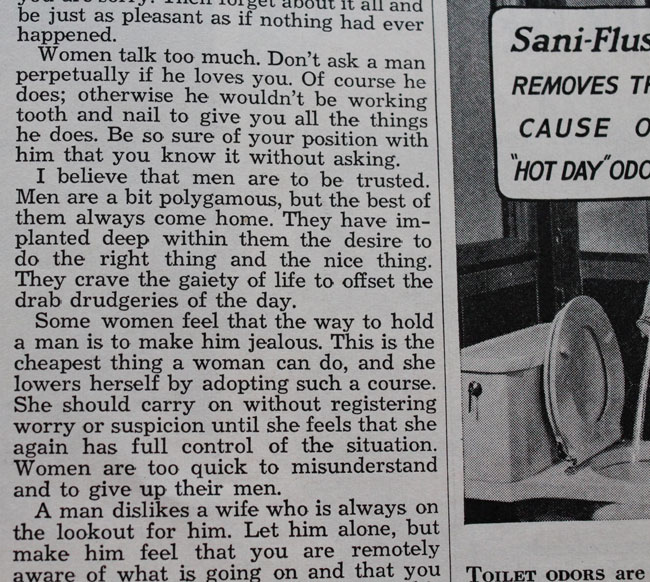 Can someone explain to me what sanitary belts are? Wait, never mind.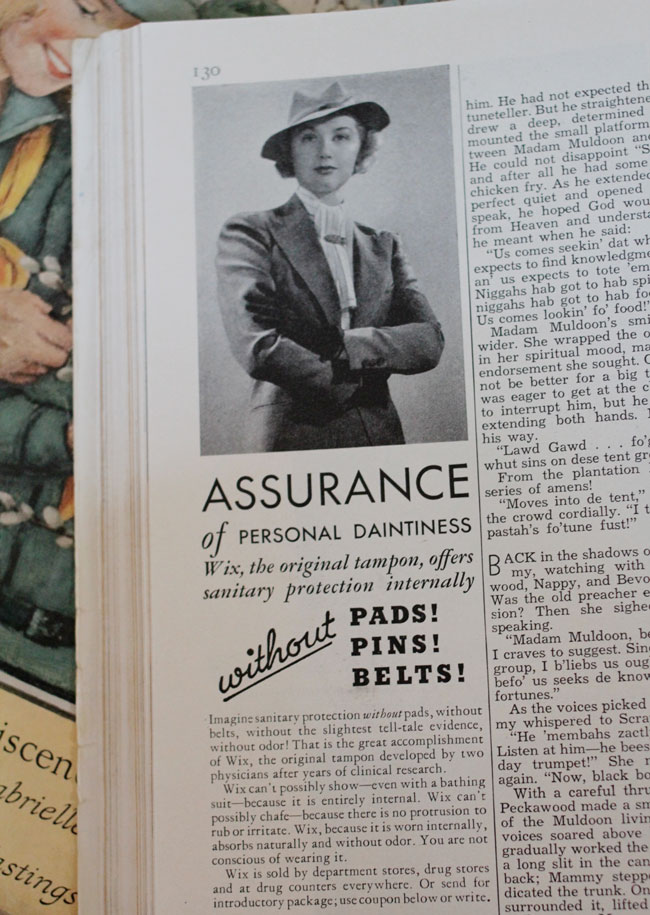 Ladies! Prove you are wise by washing your face properly!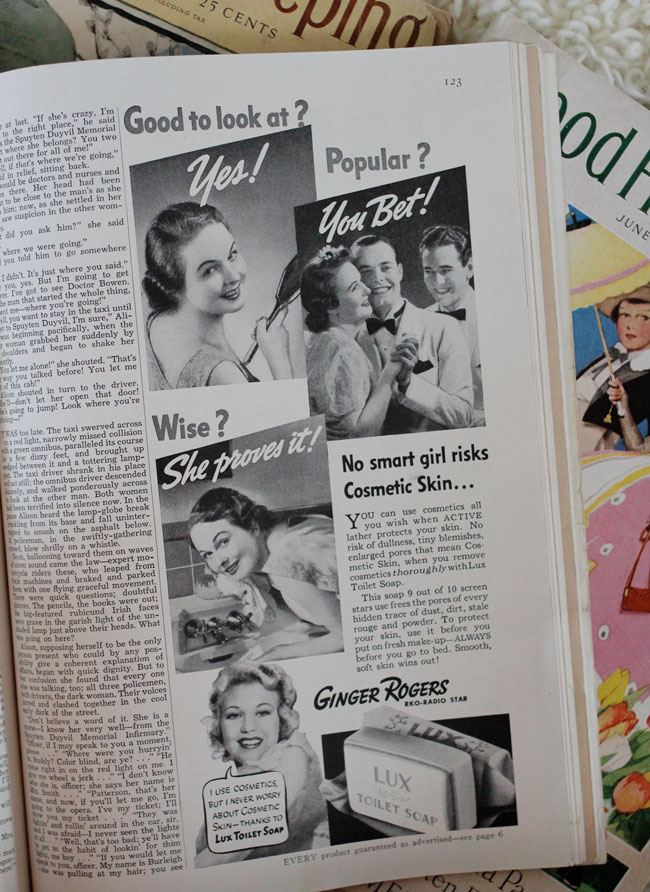 At least these chauvinistic texts look nice on my coffee table and provide for entertaining discourse at parties.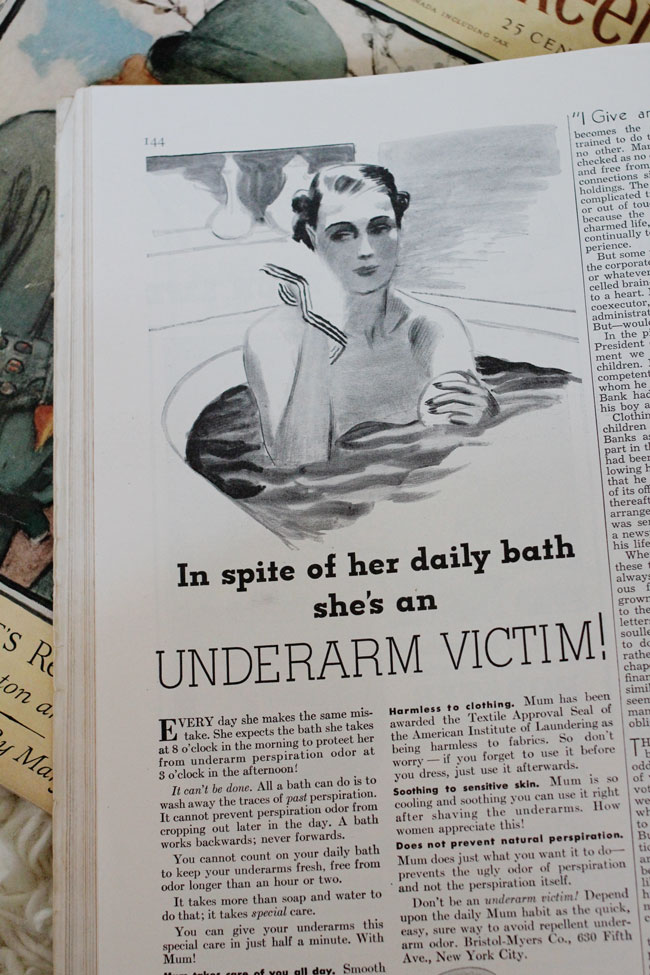 Oh, olden times. You so crazy.
xoxo
December 5, 2013
This entry was posted in
Decorating
,
Vintage
and tagged
chauvinism
,
gender roles
,
good housekeeping
,
oddfellows
,
saltillo
,
sexism
,
spaghetti poodle
,
thrift store
,
thrifting
,
vintage
,
vogue vintage
. Bookmark the
permalink
.