Goodwill (and me) at Eastern Market's new Sunday Market!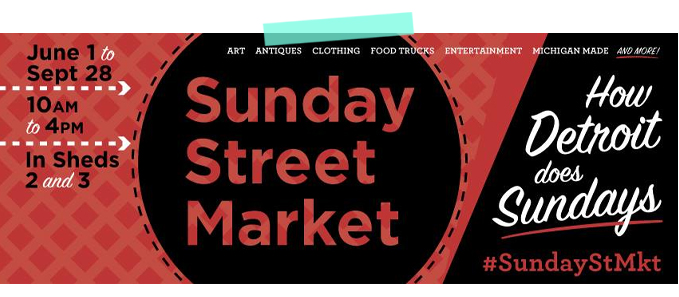 A few weeks ago, my interwebs pal Bethany Nixon (owner of Reware Vintage, founding member of Handmade Detroit, and all around cool gal) contacted me about an opportunity to curate a pop-up shop at Goodwill's new boutique location inside Detroit's Eastern Market. She recently signed on as one of their local stylists and suggested I participate as well. Of course I was game and immediately hopped on board. Thanks for thinking of me, Bethany!
So here's the deal. Goodwill Detroit will have a pop-up shop at Eastern Market's new Sunday Street Market, every other Sunday, from June 1st through September 28th. The shop will be located inside Shed 2 and will be open from 10am to 4pm. Each shop will be curated by a local Detroit stylist (there are seven, including me). Each of us are combing through the local Goodwill stores to find exceptional items that match our personal style. Each shop will feature at least 40-50 pieces of hand picked clothing and accessories, completely styled outfits, and unique vintage housewares. I will be curating two of the shops – the first on Sunday June 29th and the second on Sunday August 24th.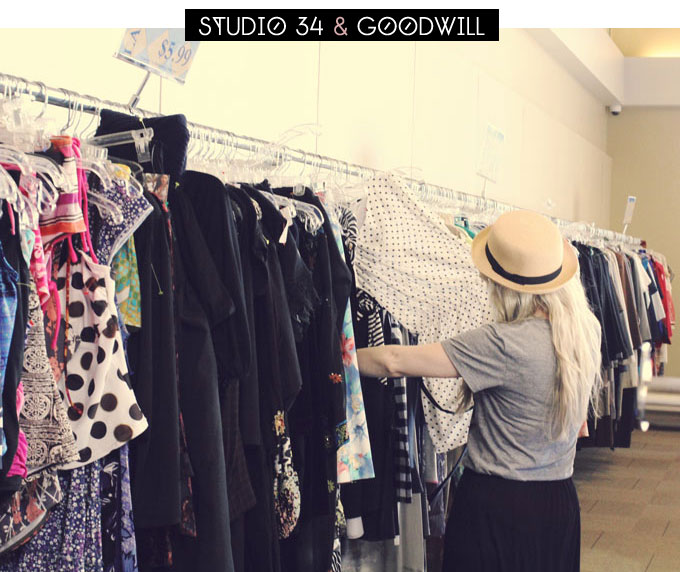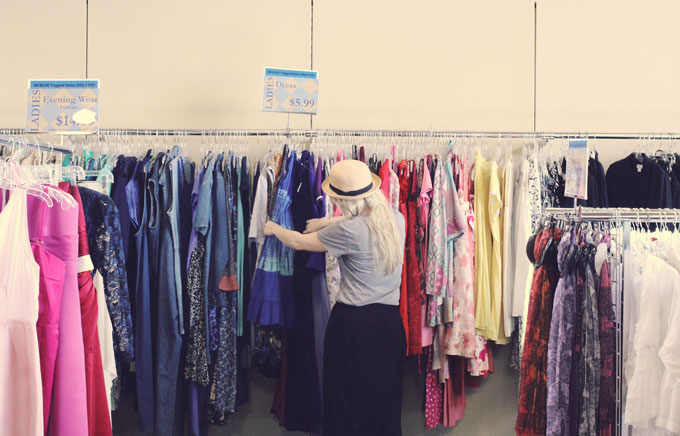 I've visited each of the local Goodwill locations in the past couple weeks, and I must say, I've been very impressed with their stores. I've shopped a LOT of second-hand stores over the years and I can say from experience that they are not all created equal. Nothing bums me out more than spending an hour or two sifting through a dirty/smelly second-hand store that straight up gives me the super-willies only to come out empty handed. The Goodwill stores, on the other hand, offer a more palatable and upscale retail experience. They have hardwood floors, pleasant overhead lighting, and their stores are very clean. The prices are great, new items are added daily, and the quality of the merchandise is really good. I've pulled fantastic pieces from Coach, Michael Kors, Dooney & Bourke, Banana Republic, Free People, Levi's, and Gap. (Goodwill did not ask me to review the stores or say any of this stuff, by the way. I just had such a great experience and wanted to share it.)
Here's a sneak peek at the types of items you can expect to find in my pop-up shop on June 29th and August 24th.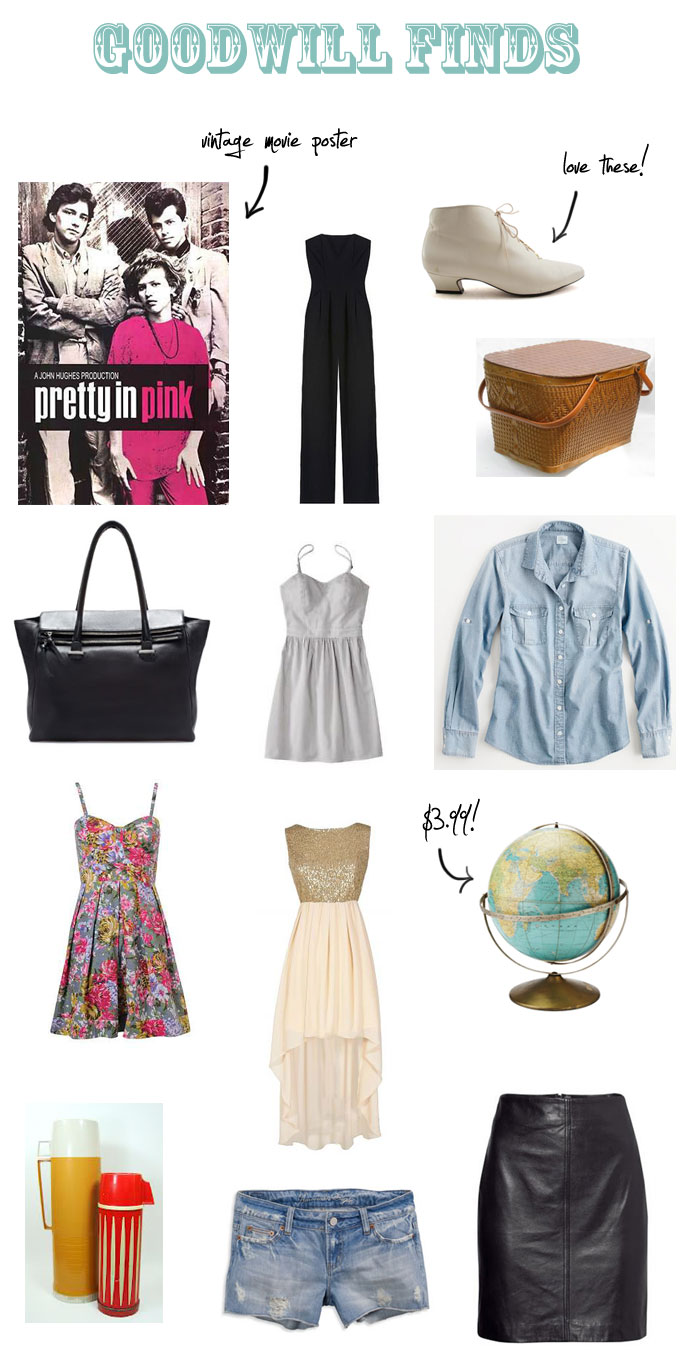 I'm only pulling items that are in great condition, are of good quality, and fit my own personal style. I won't add a single thing to the shop that I wouldn't wear myself or have in my own home. The clothing, shoes, and accessories I've selected are on trend and in like-new condition. I'm pulling all sizes, including plus sizes, so nobody will be left out. NOT ON MY WATCH. The housewares are primarily mid-century vintage and akin to what you would find at a nicely curated store, like Lost & Found Vintage or Vogue Vintage, but the prices are wayyyy more affordable. You have no idea how hard it's been to not take all this dope-ass stuff home with me!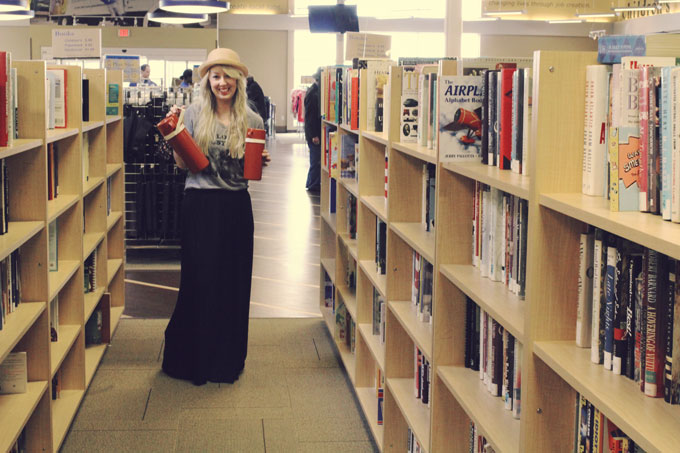 Someone please buy that Pretty in Pink poster, because she's not going to appreciate herself. And if you want to get your fingers on a BADASS designer purse, get to my shop early. I pulled a few really good ones and they are priced to go! There will be soooo much good stuff, it's stupid.
Come see me at Goodwill's YB Blue shop on Sunday June 29th & Sunday August 24th and treat yo'self to some new duds. Bring cash, hugs, and all your fashionable cousins! Located inside Shed 2 at Eastern Market, 10am to 4pm.
Here is the schedule for all of the Goodwill pop-up shops this summer and links to all the stylists involved. I can't wait to see what they found and shop their collections!
xoxo
June 3, 2014
This entry was posted in
Life
,
Vintage
and tagged
#sundaystmkt
,
detroit
,
eastern market
,
goodwill
,
goodwill detroit
,
shed 2
,
sunday street market
,
thrift
,
thrifting
,
vintage
. Bookmark the
permalink
.